The Doll People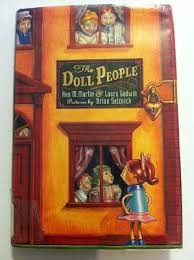 The Doll People
by Ann M Martin
A 250 page book for 8-12 year olds....
$6.00 Paperback
Annabelle Doll is eight years old-she has been for more than a hundred years. Not a lot has happened to her, cooped up in the dollhouse, with the same doll family, day after day, year after year. . . until one day the Funcrafts move in.
The old dolls are porcelains and the new neighbours are plastic...
The Meanest Doll in the World (The Doll People)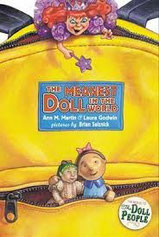 The Meanest Doll in the World is the sequel to the Doll People
by Ann M Martin
Over 300 pages of fun and adventure
$7.99 Paperback
Annabelle Doll and Tiffany Funcraft are two dolls who have been best friends since they met in Kate Palmer's house at 26 Wetherby Lane. In this sequel to The Doll People, they hitch a ride in Kate's backpack and find themselves in the biggest adventure of their lives, a day at school! But when an attempt to return home lands them in the wrong house, they're in far deeper trouble than they imagined.