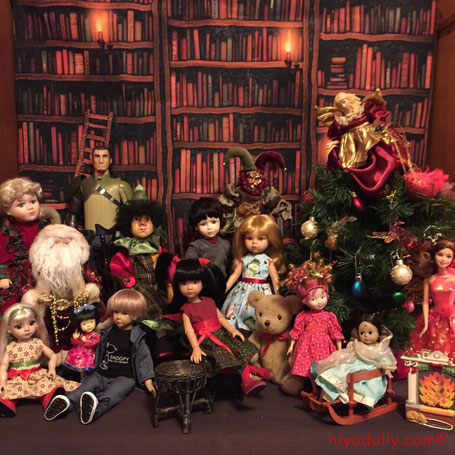 Remember a bunch of Dolltowners were set up in this library dioramas for a Christmas Display downtown in the Canadian Country Music Hall of Fame?
All who stayed there for December had a lot of fun entertaining the visitors who came to see the Festival of Trees, and stopped to see the dolls, decorations, and stuffies squeezed into the space.
"Look! It's Star Wars Guy!" and "I see a Barbie!" and "It's Santa!" and "Ew, a clown!" (Poor Kasma, happy for 2017 to end.)...
Now they are all home again and integrated right into our Christmas scene and stories...catching up.
So here are a few photos, . before Christmas is all put away!
---
It's Phoebe! What stamina for a little doll!
She volunteered for the diorama, thinking it would expand her experiences in the real world.
Her parents have taught her to be always studying and learning, the key to wisdom. But we have told her that experience contributes richness, depth, and understanding to wisdom. And she bought it!
We are so proud of her, leaving her books behind for the month.
(Wait a minute! Did I take Charles Dickens "Christmas Carol" to the set? Or was that Phoebe's night reading?)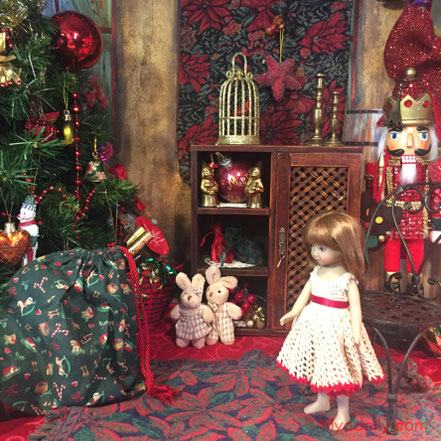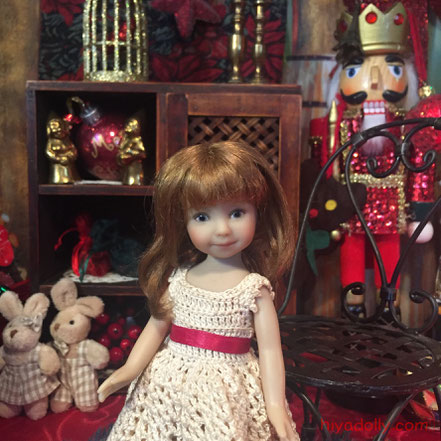 ---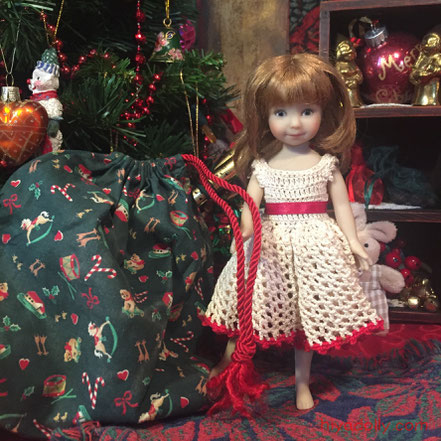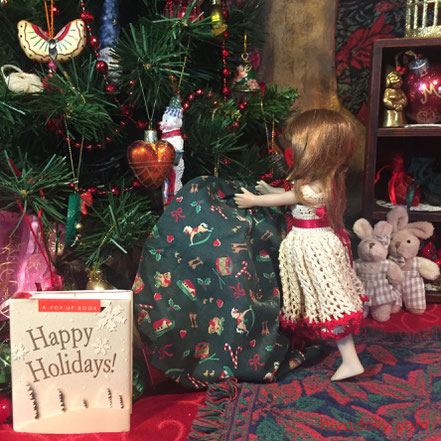 ---
Phoebe, our little know-it-all, received the second tiny spinning wheel, from Aunt Shirley.
We like to challenge Phoebe a little and stretch her knowledge. Not easy! She has most things down pat! 
We know she is going to google "spinning wheels" now, and "history of spinning wheels" and "how to use a spinning wheel". That will leave us free to do other things and we'll let Phoebe teach Chantal and Faith about their spinning wheel gift. And by next Christmas we'll be able to take our newly spun scarves and things to all the fairs and sell enough to buy the Dolltowners new shoes and things.
Way to go, Phoebe!
Besides, she is the only doll small enough (besides the babies) for this spinning wheel...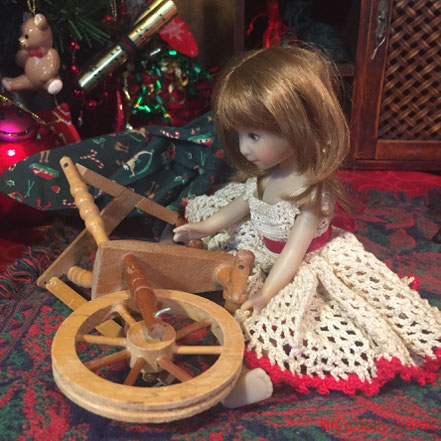 ---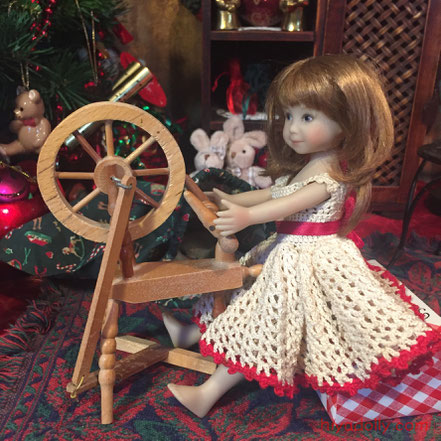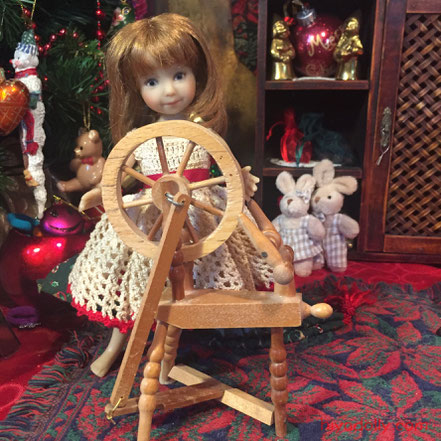 ---
Hi Will! Will has joined us from our cold Doll Studio at the back of the garden.
There is a migration in from that wintery room. The Dolltowners left there heard that there was a gathering happening in the Big House (big relative to dolls, that is), with the dolls and stuffies returning from downtown.
Convergence... Will welcomes Phoebe back, admires her new gift, and greets the stuffies and soldiers, too.
Will and the boys love the soldiers. Hey Will! They have to be packed away soon! Don't go far!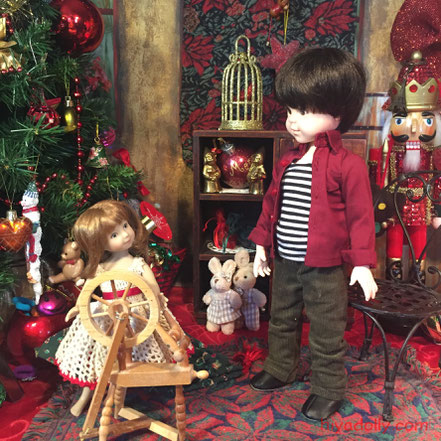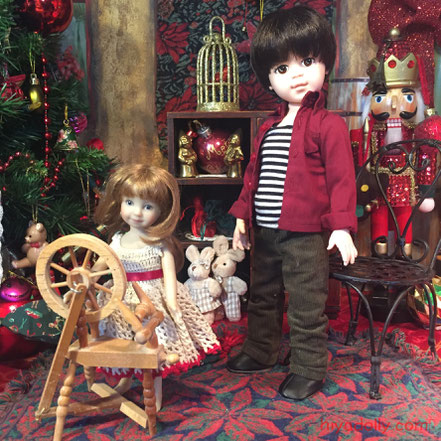 ---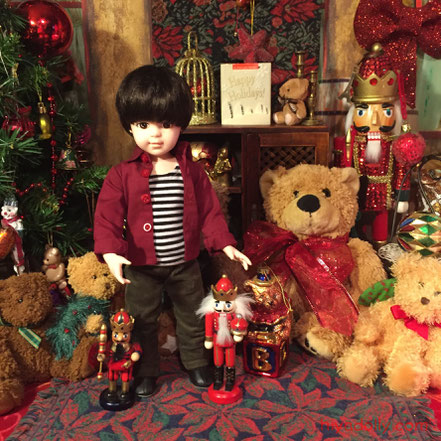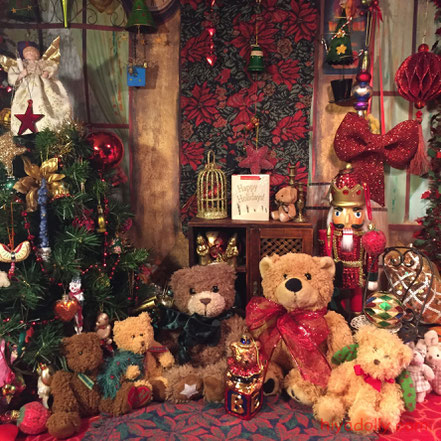 ---
Zoey comes to see Shasta. We like to say they are sisters. Right?
Both are First Nations girls from the Dolltown Valley.
Shasta is a "Tiny Shawl Dancer" but arrived with no more than her moccasins. Seriously.
We'd love to see them both as Fancy Dancers, or in Jingle dresses! Someday...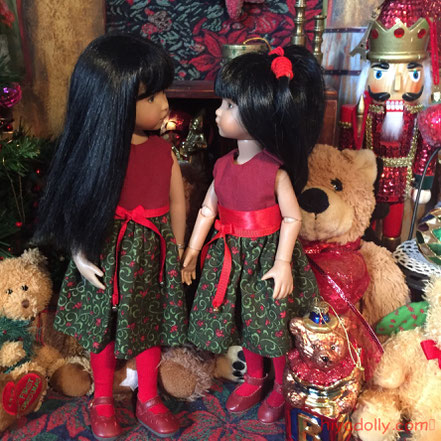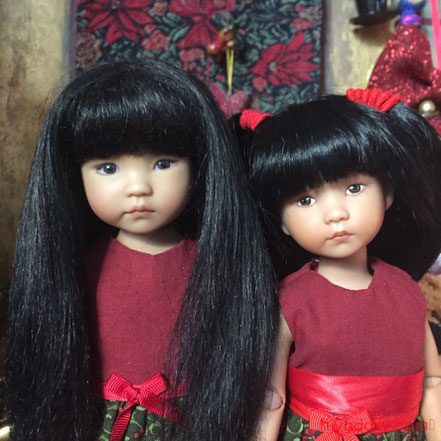 ---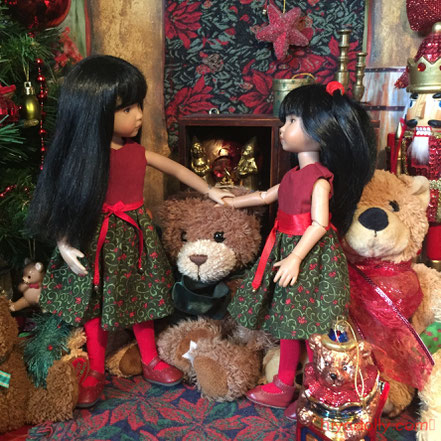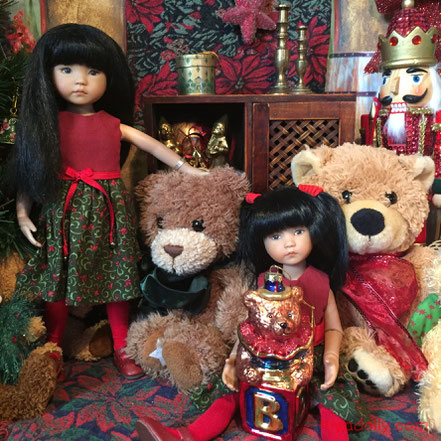 ---
Look! Scruffy made it through the "Teddies for Sale" days at the Christmas Diorama. 
And so did Galumph, his friend from the Island.
I have no idea why they weren't snapped up. They are so cute!
But, perhaps it is true what FDS says, "Once they have names...".
The other bears were complaining that these two were whispering, "We are not for sale!". 
And people would put them down and choose another (even though they couldn't really hear them).
Well, I did my best. We do have other teddy bears in Dolltown. But what's two more, eh?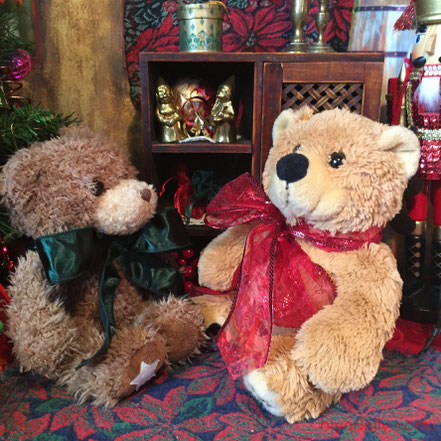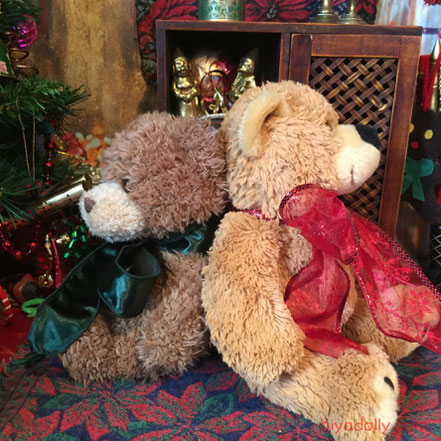 ---
Little Paola Reina Amigas, our Quilla, enjoyed her month long outing, even if it meant she left her two bff's behind. 
She's off to see them now! She has stories to tell!
Sparkly Nutcracker watches her go. He gets to be a part of everything this Christmas!
He has stories to tell!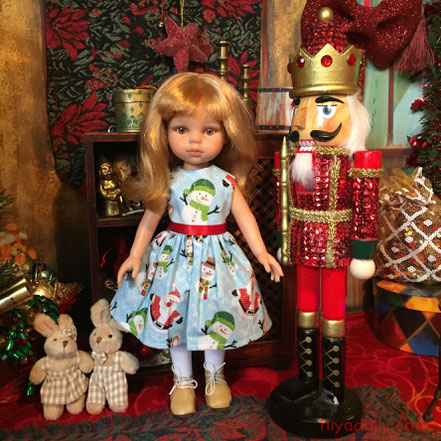 ---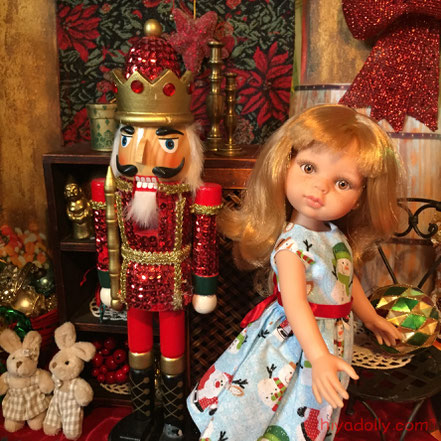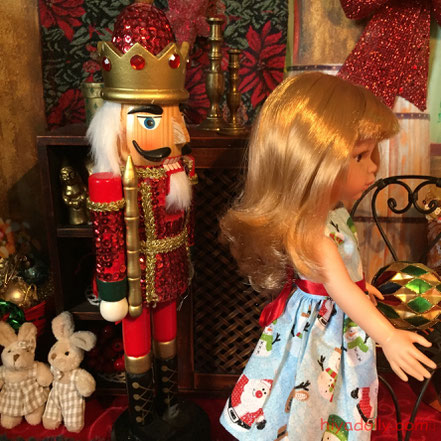 Well, I'd like to say we are Christmas done. But we're not!
There's also Gabby, who gets to wear a new Christmas outfit.
And Lula is back! With her guitar! Now we know where she went, and why!
And Owen shows up with a box he's been hiding, for Lula...
And the Marionettes, Jester Jim and Don Quixote arrive for some chocolat. That's French for chocolate.
We have two days left, then the 12 Days of Christmas are OVER!
Stay tuned!