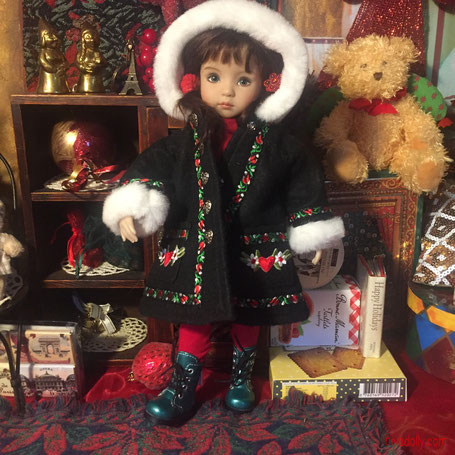 Rosa, our hardworking Christmas Darling,  was taken on a journey over the mountains. It was her first long trip since she arrived last March...
Now she is back in time to clean up Christmas! 
While she gets out of her coat, our Christmas jester, who was at the diorama downtown, amusing the hordes, returns with a gift, a fireplace.
The little bunnies, gnomes and Christmas teddies all gather round. 
But it's January!
Let's get this Community Center cleaned up!
Vikka is coming, with help! She put the word out and even managed to get Wiz, one of the Tonner guys. We think even an Ello is showing up!
And children of course....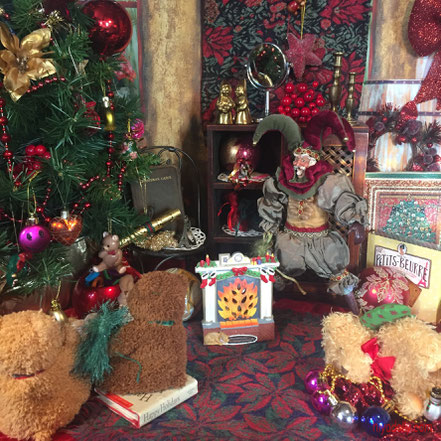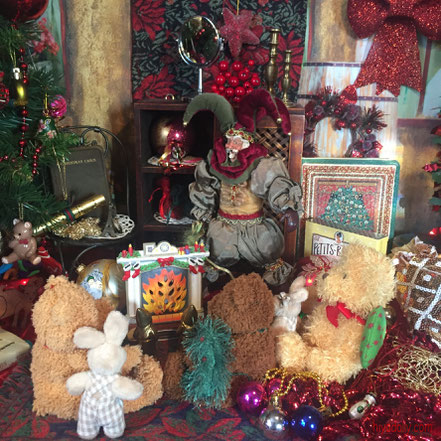 Look at them cozying up to the fire! Is it the warmth? Or the jokes Christmas Jester is telling? 
---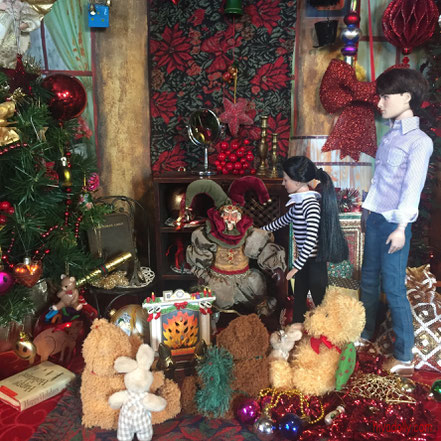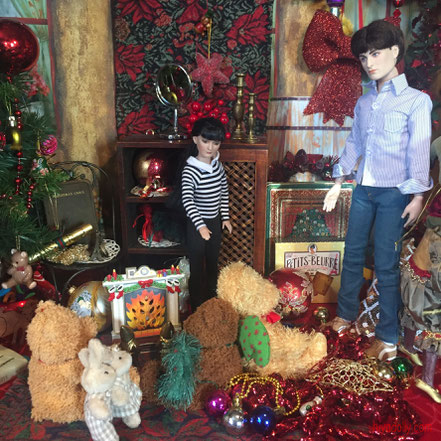 Vikka arrives with Wiz and tells them all to clear out...or they'll clear them out!
Vikka has such a persuasive way about her. The jester clears out.
---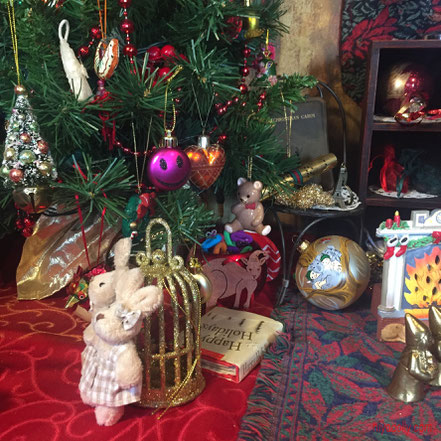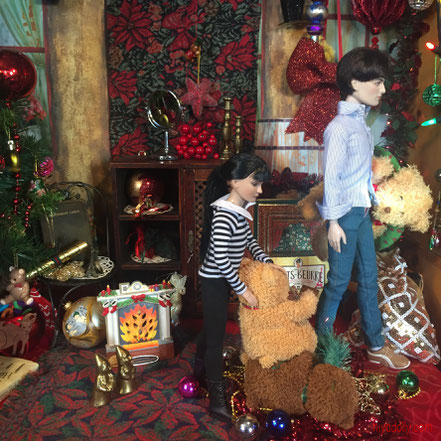 The little gift bunnies from April run and hide behind the bird cage! They are not Christmas toys!
The bears have to be carried out. Too sleepy to walk themselves. They'll be able to hibernate for a whole year!
---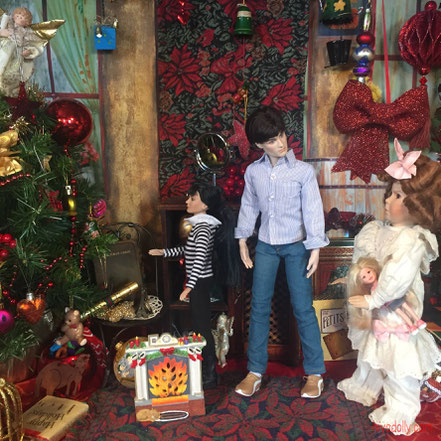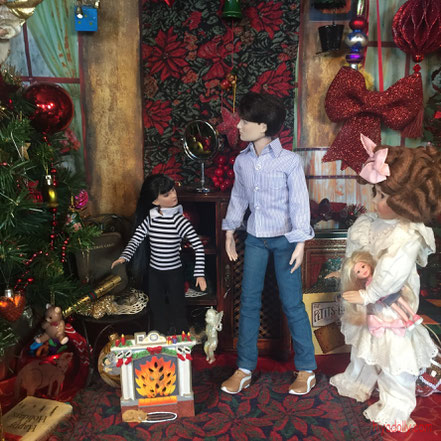 Priscilla arrives with her new doll.
It's not really a new doll. She's pretending. It is a little doll that was left outside all last winter in the garden shrubbery. Everyone forgot about her until it was tea time in the garden again. No one can get her clean!
Priscilla adopted her after her adventurous trip to Paris last spring.
The little doll has an Eiffel Tower on her tshirt... Priscilla is fond of the Eiffel Tower, and her little doll. Well, sort of.
---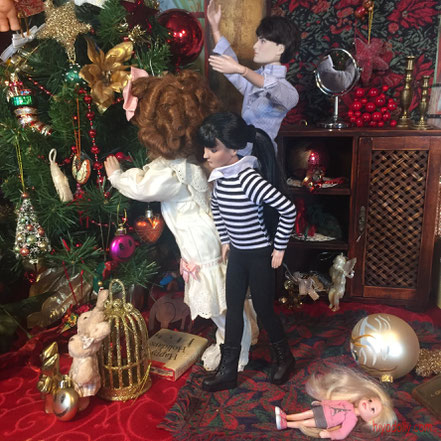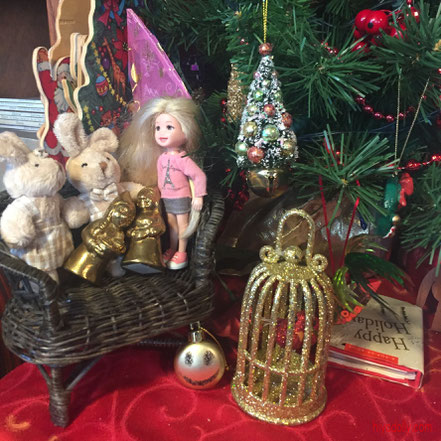 Vikka sees the little bunnies, and the gold gnomes, and a happy face, all hiding.
She puts them safely on a couch, along with Priscilla's doll.
All out of the way of the workers, and so they won't be packed up by mistake....
---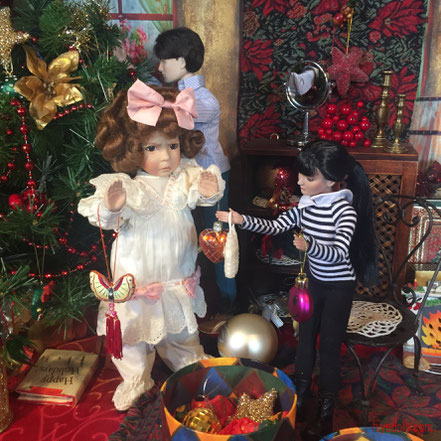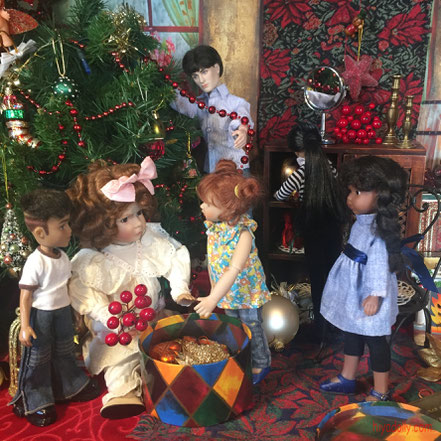 Priscilla is a good helper. She must have been taught how to work at her last home.
More children come to help. Ike, Oiya, and Whoopi join Priscilla. 
Look how happy she is!
---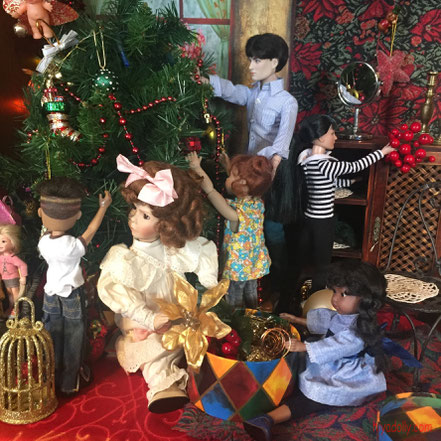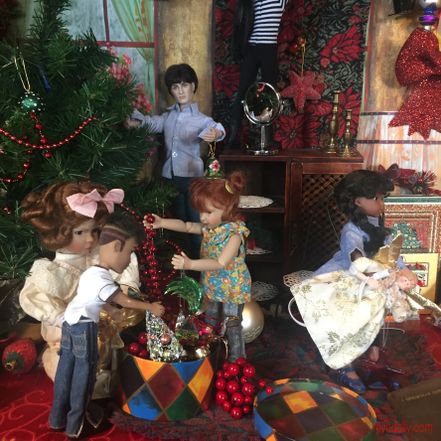 But what good helpers, Priscilla!
Come on, give them a smile! Is that too much to ask?
---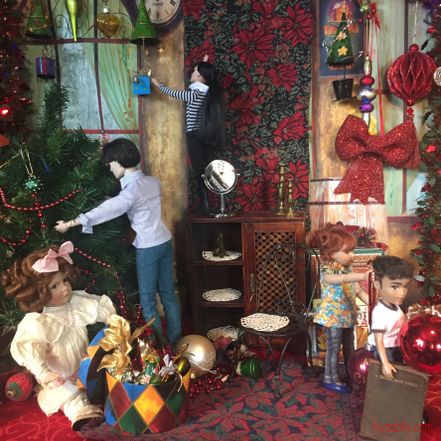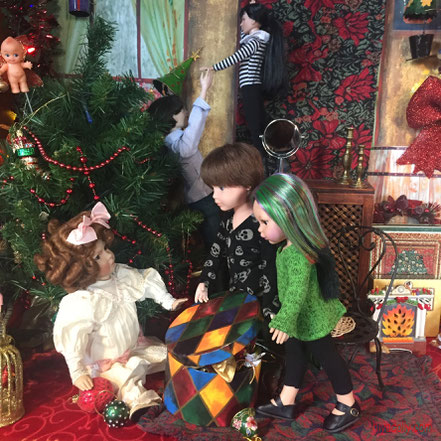 And Chris, one of the Miller brothers arrives with Undeen. They've been told to come and pack away a box.
---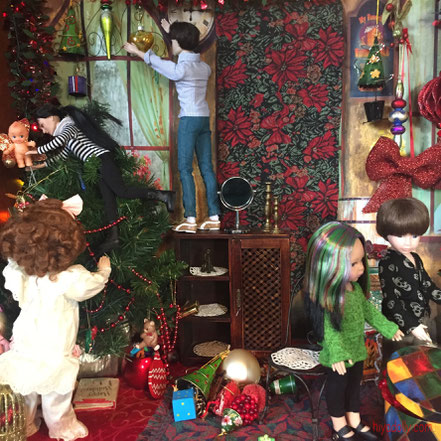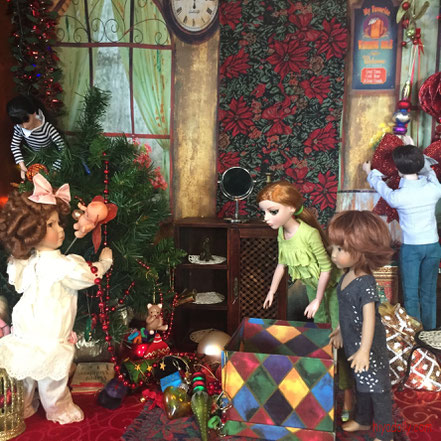 Ello Autumn arrives with Evie. No end of Christmas boxes!  
Still lots to pack away...
---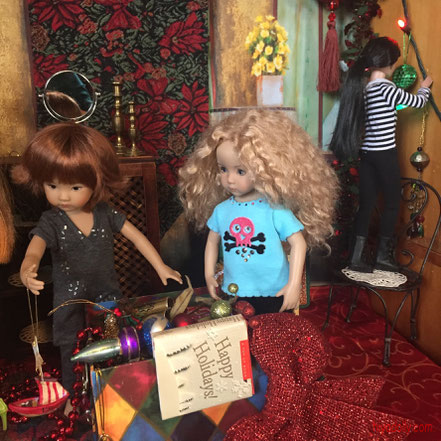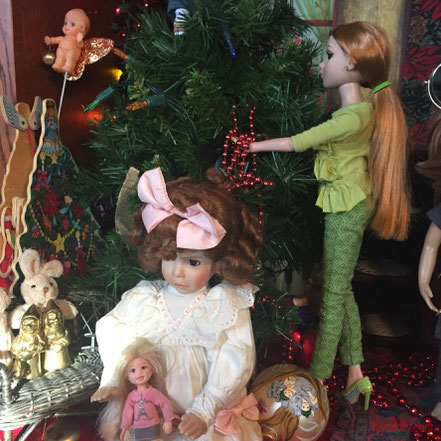 Lula arrives, with news that more girls are coming. So Priscilla takes a break and plays with her doll.
---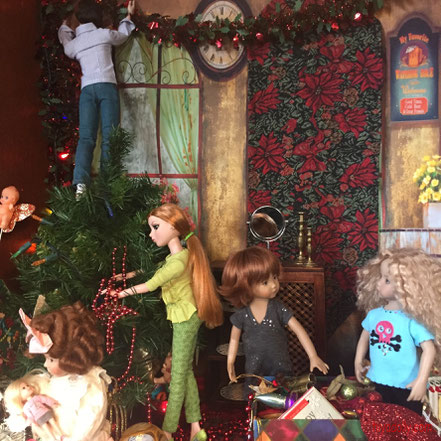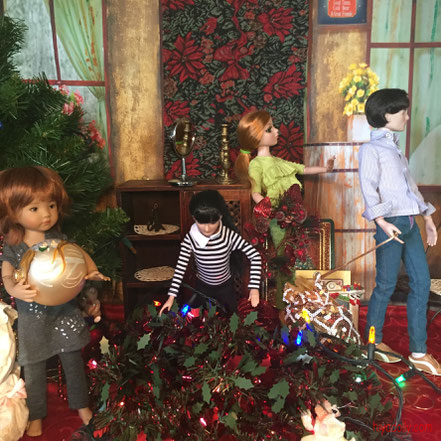 The tree is almost done! Thank goodness Wiz is here to help with all the garlands at the top of the room!
---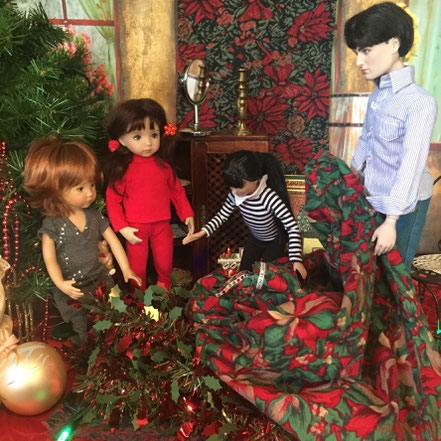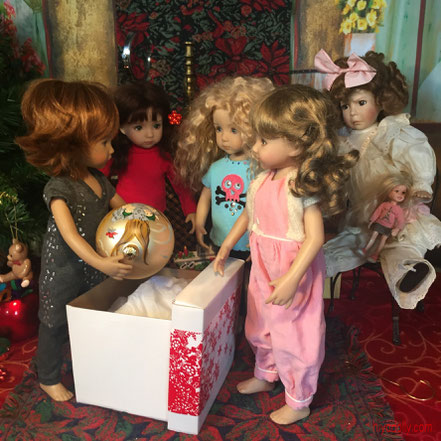 Here's Rosa, and Tink! Just in time for the last of the decorations.
Lula brings the box for her Australian ball. (Where's the kangaroo? Uh oh...)
---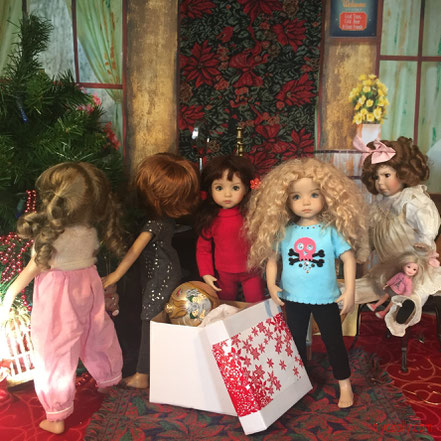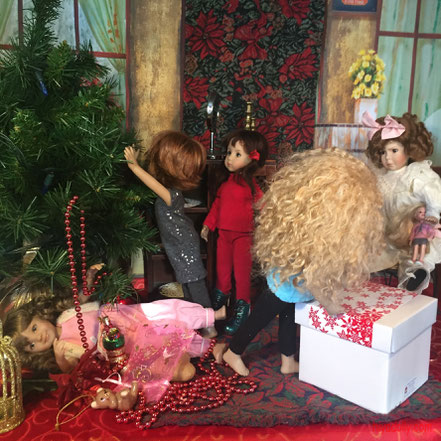 We'll find it, Lula! Someday! (Next Christmas maybe.)
Tink crawls under the tree for the rest of the decorations! Thanks, Tink!
---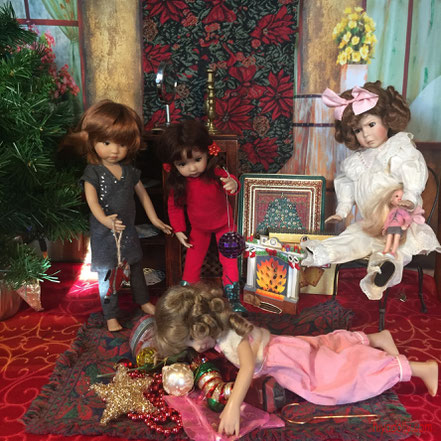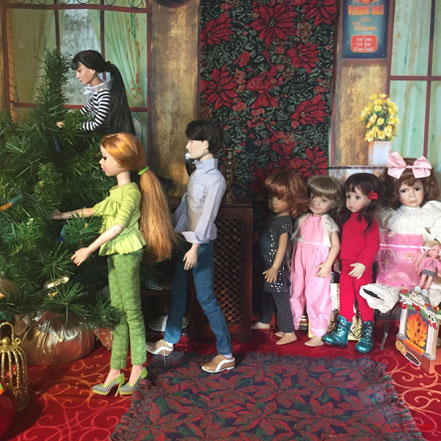 That's the last of them... Tink says goodbye to the favorite ornament she chose for the tree.
And the girls all get out of the way for the tree to be taken away.
---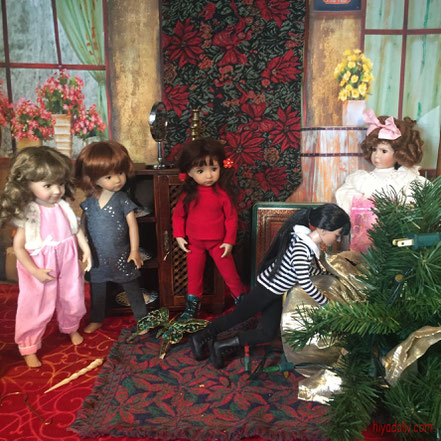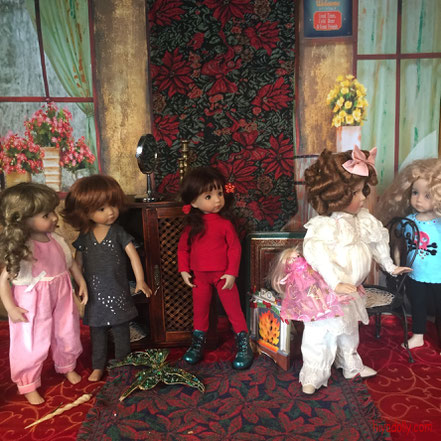 You go, Vikka! Just a few straggling pieces left.
---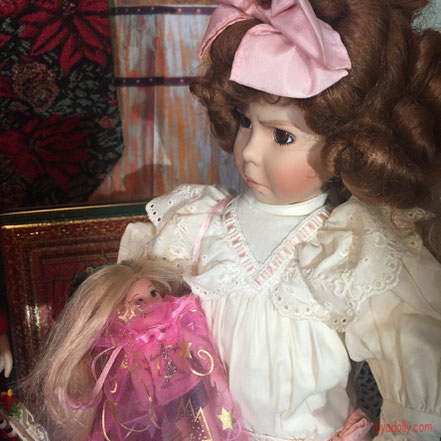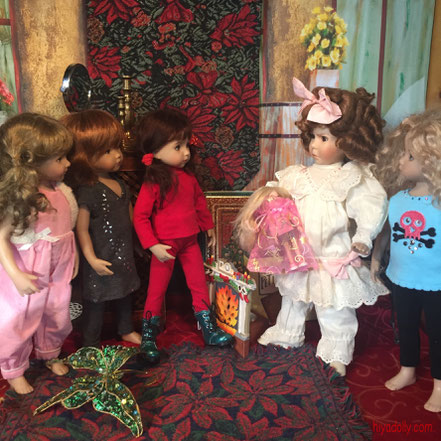 Priscilla thanks the girls for their help. Priscilla, how sweet!
---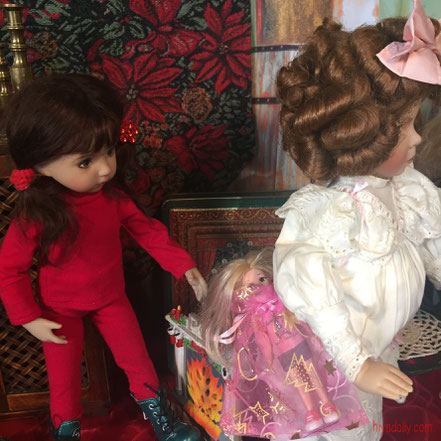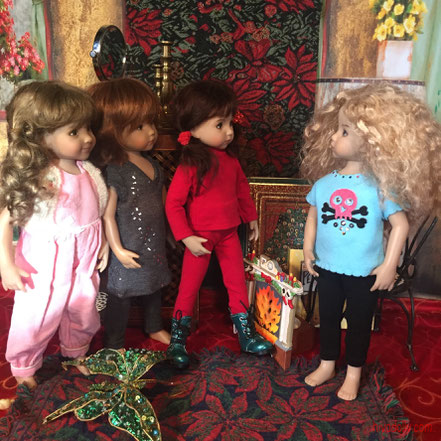 Well, girls? What's next? 
Lula think it's time for a snow day. Evie agrees. Get out the sleds!
Tink and Rosa want to see what is in that Eiffel Tower box that Fashion Doll Stylist sent at Christmas.
Everyone has been too busy to open it. Thank goodness!
---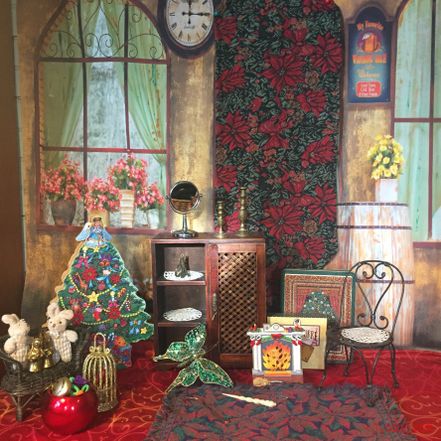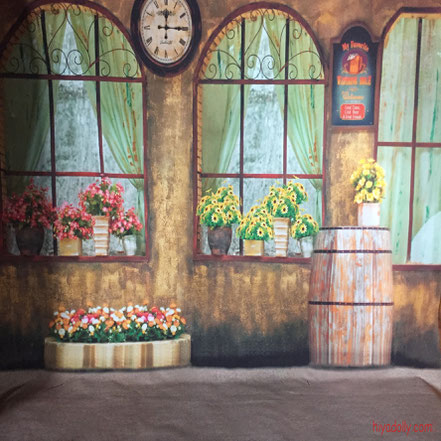 And that's it, my friends...Christmas in Dolltown 2016. Lasts right into the New Year!
Thanks everyone! And thanks to all who helped with the clean up! (I couldn't have done it myself.)
The Community Center is now ready for the next event...
It would be a good place to get out that Eiffel Tower.
I think it's going to need a little space. There's coloring involved.
I am going to go and find the crayons. And set up the room.
Stay tuned!