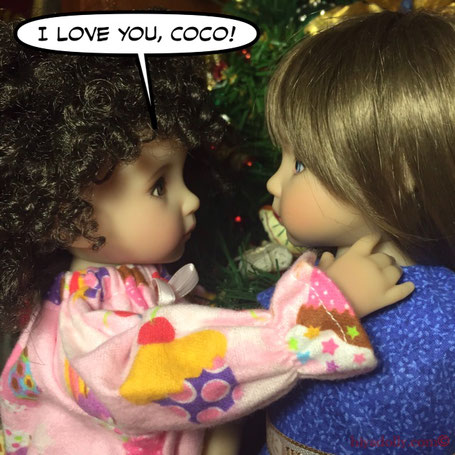 Our Little Darling Coco is gone...for now.
She was chosen to attend the Fashion Doll Stylist's Design School for Girls in the United States (and Paris!)! 
Well, we chose her to pop in a box and send off to April. With a letter, a contract actually, from our Dolltown Agency, asking if she could come and stay and learn. If Fashion Doll Stylist agreed, Coco would her thread her needles and brush the dust off her divas' shoes...
In other words, the Little Darling would make herself useful to April in return for watching how things are done.
Slopers and handmade jewelry and boots that look like socks! Imagine!
It took a while to figure out who we'd send. And once it was decided here, all the Dolltowners knew (well, the ones who can keep a secret for a couple of weeks). So as our Dolltown choice, Coco got lots of love and advice before she left.
Her friends got her ready.
We decided that she would be sent as Renee, her name from the Doll Studio, with her black bob. In other words, the way she came to us last March. And we'd put her in a pretty outfit from France that we've had since last spring too.  And, of course, send a yoga outfit with her (standard Dolltown travel outfit). And we'd let April decide which she'd be, Coco or Conner, or Renee.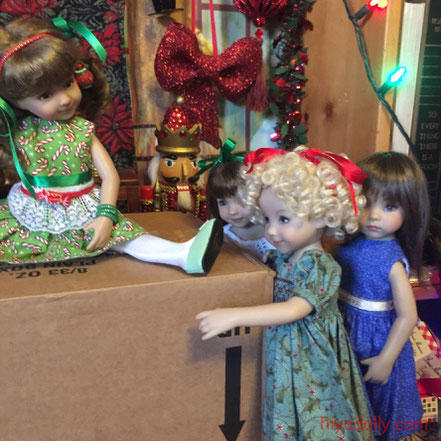 Coco was told before we opened April's gift box full of things from Paris for the dolls.
She kept looking into the camera, as if she was looking for April and her girls.
As if they were behind the lense...
---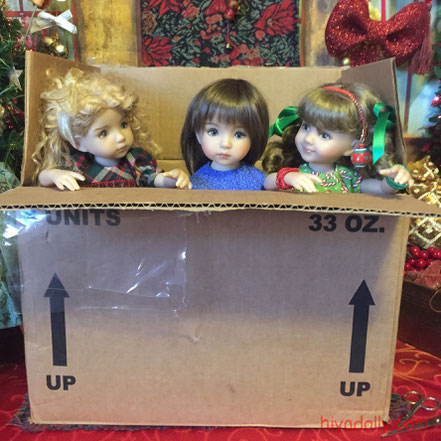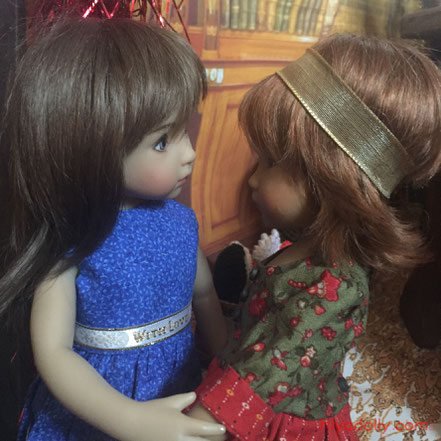 Lula and Tink got Coco into the box April sent, just the right size for a doll,
so she knew what it would feel like when the time came to climb in and get sent off.
And Evie, who's been here the longest, told her she would always be a part of Dolltown. No matter what!
---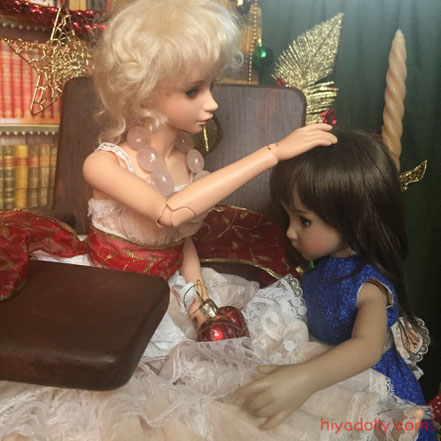 And Evie brought Coco to Aira, for a special love protection spell, which spills over to anyone or thing  who is kind to Coco.
---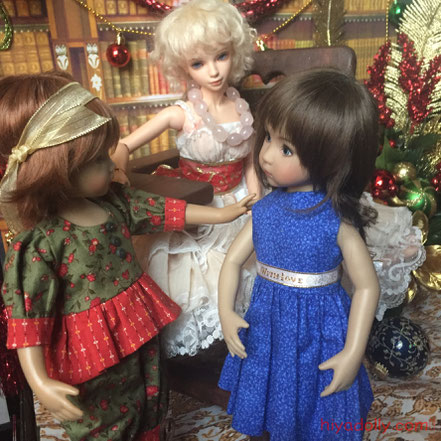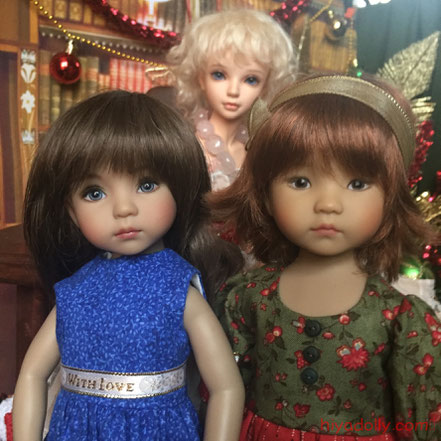 "Let me see you", said Evie. "All good." she said.
"I feel good!", said Coco.
---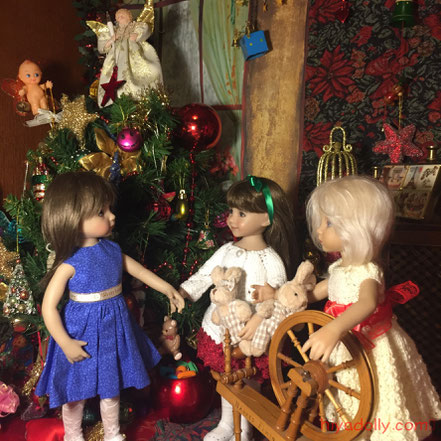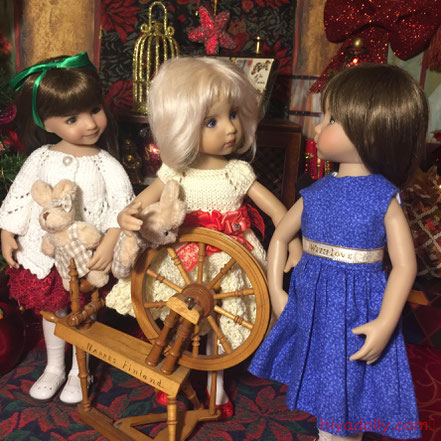 Coco came to say goodbye to some of the girls. Chantal and Faith told her to send them photos...
---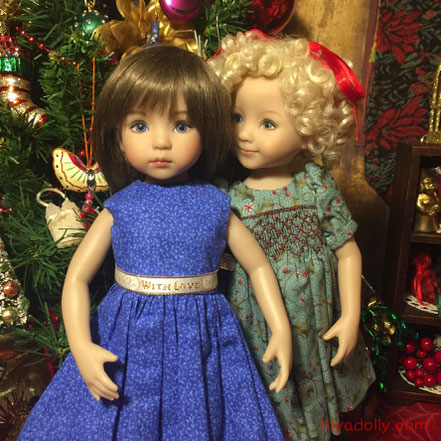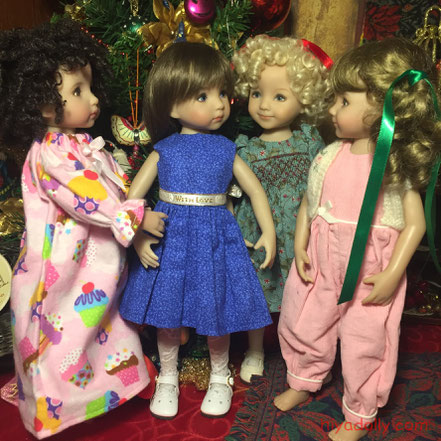 Birdy brought Xennia and Tink for hugs and kisses.
---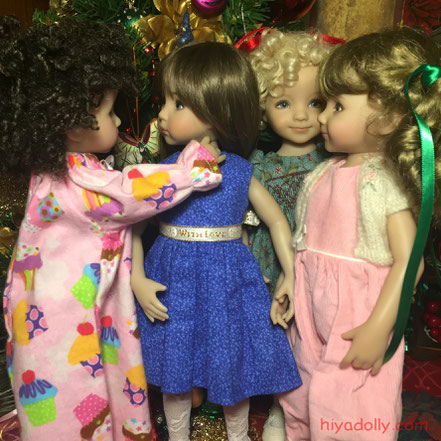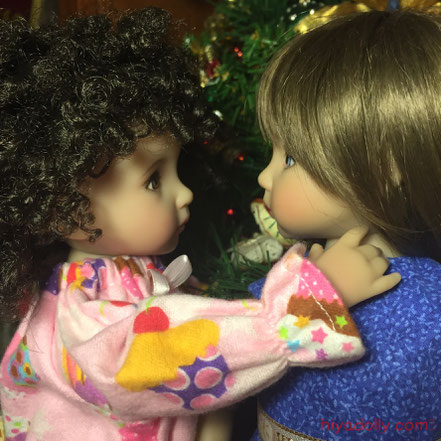 This is the moment we'll return to when we miss Coco (or Conner).
Before we remember how excited we are about her opportunities.
---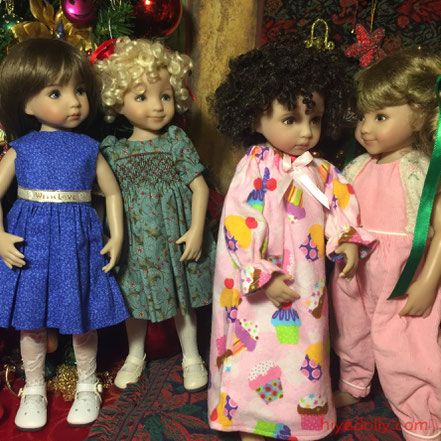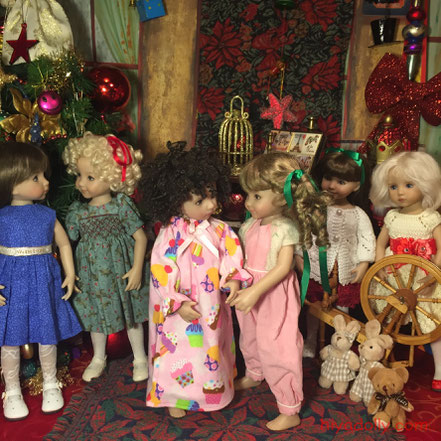 Tink had to remind Xennia that she got to go to Paris, and stay with April's dolls.
And now it is Coco's turn for a big adventure...
---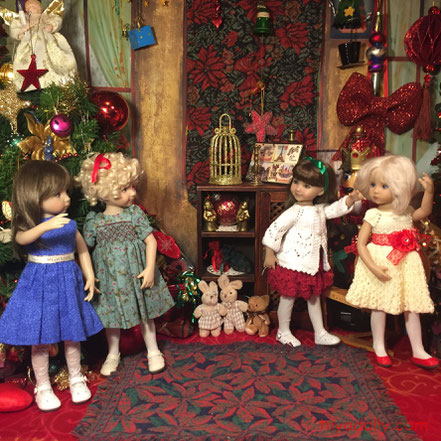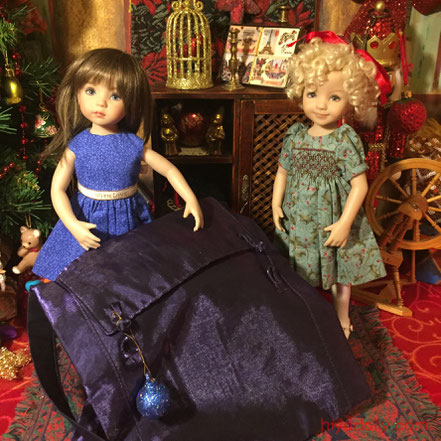 The girls left to watch a movie. And it was time for Coco's Christmas present.
It was in the shiny purple bag she will use for keeping her things in on her journey.
---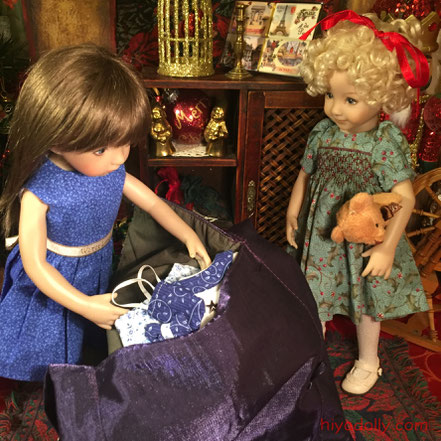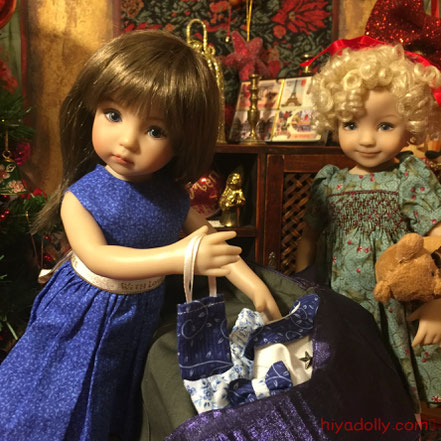 Something blue...of course! And from France. 
There is a little bag and a bow...
---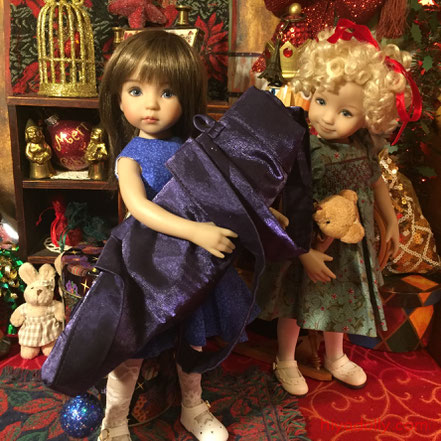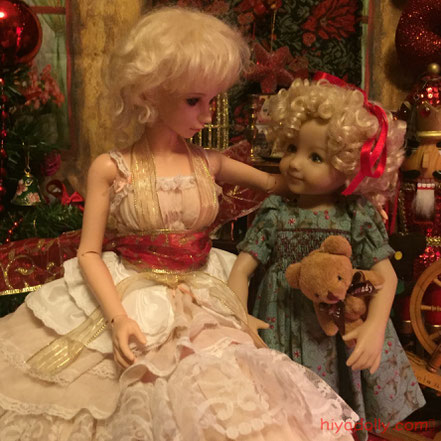 Then Coco was called to Jiyoon's Playroom for a bath and to change.
Birdy stayed for a few minutes with Aira, for comfort, and for tips on saying goodbye.
Birdy and Coco were painted in the same studio together, within a couple of days of each other.
(So were Rosa and Maggie, who is in London right now.)
Birdy listened to her words, about love across the miles, and feeling close heart to heart.
Just be your smiling self, Aira said to her.
---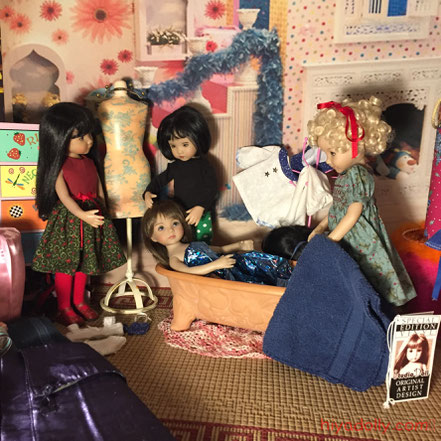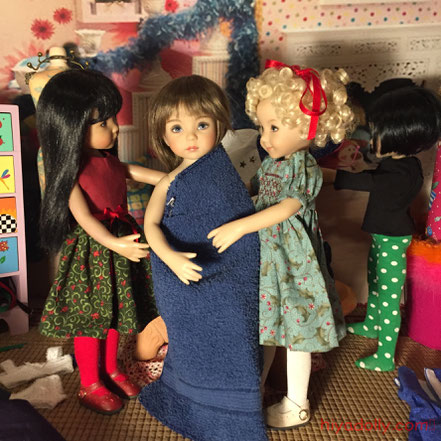 Coco had a night bath! There were shadows in the corners.
Zoey, Jiyoon, and Birdy helped Coco change. 
---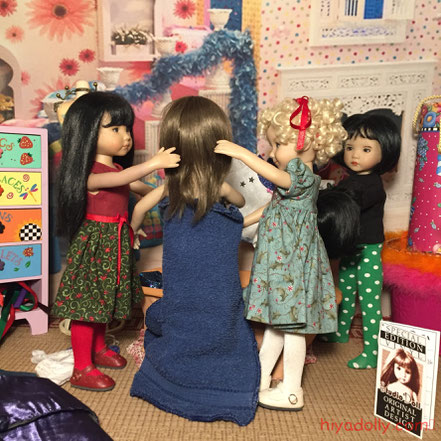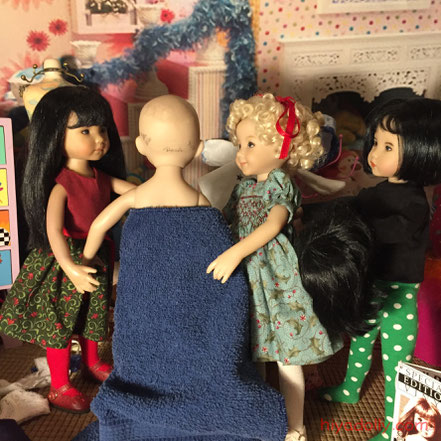 Off came the Jojo wig, and we could see her neck markings, a Geri Uribe Little Darling.
And her hang tag was ready, her doll passport.
---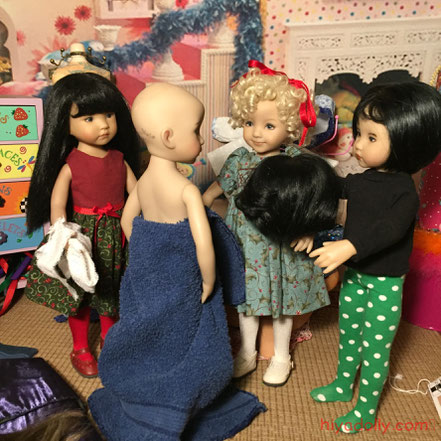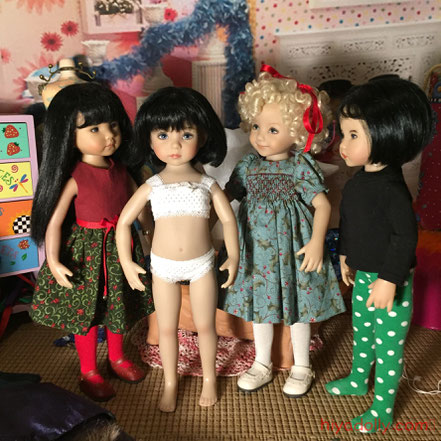 And Conner was back! We love the black bob!
Next the blue outfit, and it was back to the Community Center!
---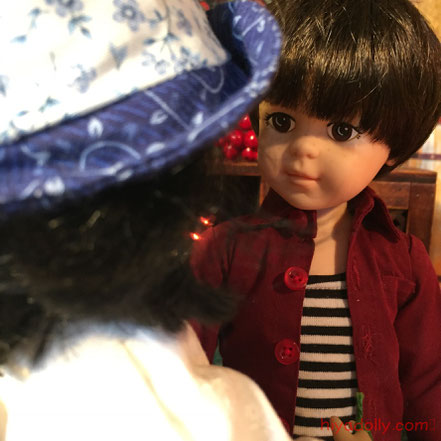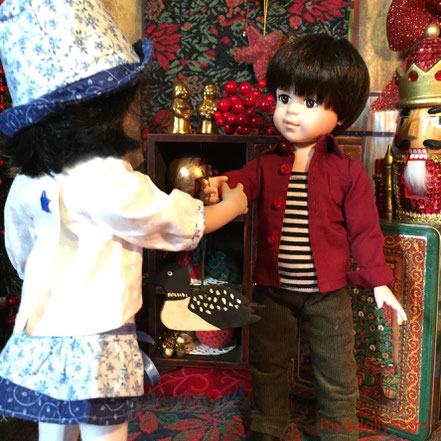 Will was there. The boys heard Conner was leaving and they sent Will with a handmade Christmas ornament.
A loon to remind her of the Dolltown Valley...
---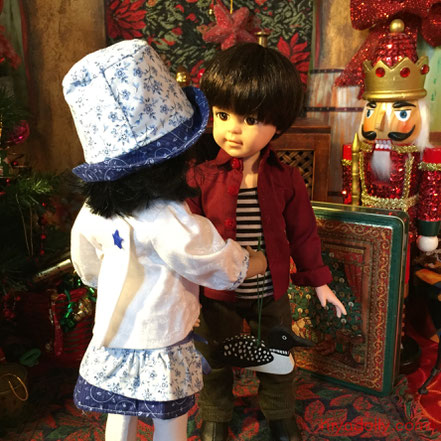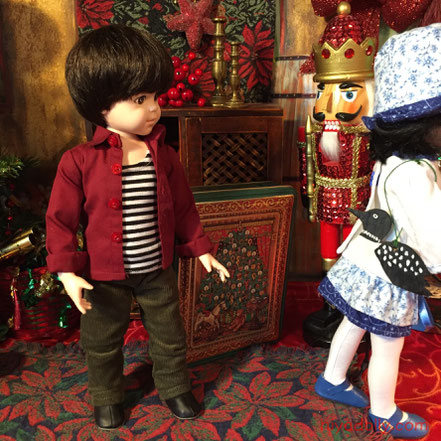 Will told her not to talk to strangers, and to stay with the adults.
And not to worry if the box rattled around on the way.
He said some people like to throw the boxes onto ramps and off the plane.
So she should be ready for that. "Pack her tight!", he called to us...
---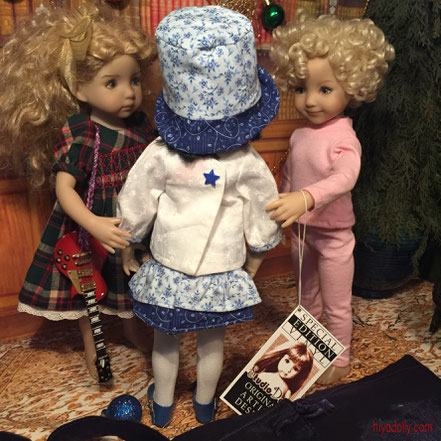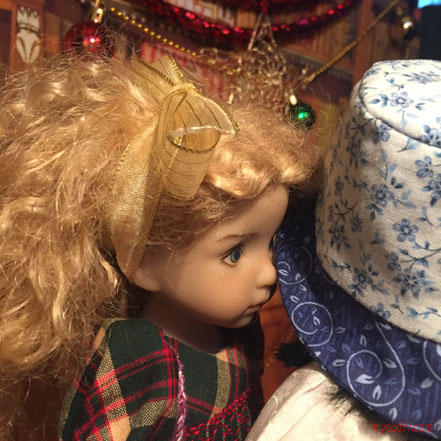 Lula and Birdy gave Conner advice too. Lula said, "Take a cup on the plane so you can throw up." 
"When you are put on a rock ledge, imagine you are a mountain goat." 
"When it gets too hot, stay inside with a fan. Or you'll melt."
---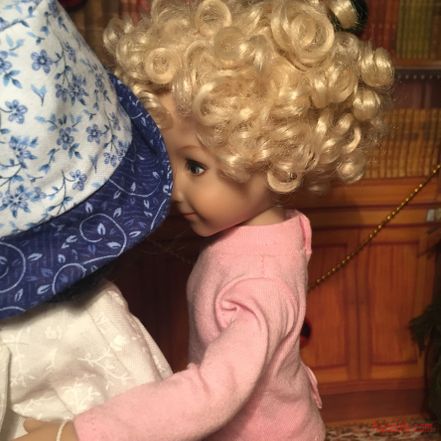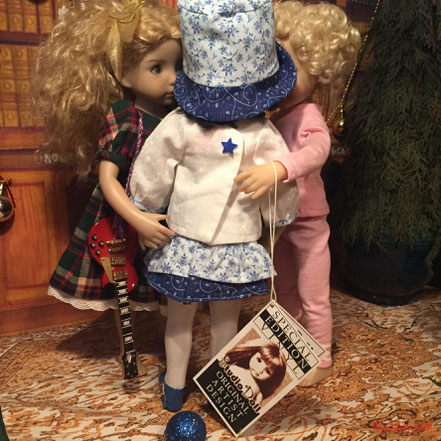 And Birdy said, "Always look on the bright side!"
"Be kind to April and her girls. And guys."
"Send me your thoughts. I'll send you mine."
---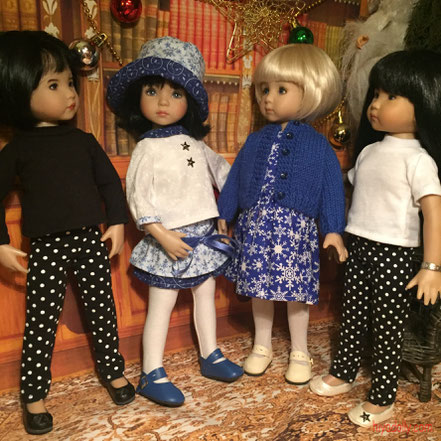 And there was a black, white, and blue photo opportunity.
A last batch of photos before Conner got popped in the box.
We couldn't resist. Okay, ready, girls? 
---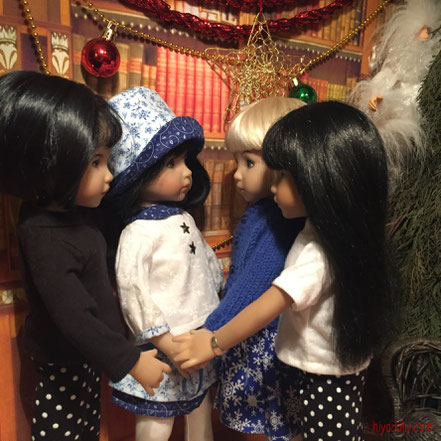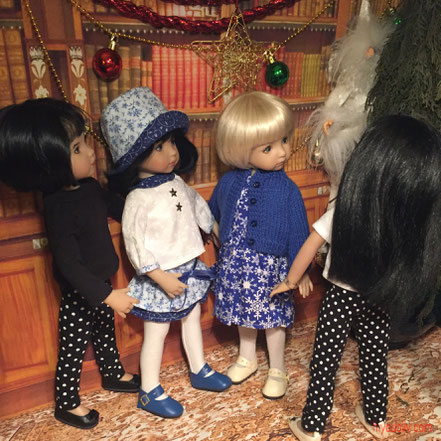 As these girls said good bye, White Elf appeared from the corner...
---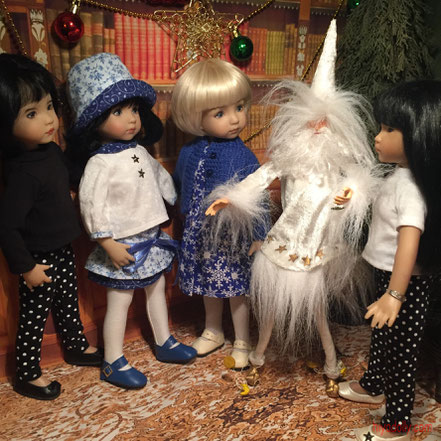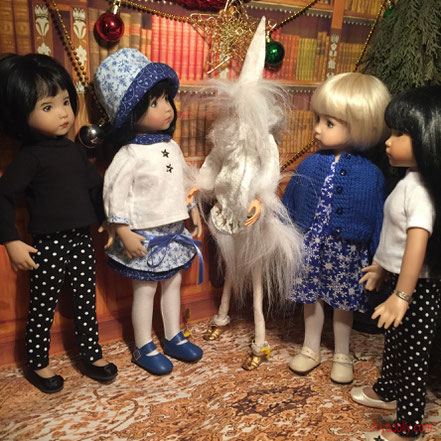 White Elf offered to go with Conner.
He heard she was traveling to another country, to a home filled with long slender dolls.
With long hair and graceful moves...
He's been in Dolltown forever... An opportunity to see the world!
---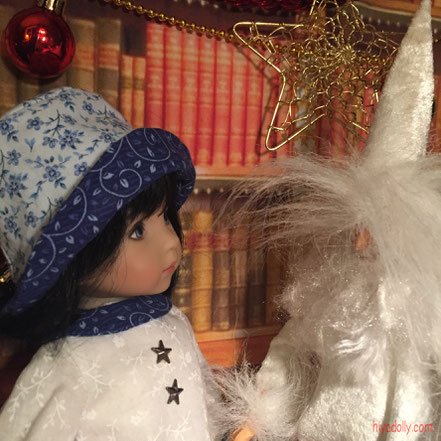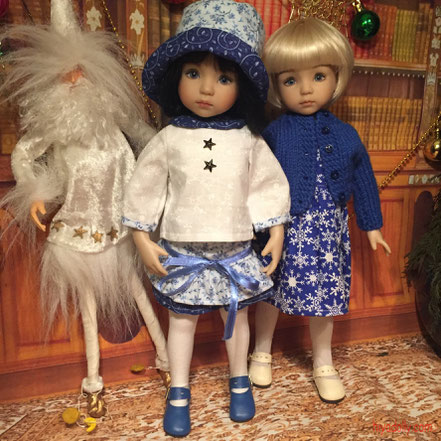 Yes, we agreed. A bit of good elf magic, someone to talk to in the dark.
An elf, a loon, and a doll. Worked for us.
Pearl said, It's time to get wrapped up...
---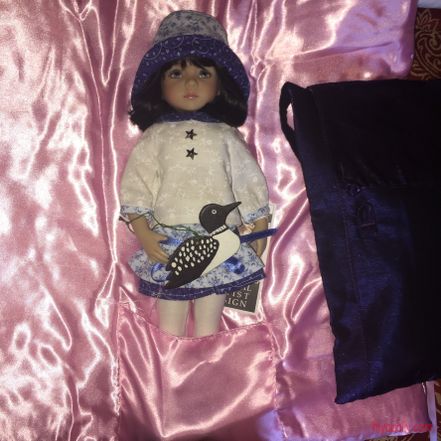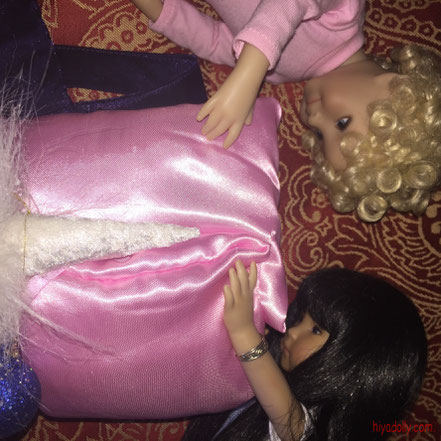 Coco was tucked into a pink satin doll bag, with Loon.
And Birdy and Zoey peeked in at her.
---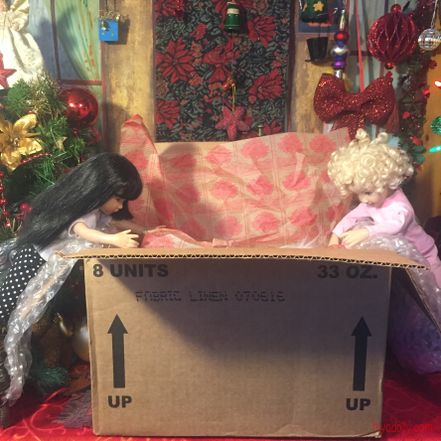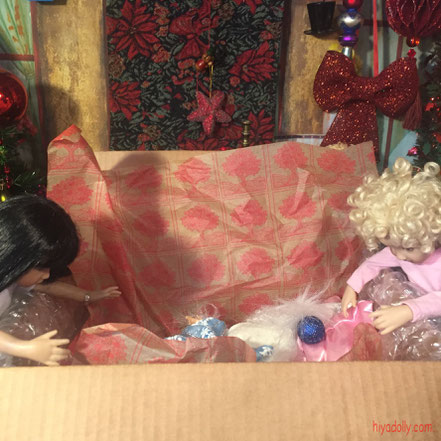 The girls popped in White Elf, close enough that the two could chat on the way to Detroit...
---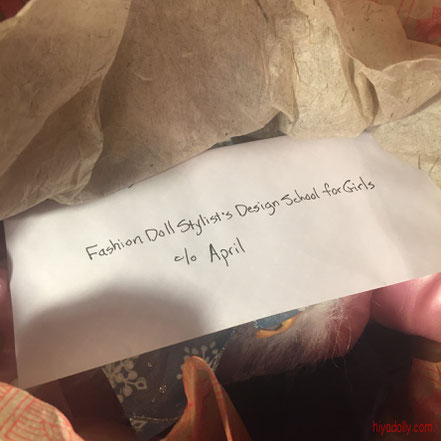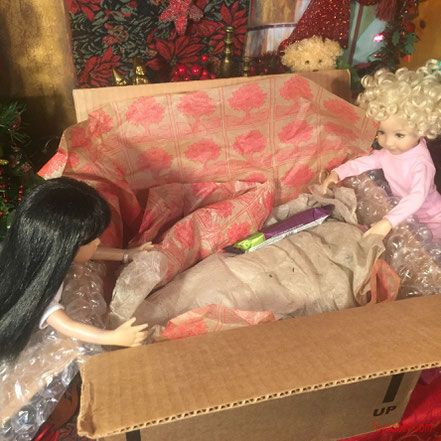 Next, the letter that we hope will persuade April, Fashion Doll Stylist, to take Conner as an helper.
Imagine attending the FDS Design School for Girls!
And a Purdy's marzipan chocolate bar, kind of a bribe.
Everyone says yes more easily after a bit of good chocolate...a known fact!
---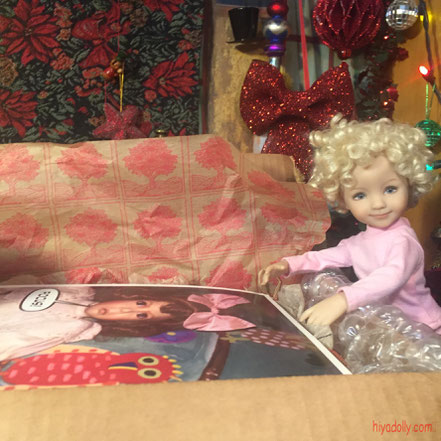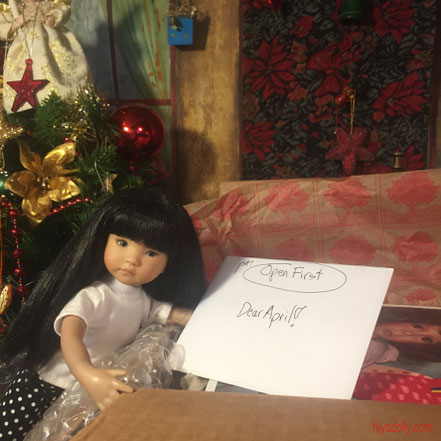 And a poster of Priscilla saying "Focus." 
For April to post where her girls can see it when they are supposed to be working.
And a note to April herself, who was so kind to send us gifts from Paris.
---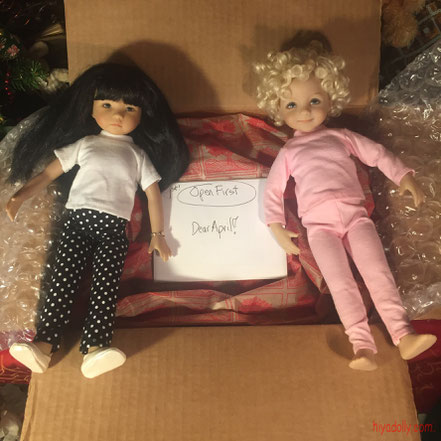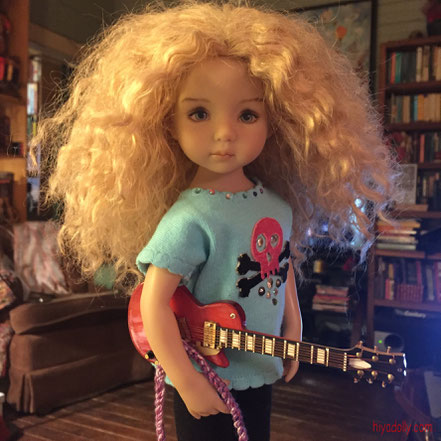 And with that, Coco/Conner/Renee was safely wrapped and cushioned in satin, with White Elf for company.
And it's only across one country, over a few mountains, across some streams, and above the clouds.
Lula played Conner's favorite songs until the box was packed in the car and taken to the post office.
She was mailed, successfully.
......
We have just learned that Conner has safely arrived with April, and is meeting a whole new doll family.
And our Dolltown Agency contract has been accepted. Conner gets to stay!
Exciting! And we have photos! Posted soon!