The Doll People, Book 3 The Runaway Dolls
The Runaways
over 350 pages
Paperback $7.99
Best friends Annabelle Doll and Tiffany Funcraft have stumbled upon an unexpected visitor, a new doll named Tilly May. She's arrived in a mysterious package...but she looks so familiar. Could she be Annabelle's long-lost baby sister? It'll take a runaway adventure to find out for sure. Are the dolls ready for life on the road?
The Doll People, Book 4 The Doll People Set Sail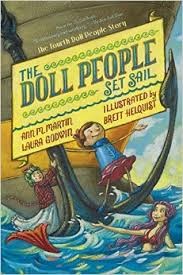 The Doll People Set Sail
over 300 pages
Hardcover $15.56
Annabelle Doll, Tiffany Funcraft, and their families are whisked out to sea when the Palmers accidentally place them in a box destined for charity donation. And it turns out they're not alone-there are plenty of other doll people on the ship, too. After traveling thousands of miles, will they be able to find their way home?