Little Mommy (Little Golden Book)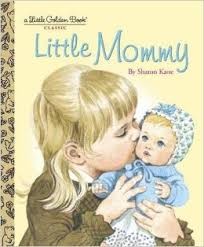 Little Mommy $3.99
THE "LITTLE MOMMY" in this story is an adorable little girl. We spend the day in her charming company as she cares for her dolls, treats their ills, gives them a tea party, feeds them dinner, and puts them to bed. Beautifully illustrated, this book has a timeless feel.
From one of the reviews...a mother buys this book for her little girl and writes:
Since getting the book, my (almost) 2 year old's motherly behaviors have increased. She mimics the girl in the book and will feed, bathe, kiss and rock her dolls to sleep. She'll even sit with them and pretend she's reading a book, or she'll try and sing a bit.
The World of Barbie (Barbie) (Little Golden Book)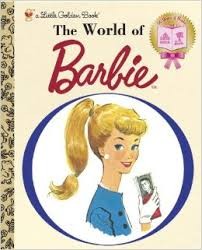 The World of Barbie $4.05
The book is about Barbie, her friend Midge and Ken. It teachers you all about Barbie's life. The book has great vintage style illustration that is fantastic. The book is hard cover with 24 pages of fun stories that any little Barbie Lover's would enjoy. My 4 year old daughter loves looking at the pictures and it is a great book added to her books collection.
Princess Charm School (Barbie) (Little Golden Book)
Princess Charm School
$3.99
This book is a classic story to go along with the Barbie movie Princess Charm School that my girls already have.
Go to Read More to comment