Antique Dolls (Dover Fashion Coloring Book)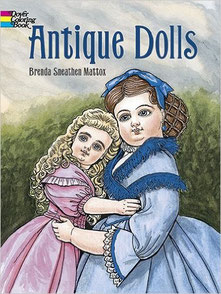 Antique Dolls (Dover Fashion Coloring Book) Paperback
by Brenda Sneathen Mattox

Artist Brenda Sneathen Mattox has painstakingly re-created a rich selection of nineteenth-century dolls... Thirty full-page, ready-to-color illustrations present these rare dolls in authentic period costumes.
These beautifully drawn portraits of irresistible playthings — all identified in brief captions — will delight not only coloring book fans, but doll collectors and antique enthusiasts as well.
Your Dolly's Clothes -- A 1920s Pattern Book for Making Vintage Doll Fashions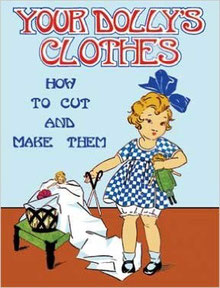 Your Dolly's Clothes - A 1920's Pattern Book for Making Vintage Doll Fashions Paperback
Originally published in 1923, this rare doll clothes book contains patterns you can make to properly outfit your dolls in 1920s style. Because this book was originally intended to teach young girls how to design, cut and make clothes for their dolls, the patterns are simple and easy to follow and the instructions for making garments are outlined in step-by-step detail. Full size patterns for a romper, dress, bloomers, blouse for girl and shirt for boy are provided to fit a doll sized 14 inches from head to toe and 8 inches around the waist, with simple instructions for making larger sizes.