Grace Drayton 'Dolly Dingle' Anti Stress Coloring Books for Adult Relaxation and Dingle Paper Doll Cutouts Color Therapy, 60 Pages, 28 Themes
Dolly Dingle Anti Stress Coloring Books for Adult Relaxation and Dingle Paper Doll Cutouts Color
Therapy
60 pages/28 Themes
by Grace Drayton
$23.50
(Does not ship to some Canadian locations)
From the Product Description
It's time to be calm! This 'Dolly Dingle' coloring book invites you to relax and explore the intricate and exquisite world of stress mending circular whimsical art. Stroke by stroke, shade by shade, tension and worries fade away as you transform its black and white lines into your own unique, personal and beautiful keepsake art piece. Also, you can play with paper Dingle dolls after you finished coloring. **Grace G. Drayton was an illustrator who created popular period comics Dolly Dingle and The Pussycat Princess. She created the "Campbell Soup Kids" advertising campaign and is probably best known for her popular Dolly Dingle paper dolls in the women's magazine Pictorial Review.
'Dolly Dingle' Stress Relieving Coloring Postcards Set Anti Stress Coloring Book Color Therapy Stationery Note Cards Set, 40 Postcards, 4 Sticker Sheets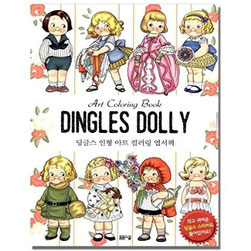 Dolly Dingle Stress Relieving Coloring Postcards Set...etc
40 Postcards
$17.50
(Does not ship to some Canadian locations)
From a review:
What an amazing deal for the price...40 postcards plus 4 pages of stickers, a totally different idea to color and personalize set of adorable dolls. I have always loved the "Campbell's Soup Kids" with their innocent chubby faces, so this caught my eye immediately. The paper is of a heavier weight, perfect for laying down and shading both pencil and pen easily. The added stickers are a lovely compliment to further personalize each picture. I am thrilled with my purchase, just what I needed to help me get through a cold Buffalo winter. In fact, I loved this so much that I am going back and purchasing the other book of dolls and their accompanying outfits. I wouldn't hesitate to recommend this set to both beginner and advanced artists!!