Madeline 16" Soft Doll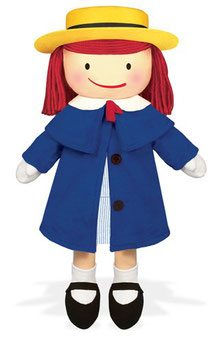 Madeline 16" Doll
$37US
From the summary:
Removable blue fleece coat, blue and white school dress, white gloves, yellow felt hat with grosgrain ribbon trim
Even comes with an embroidered appendix scar
Blush cheeks, famous red yarn hair, socks and shoes
Inspired by the classic storybooks by Ludwig Bemelmans and John Bemelmans Marciano
From a purchaser:
I love this doll! It is intended as a companion to the Madeline storybook, as a birthday gift to a neighbor's daughter, who is learning to read, and loves the story of Madeline. Thank you so much! :)
A Madeline Treasury: The Original Stories by Ludwig Bemelmans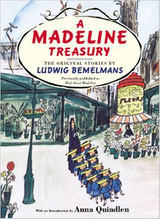 A Madeline Treasury: The Original Stories by Ludwig Bemelmans
Hardcover
$25.59US Hardcover
Celebrate 75 Years of Madeline!

From the summary:
Here, collected in one handsome volume, are all the adventures of Madeline, a fearless little girl full of mischief and vitality who is one of the world's most popular and beloved fictional characters. Madeline, which was first published in 1939, and its five sequels have charmed generations of readers, and become true classics. In each of these books, Bemelmans' humorous verse, his immortal characters—Miss Clavel, Pepito, the magician, the others—and his wonderful, whimsical drawings of Paris combine to create a memorable reading experience for people of all ages.