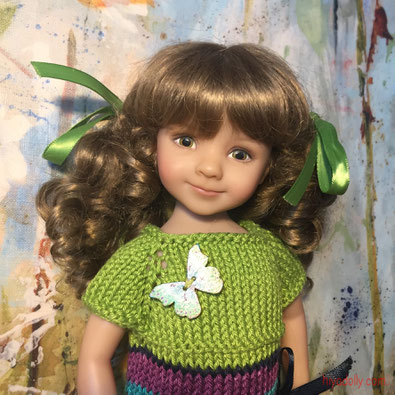 It's Tink! Our March girl!
And it's our knit dress photo shoot!
We decided, for 2017, that we would feature one Little Darling a month and allow her to host the month's events:
January, it was Pearl...overseeing the Eiffel Tower Model Coloring.
February, Chantal took center stage, leading the Valentine sock wear designing and event, and the movie outing.
It's March, and Tink is excited!
She got to choose her dress first for this photo shoot...and she chose the one with her favorite lime color. And it has a butterfly. Tink loves creatures of all kinds!
In this post, besides featuring Tink, and knit dresses, we are grouping all the Little Darlings in all kinds of ways:
by artist
by sculpt
by source
by eye color..
by hair color
Let's get started!
---
First, our little Darlings by their Dolltown name, and underneath, their artist-given name.
And the girls are listed in the order they arrived in Dolltown...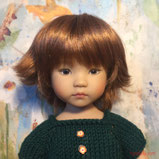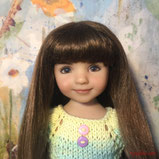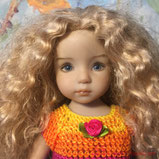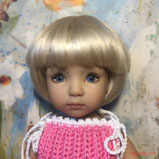 ---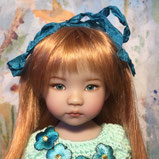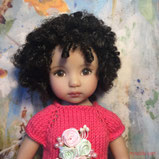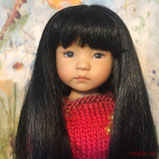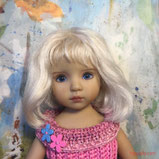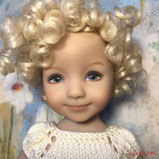 ---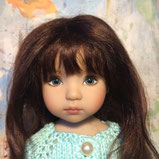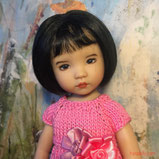 Maggie and Conner, on the right, are visiting aunties right now!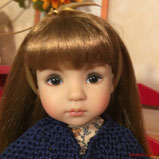 The last five girls, as ordered from the artists themselves, began as the named sculpt but each had variations requested...a different shaped lip, a change in eye color, and even a kind of expression...
---
Who created our Little Darlings?
Dolltown is fortunate to have LD's painted by four different artists...
Dianna Effner, the creator of the (so far) three sculpts, has trained several people in her realistic painting style...
Dolltown has yet to collect LD's from some of the artists, although we would dearly love to!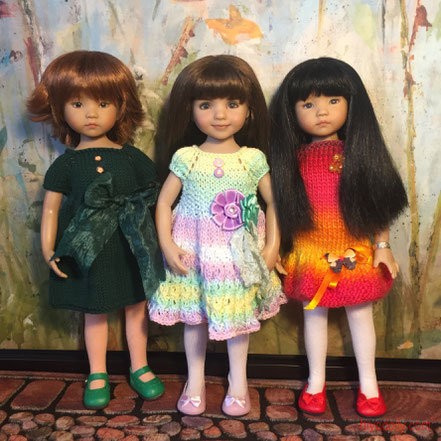 Dianna Effner LD's
(Evie, on the left, is a factory doll, designed by Dianna)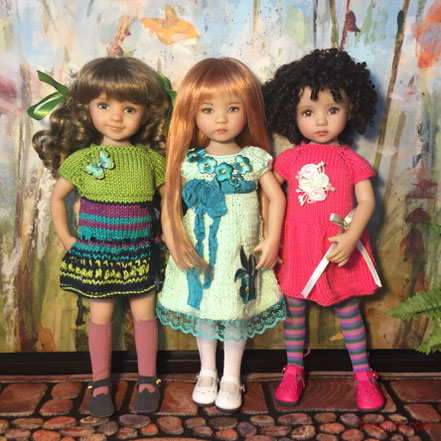 ---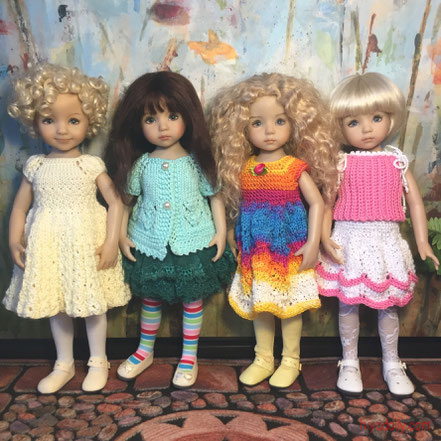 Geri Uribe LD's
(Also Maggie and Conner, away visiting)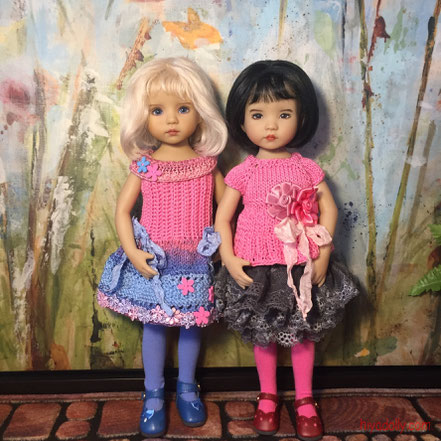 ---
Which sculpts do we have?
The face sculpts help to create different looks for the LD's, one being a smiling face.
People have their preferences, but here we love all three (although we have more Sculpt Ones!)
In Dolltown, where expressions for stories are important, we do work arounds...
Like saying "Scout was happy"...even though Scout seems more serious. 
Their expressions have helped me choose their characters for the stories we do.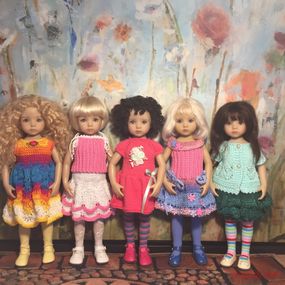 Sculpt One
(and Maggie and Conner)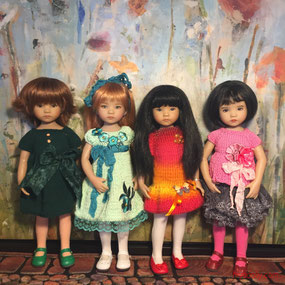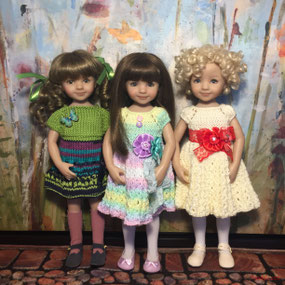 ---
Where did our girls come from?
There are several sources for Little Darlings...
The United Federation Doll Convention site has carried LD's that were featured at their yearly convention.
The artists almost all have their own websites, (or share), where their dolls can be ordered from.
People who own LD's, and then sell them for some reason, use eBay.
Or trade or sell their LD's on membership sites, Facebook group pages, or to friends.
And several artists also sell directly from eBay, from time to time.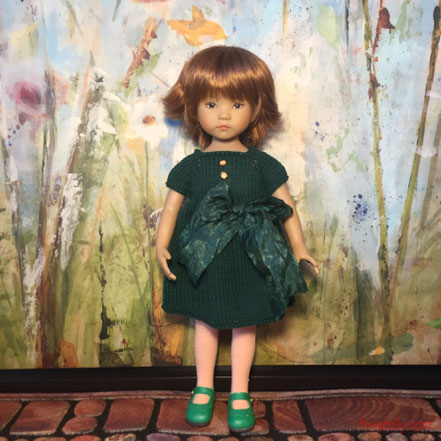 Evie was ordered from the UFDC site.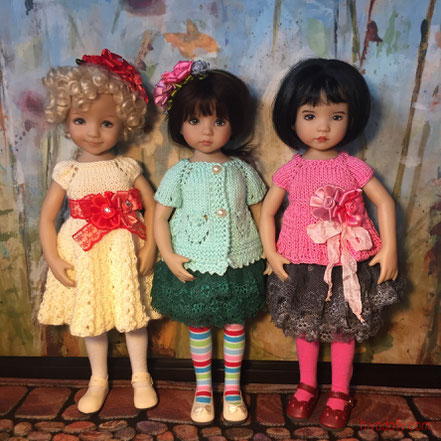 Birdy, Rosa, and Jiyoon were ordered from the artists.
(Maggie and Conner, too)
---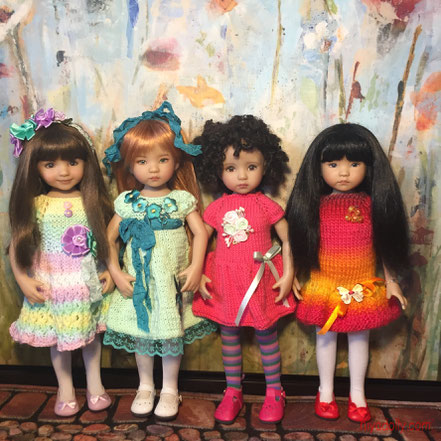 Chantal, Scout, Xennia, and Rosa were purchased from artist and artist-approved shops on eBay.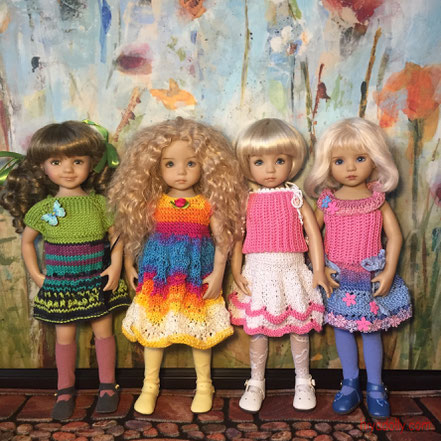 Tink, Lula, Pearl, and Faith came from previous owners on eBay shops.
---
Eye color...
Our Little Darlings have been chosen deliberately for variety, and also impulsively, because we have fallen in love.
So we have ended up with a nice variety of colors and shades...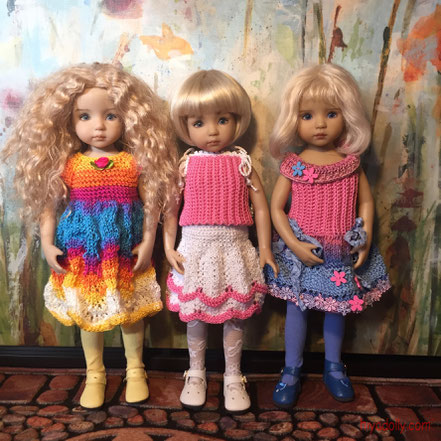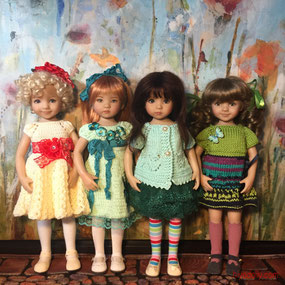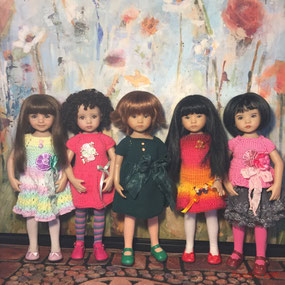 ---
Hair color...
The Dolltown Little Darlings were chosen with a lot of thought on variety and character.
That means that some of them had their wigs switched up, a key way to change their look.
For now we have settled on these styles and colors...
Redheads.
Evie arrived with black hair.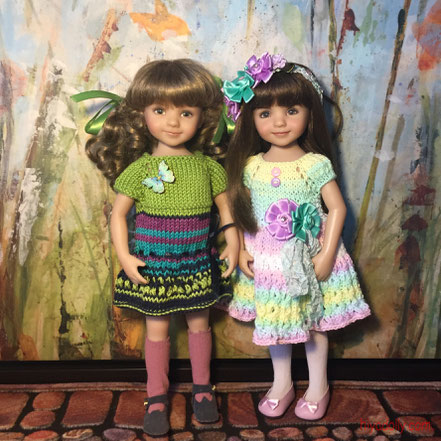 Brown hair.
Tink's wig changed style, but not color.
---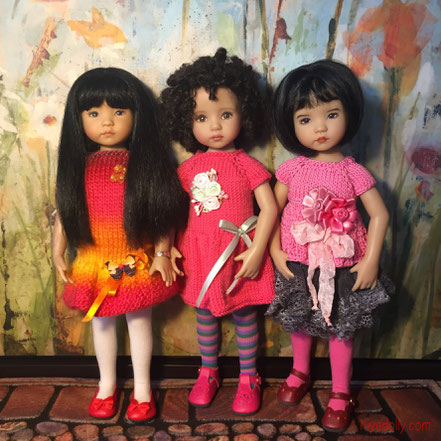 Black hair.
Xennia arrived in a blond wig.
Blonds.
Faith arrived in a brown wig.
---
That's our Little Darlings, all categorized! All loved!
Next post...their knit dresses and tops are featured.
Who made them and where did they come from?
Tink says, "Make sure you all come back now!"
(Maybe because she has already changed into a brand new cowgirl outfit from Carol Pringle! Soon...)