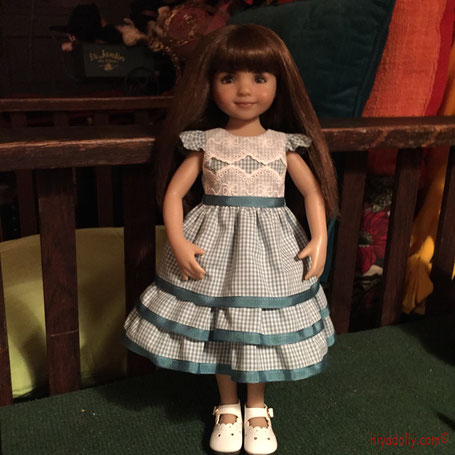 A story of a new dress from Tomi Jane, a favorite dressmaker in Dolltown... It has been tucked away in tissue for months!
It's Easter week! But the Little Darlings are still at the river and aren't ready to fancy up. They have a very special picnic to enjoy yet!
But I have their dresses laid out for them for when they return from their river outing.
And we are going to have fun because over the year, when I cash in my sparkly water cans, I hunt for basic separates for our active Dolltown lives...or I spring for a special dress.
Last fall while window shopping on eBay, I found this special dress. It is a Tomi Jane Tea Dress. And I am such a Tomi Jane fan!
So I spent all my soda can money on this one dress. And that's why my girls had to wear sock dresses for Valentine's!
Chantal got to try this pretty aqua dress when it arrived, and we sent her photo to Tomi with a thank you. Then we put it away until spring. And it's spring!
Now, who will get to wear it when the girls get all fancied up in our prettiest dresses?
And over the months we have gathered other lovely dresses, from wonderful dressmakers!
We are looking forward to tea time and egg hunts in the garden, all dressed up.
If only it would warm up a little!
We are so over sweaters. It has been a loooong winter!
I have set up a whole page for Tomi Jane on our Hiya Dolly site. And I am gathering our Tomi Jane stories and photos....