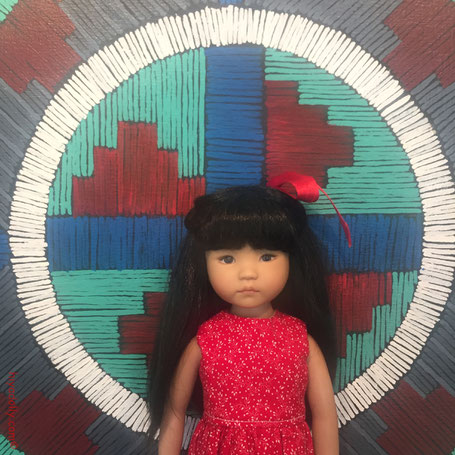 Here's Zoey, with an art piece by Leonard George, in an acrylic painting style he calls "basketweave"...
We have taken a break!
For over two years, the inhabitants of Dolltown have led busy lives, recorded by me with help from Miley, Dolltown reporter...
Over the last six months my life has taken a turn, a positive turn, and the changes require more of my time to look after.
Just as I oversee Dolltown and the action here, I am involved in real time with real people, and record the action through photos and videos, posting them to social media: Facebook, Instagram, and websites.
In June, I retired and took on the Art Gallery position in our small town in Gold Country, BC.
I arrange monthly art exhibitions. My friends and I put on monthly Coffee Houses, and weekly Open Mic Nights. With friends and supporters, we create and carry out art classes, teas, receptions, and community events....
I am part of an exciting initiative called Route Blue, connecting rural communities through music and art. And besides Hiya Dolly (one of my "artistic" expressions) I created and maintain the Nicola Valley Arts Council website, and manage my own arts and music (etc) Facebook page, Bluebird Country.
After keeping up a way-too-busy pace, I stopped my Dolltown.News weekly newsletter and sent all my dolls off to their rooms and into the garden to amuse themselves. Or let the enthusiastic learners set up school classes with each other while I got busy with other things.
That's the nice thing about dolls... Very independent.
And while the Dolltowners managed their own lives, and looked out for one another, I got to spend evenings watching reruns of my first grandchild, born late July, 13,203 km (8,204 miles) away in Melbourne Australia. And chat with my youngest daughter about her Nuna Leaf chair, and her supportive Mom's group....
And now I am focused on getting ready for baby Jasper and his parents' month long stay in our tiny house, come December. 
So, under my present circumstances, I am evaluating how I will continue with my Dolltown story reporting...
Stay tuned, but at a slower pace...
I can tell you the Little Darlings all got themselves dressed for fall when the weather turned chilly
and are clamoring for a photo shoot! 
Okay, okay...