---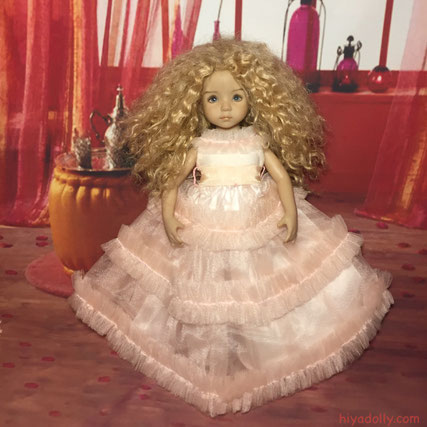 Happy Valentines Day!
Little Darlings and Valentines Day go together like hearts and chocolate...
Lula Star leads the way to the Pink Room, perfect for Valentines festivities!
And all her friends join her for photos before the fun starts!
Once again, every pink item in the Little Darling wardrobe was gathered for the girls to choose from. And there is just enough!
Here the girls are with their bff's.
---
Who are you wearing?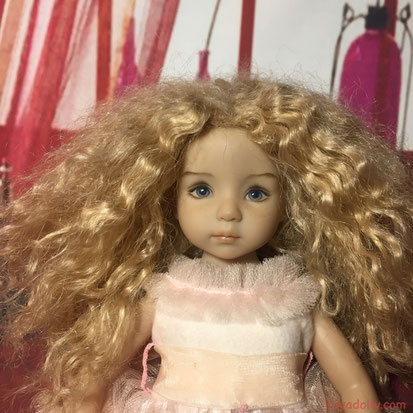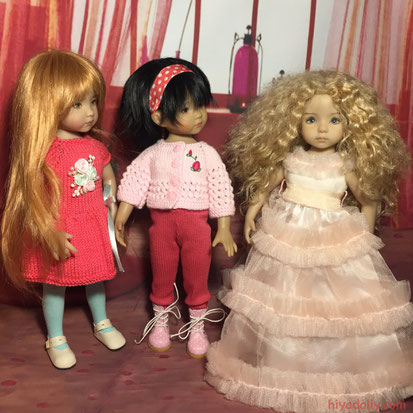 Well, Lula is dressed to the nines in one of our fanciest dresses.
(Or...maybe our only fancy dress!)
And Scout has chosen one of our favorite knit dresses.
Evie, however, insisted on wearing leggings.... She thinks, party!
That means games! And maybe an opportunity for active competition, even races.
Not really what we had in mind for today's fun.
Some of the girls are hoping the boys will come.
And there will be kissing games.
What? Settle down! Maybe Evie's idea of races is a good one!
Run away, girls!
---
"Can we set up an obstacle course?", Evie asks.
"I'm good at those..."
Yes! Set up obstacles!
---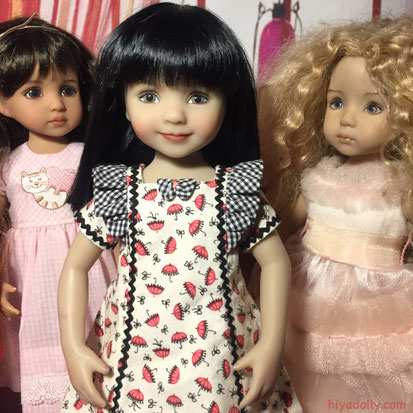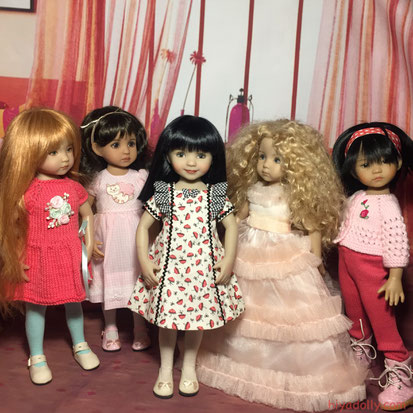 Speaking of special dresses, look at this!
Desiree is wearing a Tomi Jane dress from our spring wardrobe.
We couldn't resist with that shiny black 'do she is sporting.
Crisp, neat, rickracked, and adorable...
Thanks again, Tomi Jane! (She's the best!)
And speaking of adorable, Indira is wearing one of our first Little Darling dresses,
purchased even before the girls arrived!
---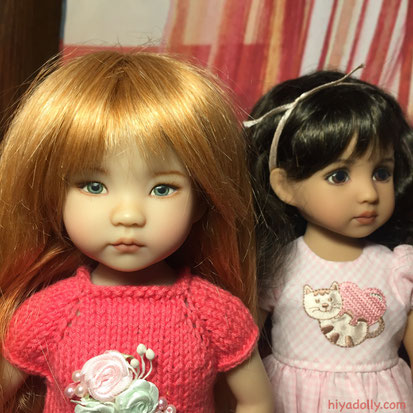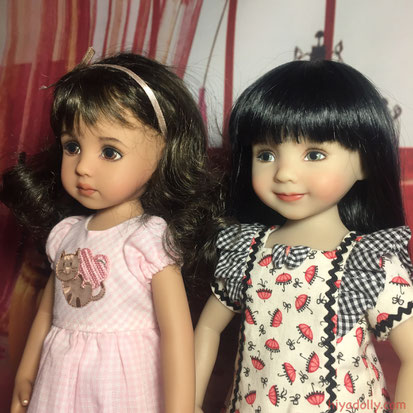 ---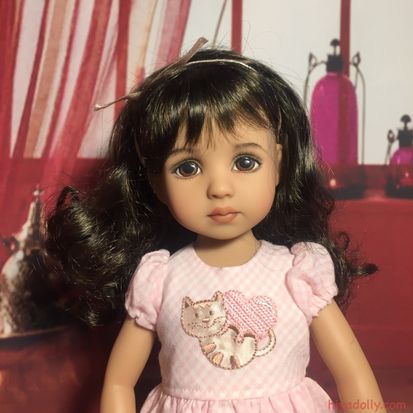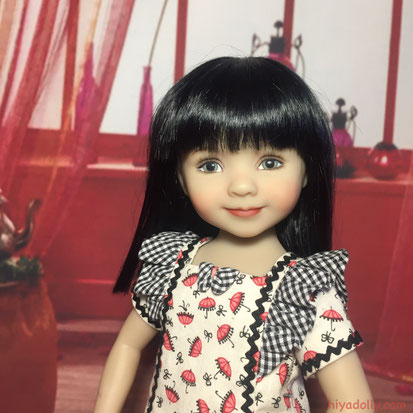 ---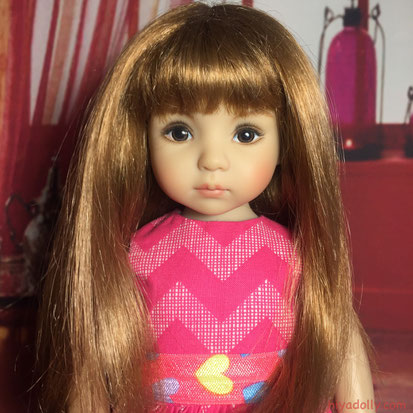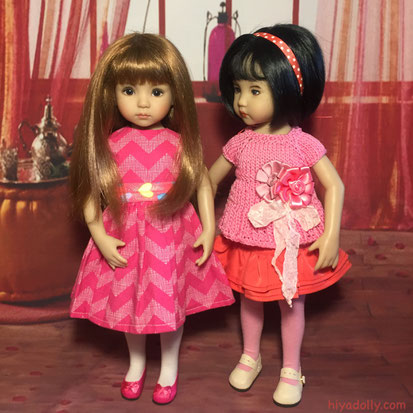 Maggie and Jiyoon in Valentine brights, a variety of styles and sources!
---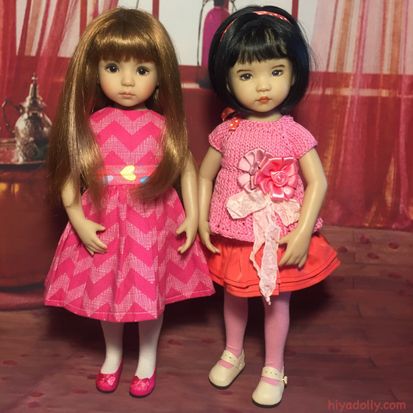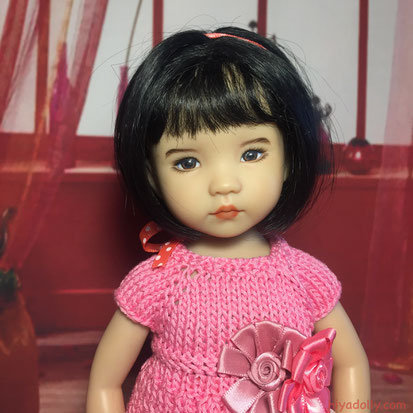 ---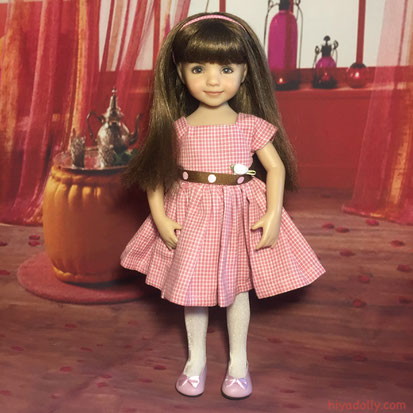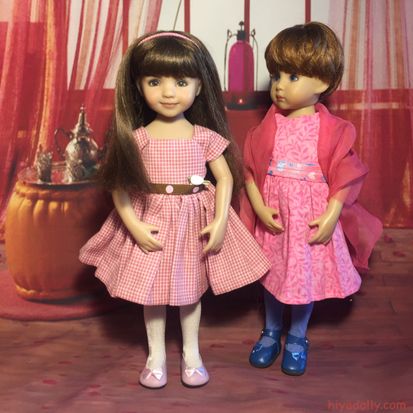 Chantal in fashionable pink and brown.
We love this polka dot ribbon!
And Fig dons a theatrical chiffon scarf...
---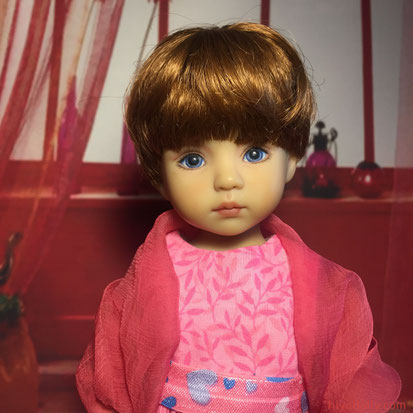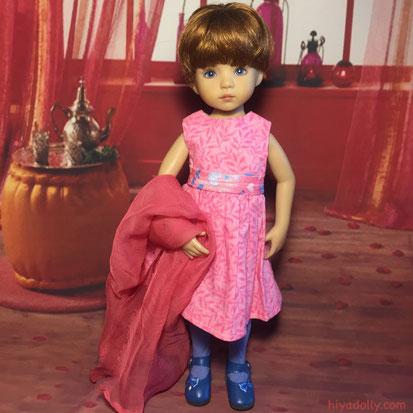 Nice touch, Fig!
Red carpet ready!
---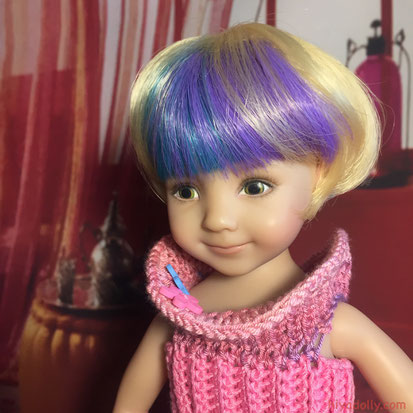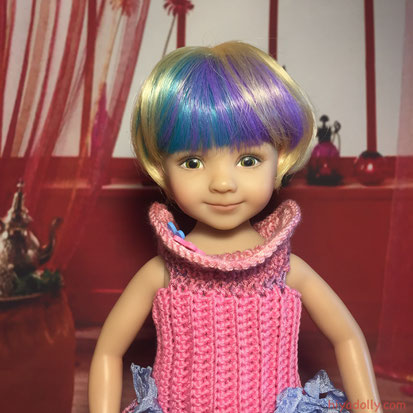 Tink is having fun with her rainbow wig.
Makes her feel all that!
She chose one of our fancier knit dresses!
---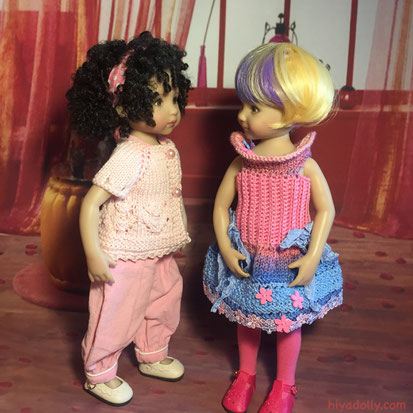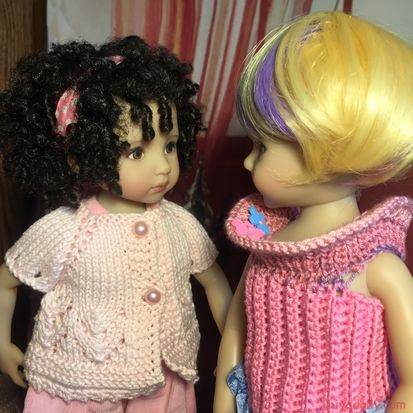 Xennia refused to change out of her comfy corduroy romper.
And we didn't argue since it's pink.
But we did get her into a pretty sweater and polka dot headband for the occasion...
---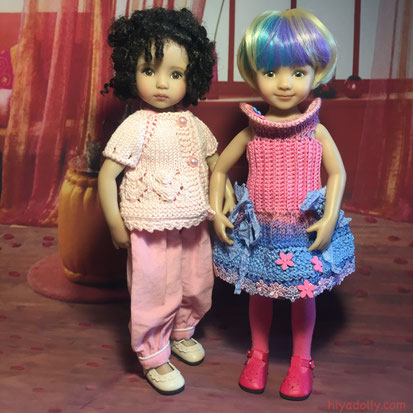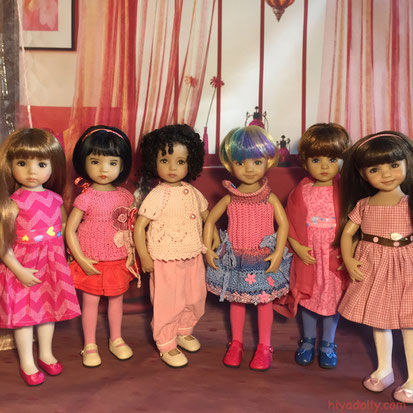 ---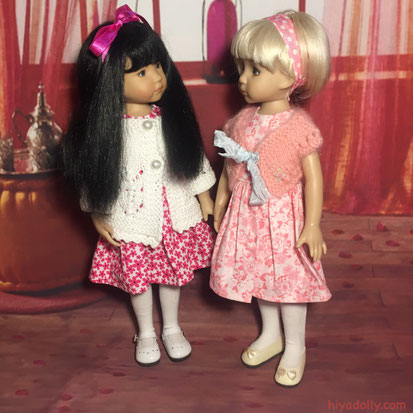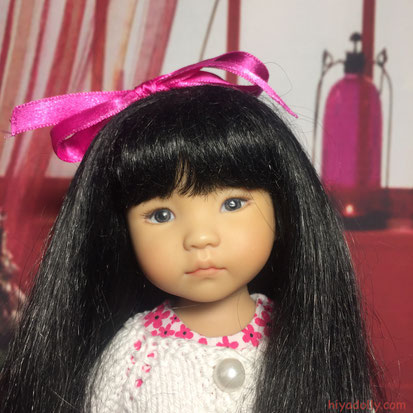 Anna Zoey and Pearl show the range of pinks we have to choose from.
And, like Maggie and Fig, they wear the basic dresses we depend on so much.
Here in Dolltown, because we have so many dolls to dress, we have shopped for versatile, and reasonably priced outfits that can be used for a variety of purposes. 
And these patterned cotton dresses are so cute and classic!
---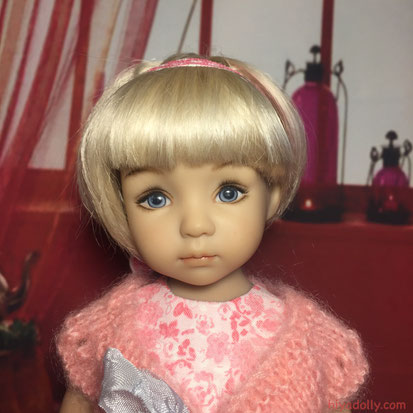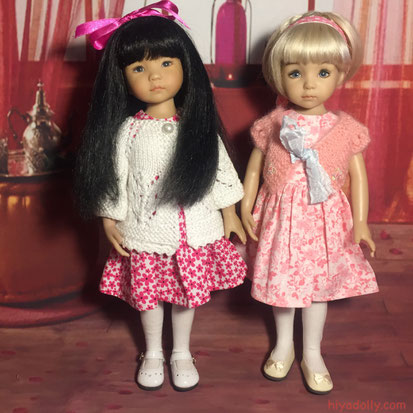 Anna Zoey wears a white sweater from a favorite source. We have 4 of those, in different colors!
And Pearl wears a very special soft shrug that Dolltown won as a photo prize!
---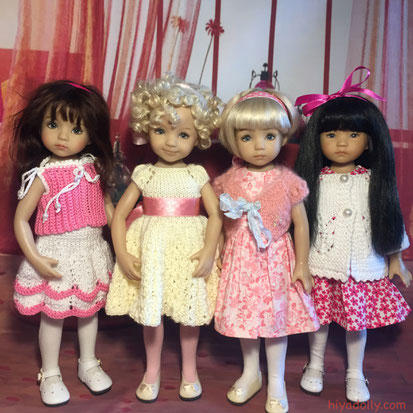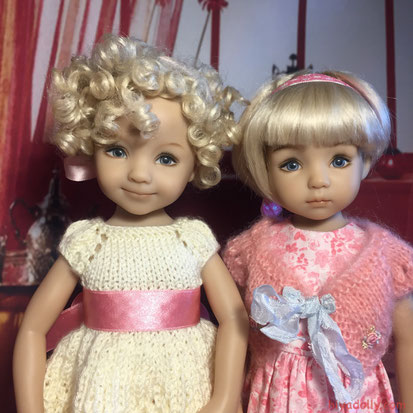 Rosa and Birdy are wearing two more knit dresses from Nataliya, like Scout's and Tink's.
And Jiyoon's knit top with the satin flowers!
Birdy's cream dress is worn a lot, for fall, Christmas, and springwear.
Everyone gets to wear it! Thanks Nataliya!
---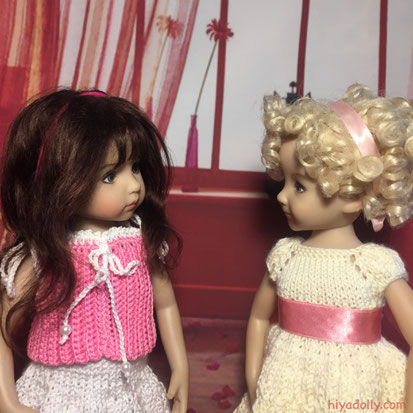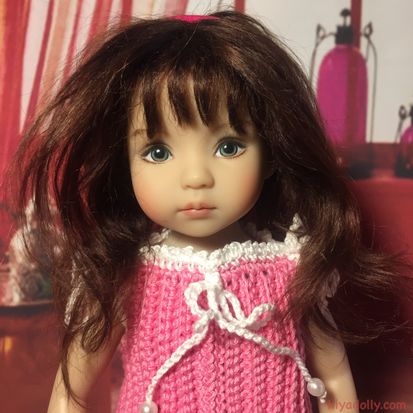 ---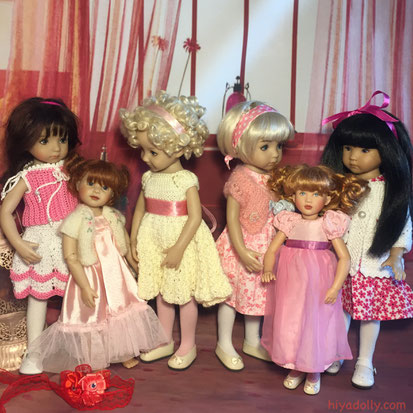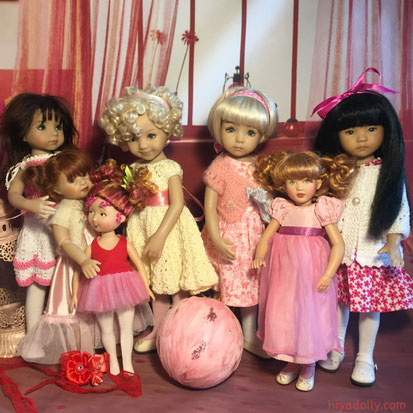 Okay, our Valentine photo shoot has to finish up!
Here come the other children!
Little Oiya, Kish, and Fancy Nancy arrive ready for some Valentine fun!