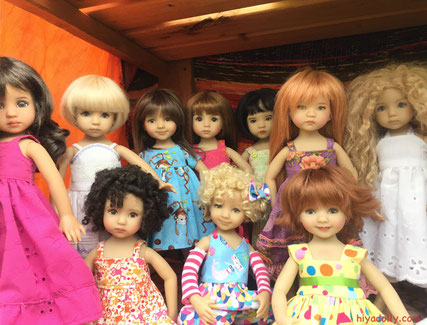 Here they are!
It's summer time in Dolltown, and the Little Darlings are out and about in the garden in their cool summer dresses!
I gathered them into some outdoor shelves long enough to snap photos of each of them, with their bff's, and a couple of shots with as many of them as I could squeeze into a shot...
Let's see who's wearing what! With 15 girls to show off these lovely sundresses, there's lots of variety! And several dolly dressmakers are represented here! I'll add the names, soon... :)
---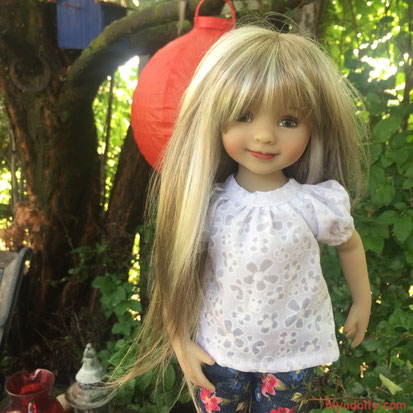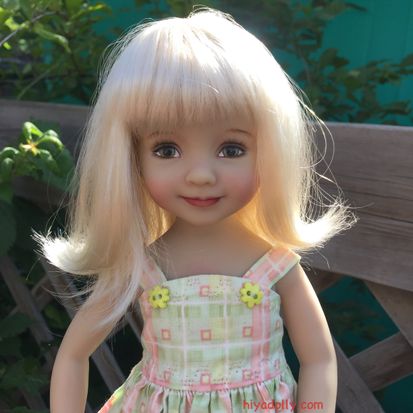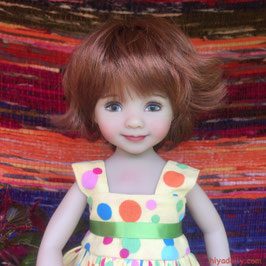 First of all, let's show Dove, in three different personas.
I love the Roxy wig! This red one looks adorable on her.
So nice she stayed in it for this photo shoot...
---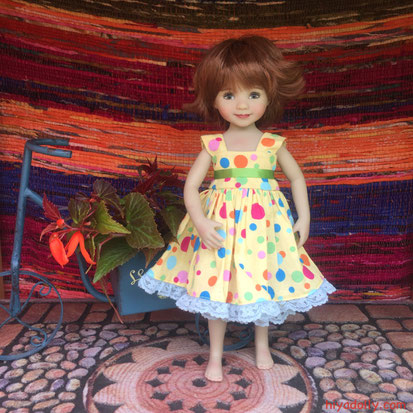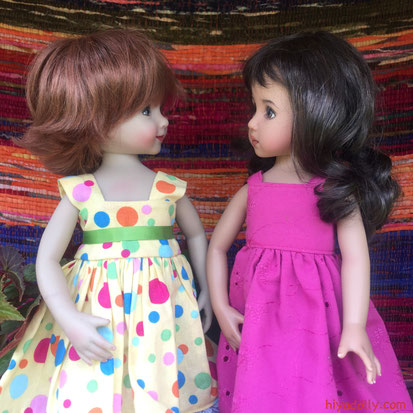 Dove is bff's with Indira...they are both our newest Little Darlings.
A year now since Dove arrived!
---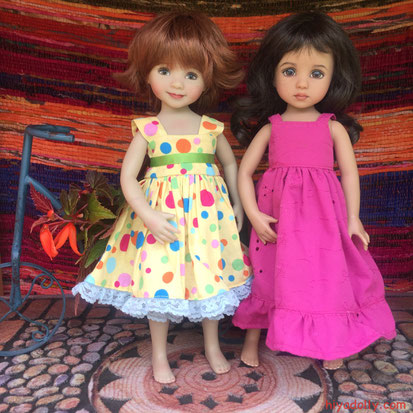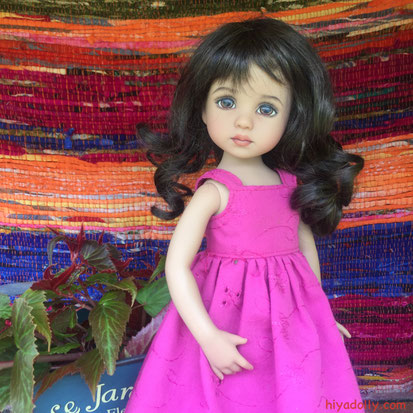 ---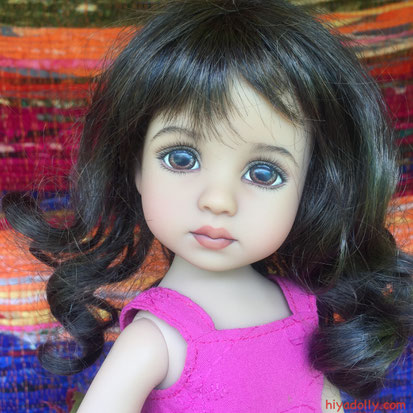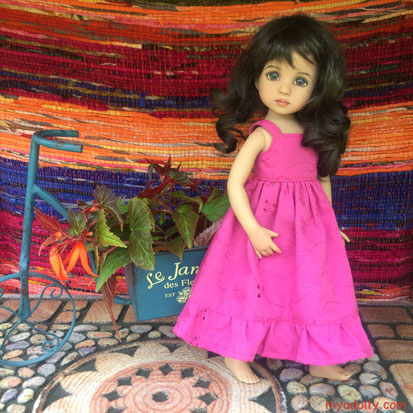 Indira has the most beautiful big brown eyes.
I love her in this pink eyelet dress.
---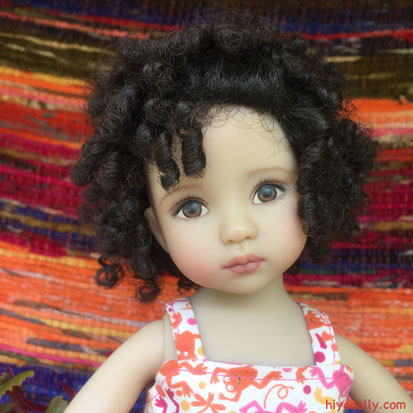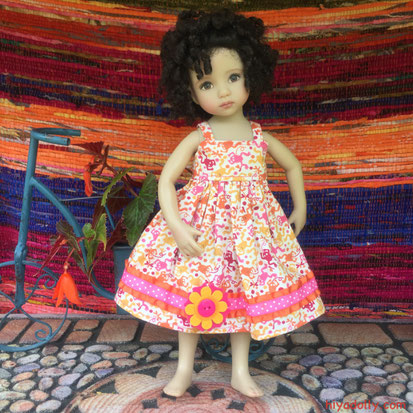 Xennia got to wear Erin Green's froggy sundress, a favorite in Dolltown.
But where's bff Tink? 
We hear she got to try on a brand new outfit...more frogs?
---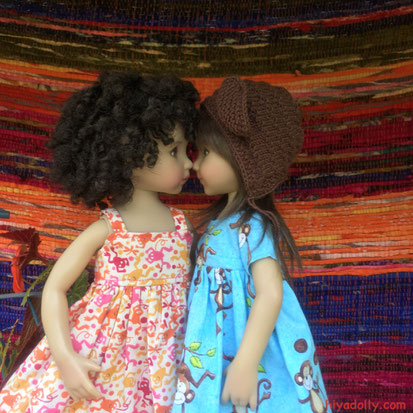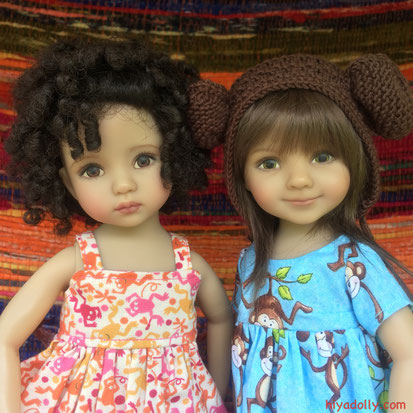 Monkeys! Even a little monkey hat!
Tink! Lucky girl!
---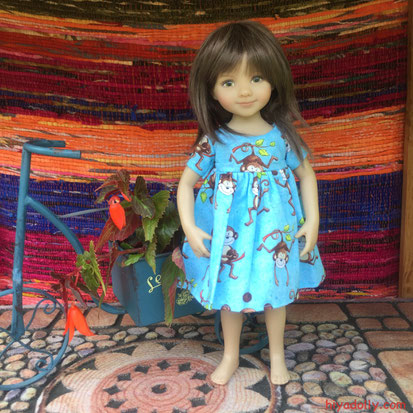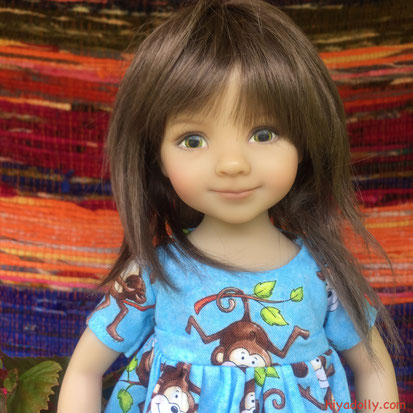 Tink's happy with her little monkey dress!
She lost the monkey hat to Xennia, but she doesn't mind...easy going Tink!
---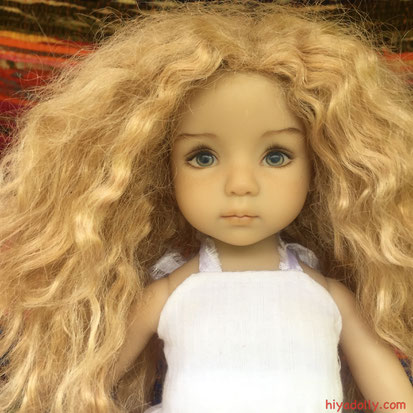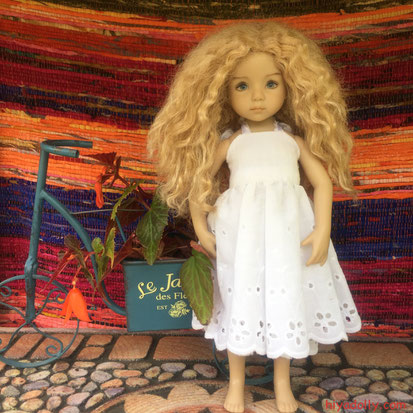 Lula Star is wearing the sweet sundress we bought even before our first LD arrived in Dolltown.
Who can resist white eyelet? With bloomers?
And Lula took this to Australia when she traveled there with her doppelganger, our Lani.
We have a photo of Lula hanging onto a Christmas tree in this dress,
just before her Tasmanian family headed to the beach.
---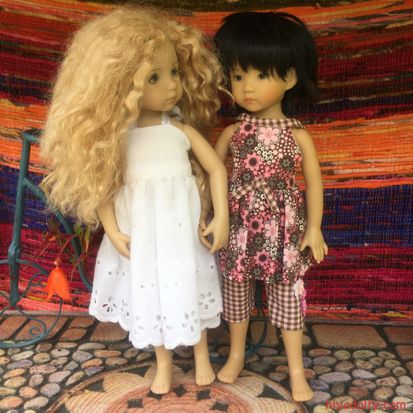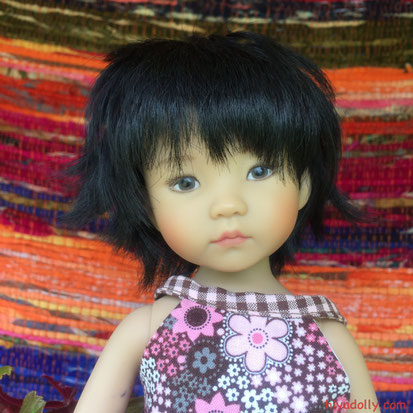 Lula has not one, but two bff's.
Evie Stevie loves to join Lula on her adventures.
No dresses for her! She wants to be ready for action!
Her outfit is from Mrs Bobbin Sews on Facebook.
---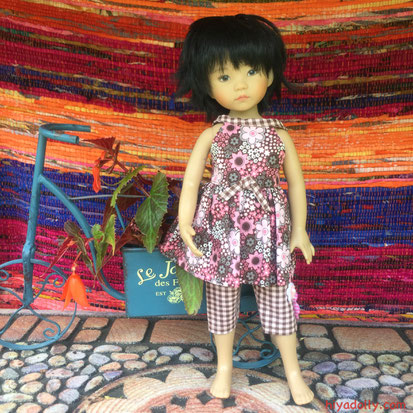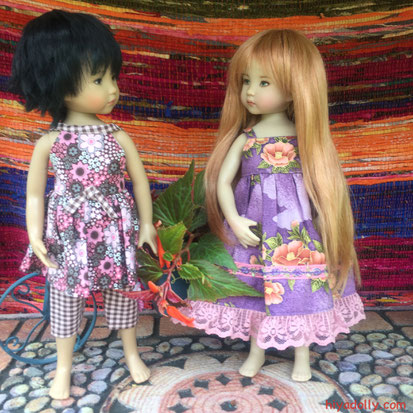 Scout, Lula's other bff, keeps the other two focused on the effects of their adventures on the earth.
So, not just fun...meaningful!
---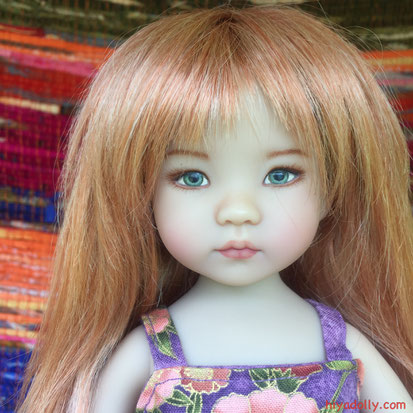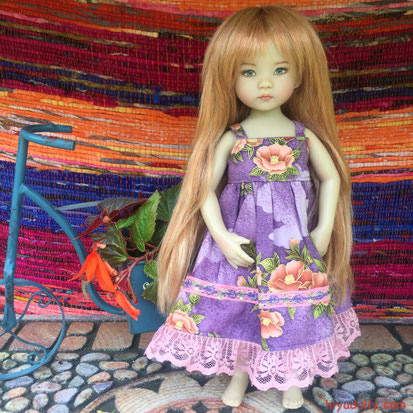 Scout's serious nature is balanced by her love of clothes. But even then...
"Is this bamboo?", she asks of Erin's pretty sundress.
Nooo, but look how pretty these colors are with your hair!
(My generation loves cotton!)
---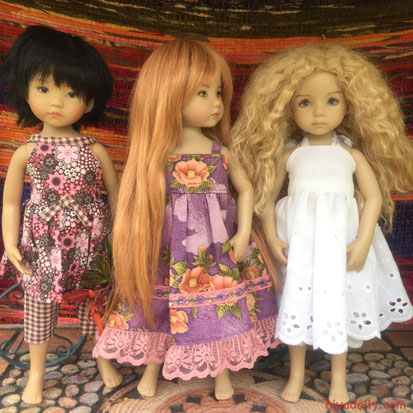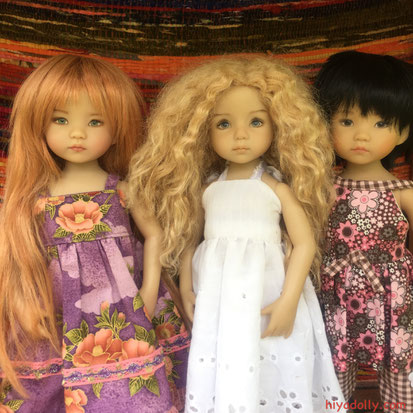 This trio is already discussing how to climb the rose bush they can see across the patio.
Can't you girls wait until you have changed into shorts?
Okay, fine...
---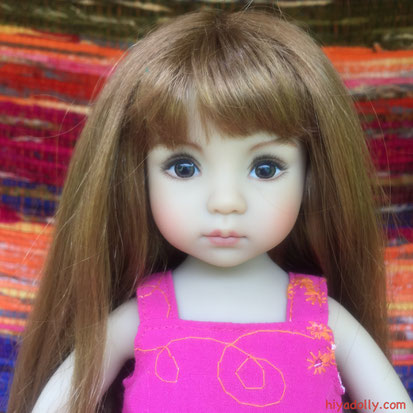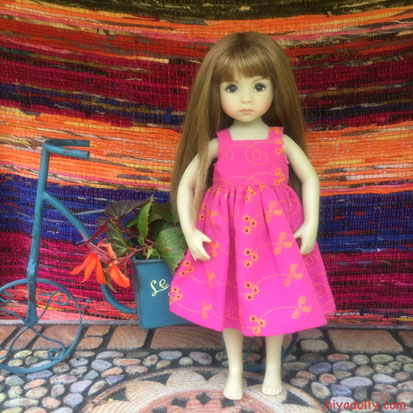 Maggie spent a year with her doppelganger in London.
And although she took a small wardrobe from Dolltown, she wore her black yoga outfit constantly.
Looking even more like our Tasya!
She was happy to get back to a fun wardrobel with lots of colors!
---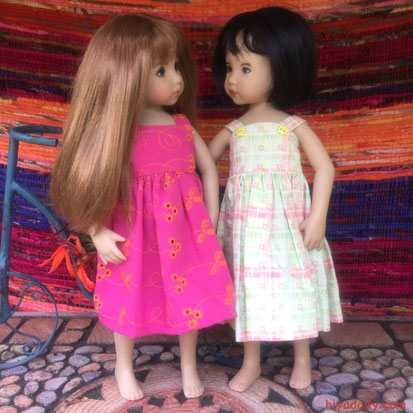 Jiyoon was happy when Maggie returned. Bff's!
---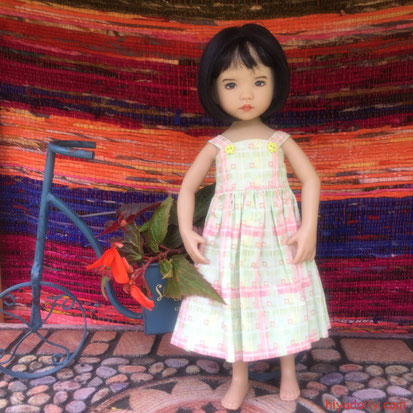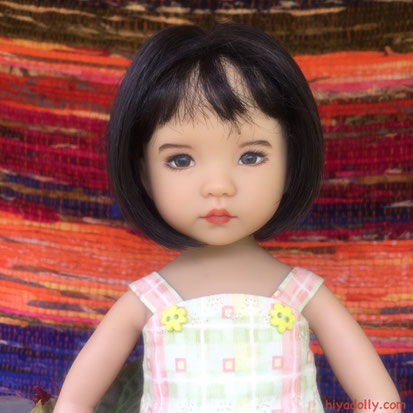 Jiyoon spent time with all the bff's when Maggie was in London. Fun!
---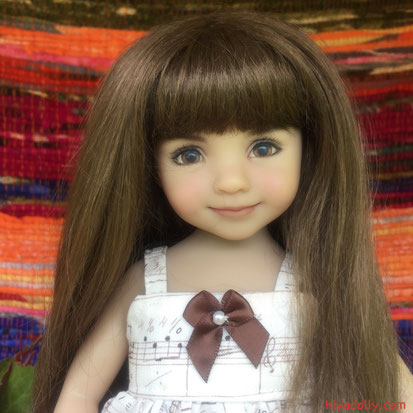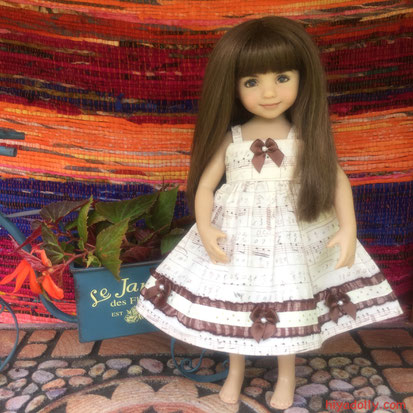 Chantal, our little songstress, was our 3rd LD to arrive.
She is often lost in her own little world.
Another Erin Green sundress! A special request for a musical notes dress!
---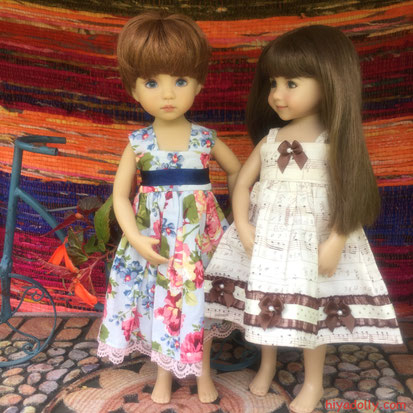 Chantal's and Fig are bff's.
They are full of imagination and think up performances for the other girls, and Dolltowners.
---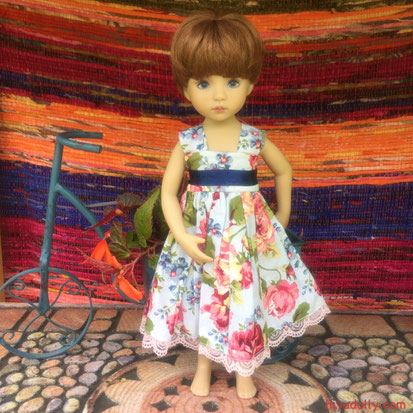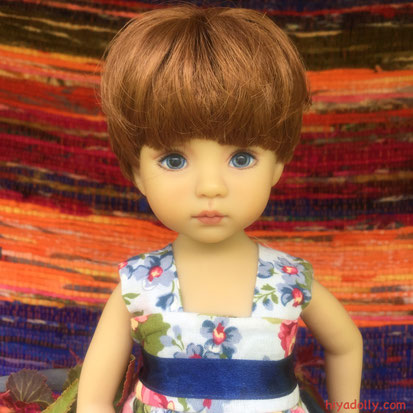 Fig, in one of our earliest sundresses, loves to dress up and pretend.
Here she imagines she is a flower delivery girl with a special cart...
---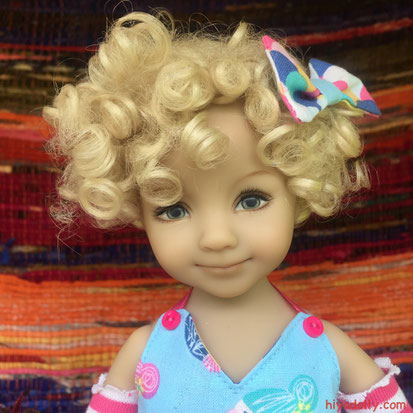 It's Birdy!
In a cute outfit we won in a photography contest!
So cheerful, just like Birdy!
Thanks Jayne!
---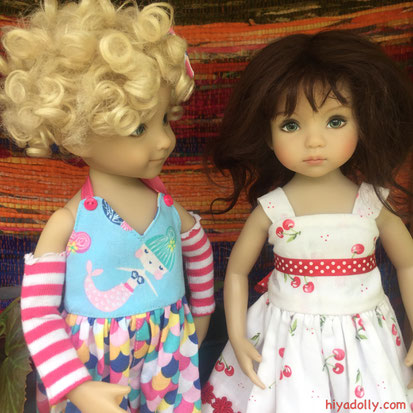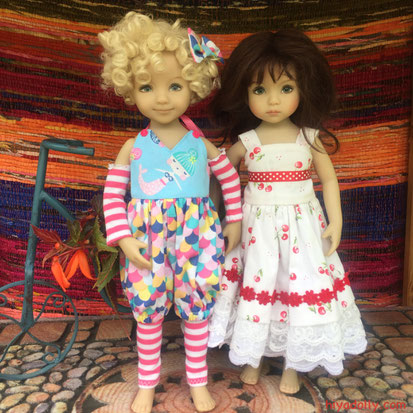 Birdy and Rosa were the first Little Darlings I chose.
It took them over a year to arrive, but in my mind they were bff's from the beginning...
---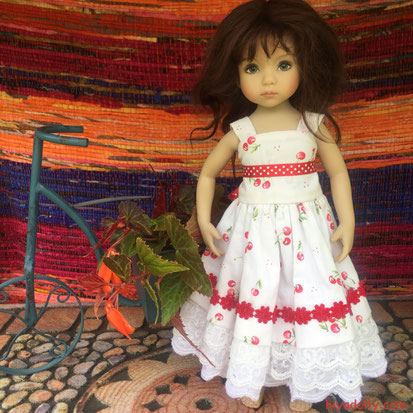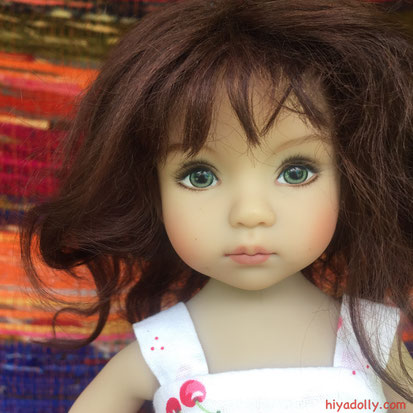 Rosa loves flowers, fruit, and anything to do with gardens.
This fun cherry sundress arrived long before she did, so she's not the first to wear it!
But very pretty with her green eyes!
---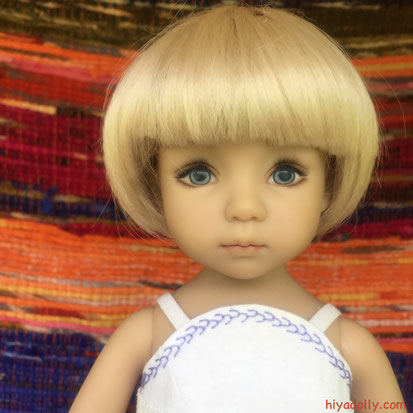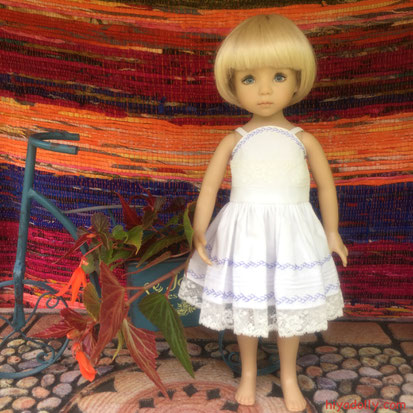 Pearl, neat as a pin in a Tomi Jane sundress!
How lucky were we to find this dress from one of our favorite dressmakers!
Lucky Pearl!
---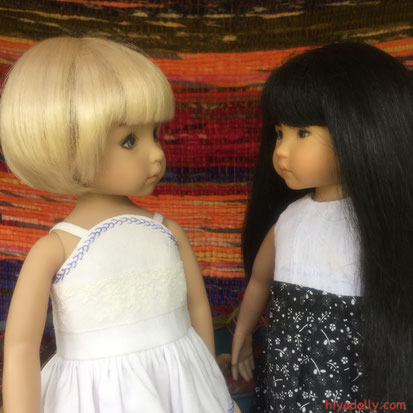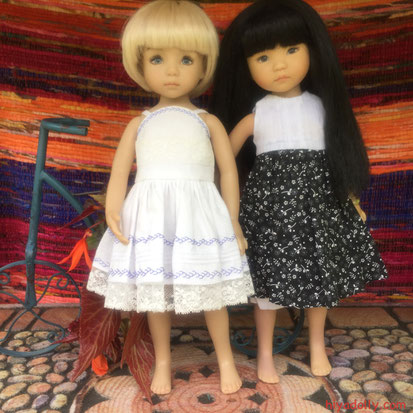 Pearl and Anna Zoey are two focused bff's.
They organize, keep things moving, gather materials...and LD's for photos!
Thanks girls!
---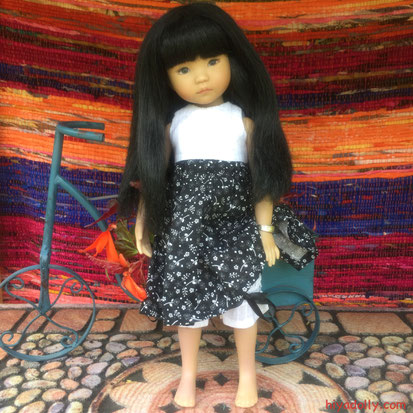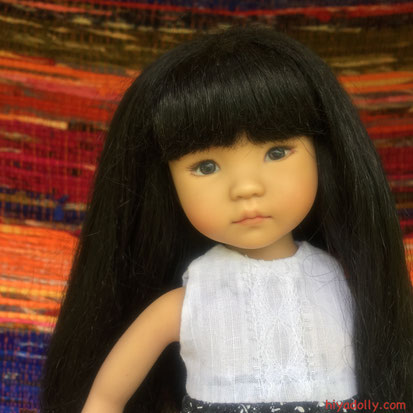 Anna Zoey is wearing the other "first" LD dress we bought from Etsy before any of the girls arrived.
She loves the pantaloons with the black satin ribbon.
Anna is the actual Little Darling prototype for "Ana", the 1st Nations 2014 Convention doll.
(Our Evie Stevie, above!)
---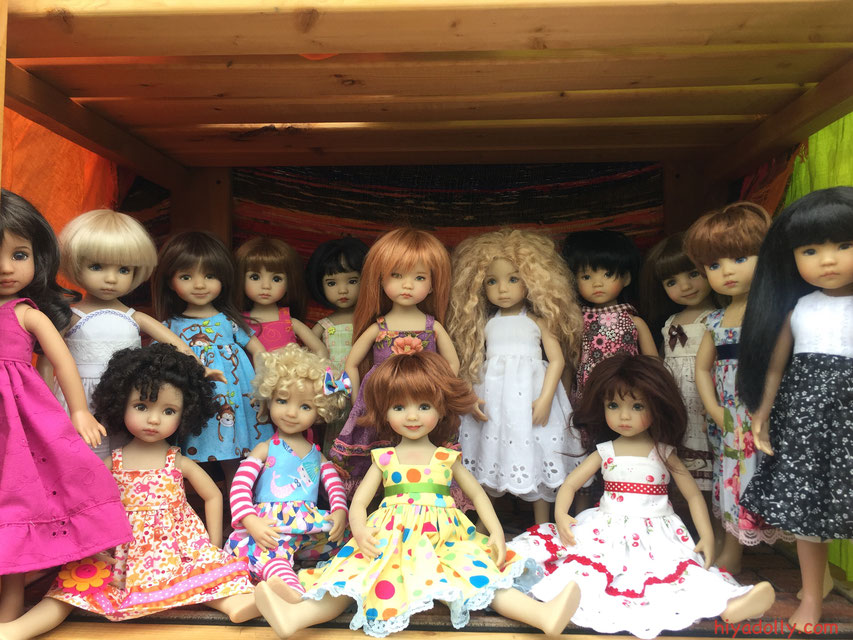 Success! Everybody's here!
Well, Conner is still at April Fashion Doll Stylist's Design School for Girls in Detroit.
She's learning to make shoes for fashion dolls!
Our girls aren't even wearing shoes! lol
The Little Darlings are scattering again!
They are off to play in the garden!
Go for it, girls...but listen for the supper bell!