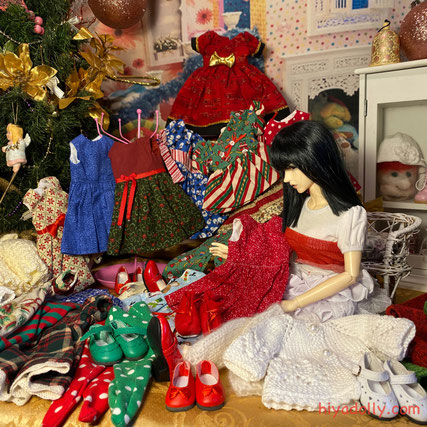 Violet, one of our Iple girls, is setting up the Playroom for the Little Darlings!
Red dresses, green, and snowflake blue, fill the room. Dresses with poinsettias and plaids and tights with polka dots and stripes are ready for the girls on their way to the Playroom.
Good job, Violet! And such a pretty tree! You and the other Iple girls, Aira and Odelle, have done a fine job! All year the three of you have been helping all the little children in Dolltown! From our Easter Party, to beach party, to Christmas party...hey, there's a pattern here! You girls are all about parties, eh?
Well Violet, I think you and your helpful friends will be rewarded...
---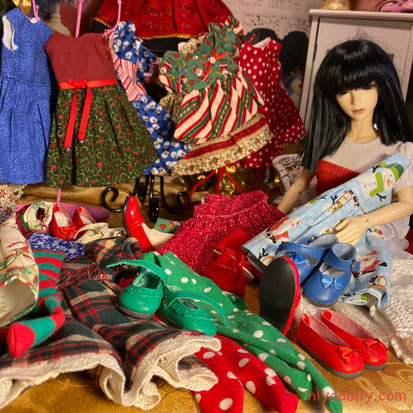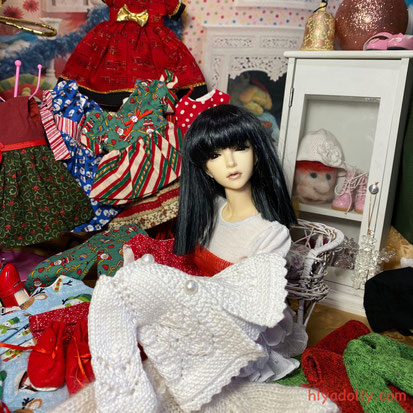 We have gathered the sweetest collection of Christmas dresses.
The Little Darling world is filled with such talented dress designers!
I don't dare look at Ebay or Etsy at this time of year!
It's all I can do to Love the photos of other pretty LD's in my fav dolly groups.
Something might be for sale! Move along!
Violet is showing me a white sweater she thinks might fit her.
The Iple girls don't have many clothes at all, poor things. 
Go ahead, Vi! The little girls won't mind.
You've been so good to them!
---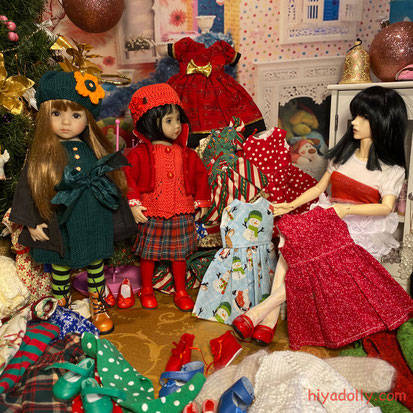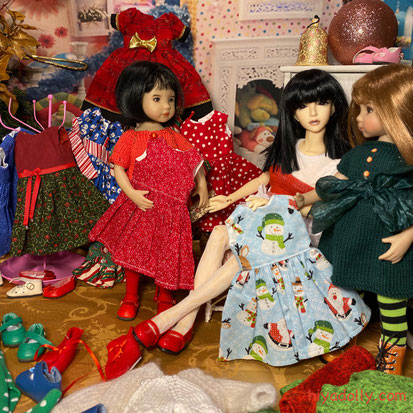 And speaking of little girls, here's Maggie and Jiyoon, ready to help all their friends find something that suits them!
And it looks like Violet has found something Christmasy and pretty for you two!
---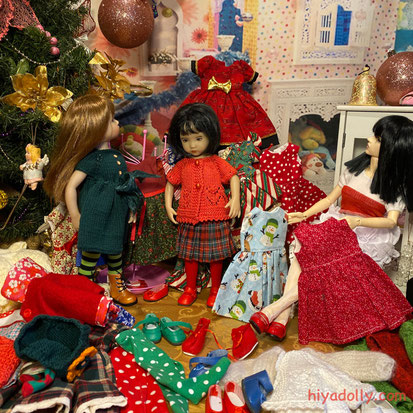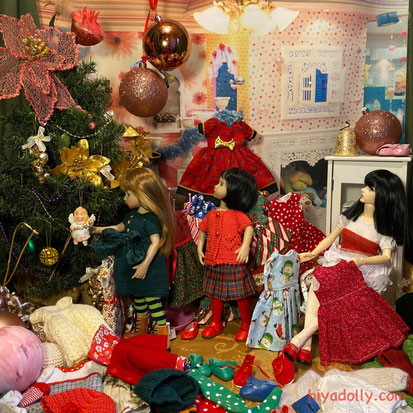 The girls take a minute to explore the Playroom.
Maggie notices the beautiful red Christmas dress with golden bow,
high on the dress form at the back.
They admire the Christmas tree.
And check all the choices Violet has laid out.
---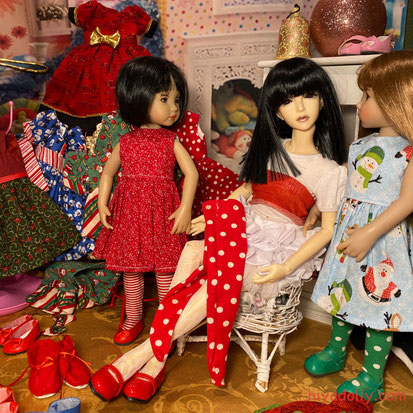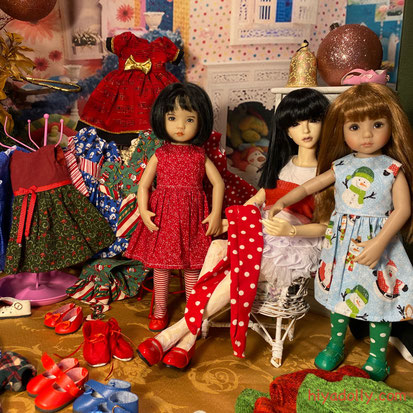 Jiyoon and Maggie put on their simple Christmas dresses.
And say thank you to Violet for all her work.
Way to go, girls. Such little darlings!
---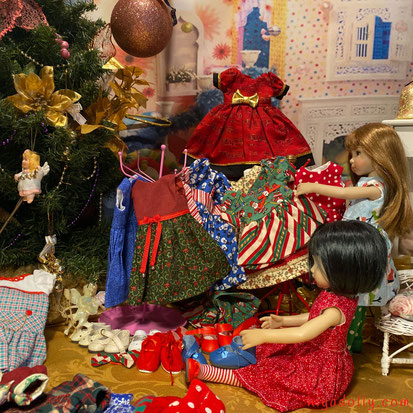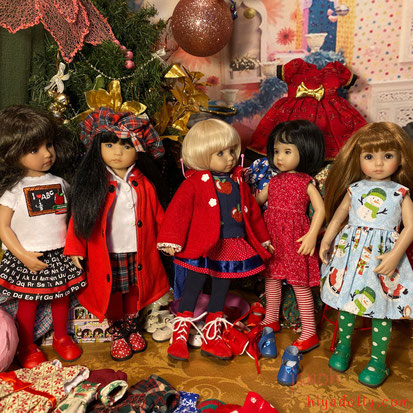 Get sorted, girls!
Here come your friends!
Indira, Anna Zoey, and Pearl show up...
---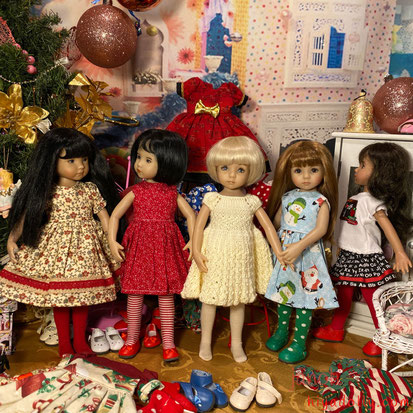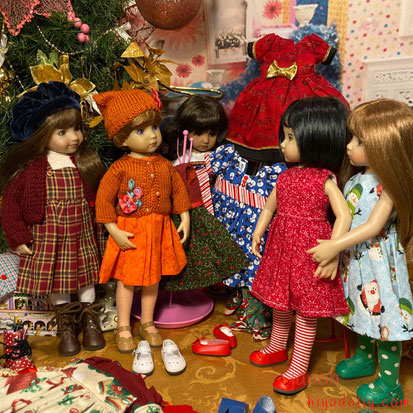 Anna Zoey dons a pretty Erin Green dress with a red trim.
Pearl gets to wear Nataliya's cream knit dress. Love it!
We'll find a ribbon for you, Pearl!
And those two are gone, leaving Indira, still hunting.
Next it's Chantal and Fig, fresh from the path to the Playroom.
---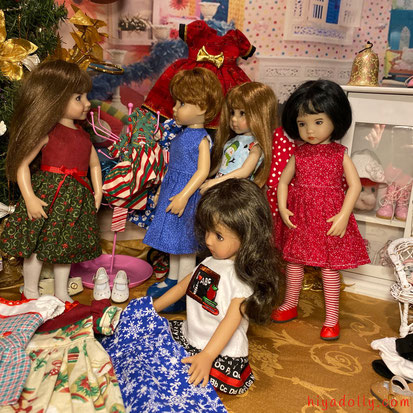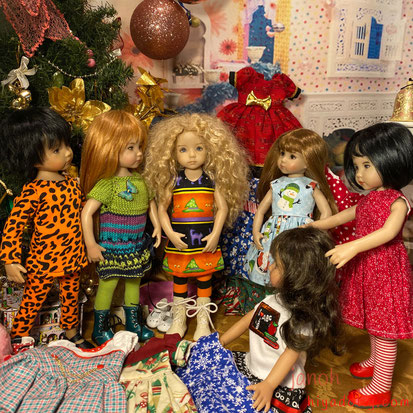 It doesn't take long for them to find their Christmas dresses, and they are gone.
And in come our trio Evie, Scout and Lula!
Still in school clothes, Halloween party clothes!
This should be fun!
---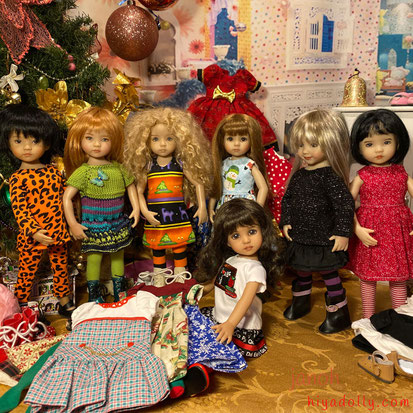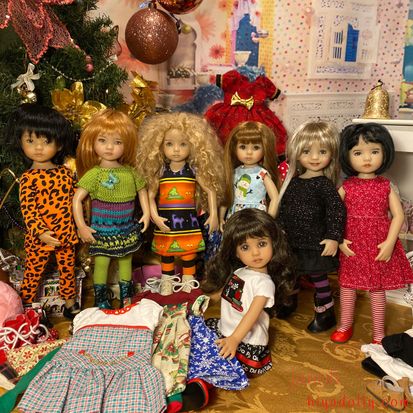 Gossamer comes to help her bff Indira, still going through choices on the carpet.
Gossamer, still in her Halloween blacks, has to find something special too!
Okay girls! You are your own for a while!
I have to go, it's time for another Art Gallery shift.
I'll leave these girls to their perusing and choosing.
Come back to see what's next!
It won't be long!