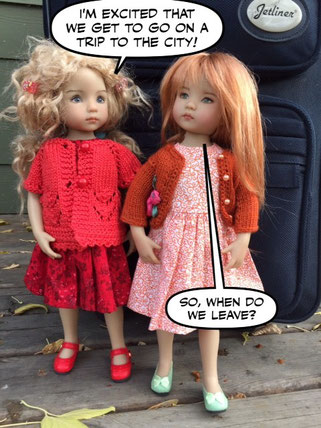 Once I had packed for myself, it was time to turn my attention to the dolls, the ones who were coming with me to the city.
Make sure they've got a change of clothes. Jeans, maybe. And shoes that won't fall off easily.
Lula definitely, and Scout. Good picks for this trip. Ready for some work, some city exploring. Good friends...
The photos started even before we entered the city limits, with my human companion making suggestions...Be sure you get a dolly photo in front of this old house. And with a monkey tree!
All the city adventures had to wait until some work got done, getting my geologist daughter ready for a travel adventure of her own, crossing the Pacific soon to go down under.
Unfortunately, fate stepped in and changed all the plans for getting out and about. And the dolls ended up having to explore just books, maps, stones, clinometers, and binoculars before they were all packed up, instead of the Art Gallery, the park, the Seawall, and Denman Street's possibilities.
City exploring...maybe next time.