Okay, something is up with my photo posting the last couple of days. The photos are sideways.
So I "fix" them which means that they look sideways to ME.   Hopefully not to you...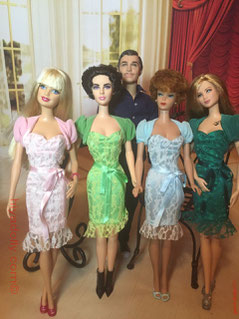 Clark Gable Ken and the beautiful Barbies...four generations.
In matching lace dresses. What a fun idea that was! Or funny...
(Who would really do that? Sorry, girls. Impulse buy...)
My vintage, with the titian bubble do, is surrounded by friends now.
Imagine having only one Barbie, purchased on a family road trip to the US. 
Now a gorgeous Liz Taylor has joined her, a Divergent Barbie with tattoos, and a blond beach Barbie. from a local store, for mere pennies.
I am amazed at the phenomenally reasonable costs of these popular dolls... And their clothes. No wonder they are popular! Of course, I loved mine as a child. I was fascinated with having an adult shaped doll, with beautiful clothes...
---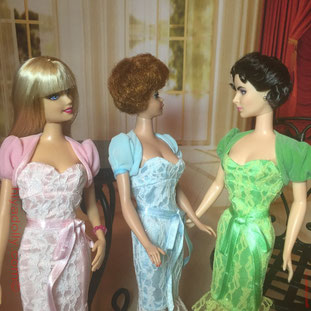 This photo shows the very different head shapes of the Barbies. The 1960 Barbie's head is very small, a little hard to notice with her bubble hair do.
---
19 Photo slide. Click the arrows or the cross in the middle.
---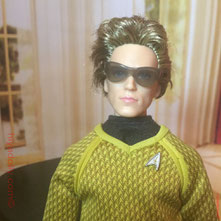 And you'll see a couple more Kens to amuse the girls, cook for them, drive them to the shops, and take them out to the cinema. And dance with them when they get dressed up. 
Sounds so...old fashioned.
But that's what the girls asked for. Get us articulated guys if you can, they said. OK!
The Barbies, of course are modern self sufficient career women. At least, I imagine they are. I never see them working. But in this digital age, perhaps they work from home, or the cafe, or the beach, or Barbados...
The Barbies don't mix much with the Dolltown community. They are a world to themselves. Maybe it's because they are mini dolls. 12" adults and tiny children...
---