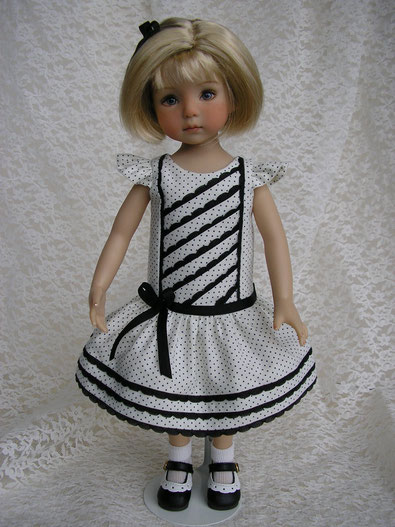 Tomi Jane's beautiful dress, on her own Little Darling...
Earlier this year, I was thrilled to get two sets of Tomi's Colorways dresses at what I thought were very reasonable costs.
I wasn't in the market for more.
But when I saw this dress of perfection on eBay, and saw its starting bid, I couldn't resist going for it!
In the end I didn't win....
Which means maybe I can get a few sandals for my girls this year.
But is this going to happen every time a Tomi Jane dress becomes available for the masses? Am I going to succumb each time to beauty and possibility, bid,  and take the consequences?
I think yes, IF I see it.
So I don't know whether to stop perusing eBay for things I do need,
in case my eyes land on TJ's unmistakable creations,
or ask Tomi to hike her prices up beyond my reach (wouldn't take much),
or just do extra jobs around the neighbourhood when I find my dolly piggy bank empty and a TJ dress on eBay offered for a song.
I am disappointed that I lost the bid.
But let's be realistic.
It's a dress the girls would NOT be able to wear playing out in the yard.   

"You girls get in here and change your clothes! What are you thinking?"

It could only be worn for 3 seasons of the year. Not fall, right?  

So useful only 75% of the year.

It would only suit the black haired girls, or the platinums, the redheads, or the brunettes... (okay, okay).
It's just that we have a talent show coming up, and this dress would have, I am sure, INSPIRED a song...from at least one or two dollies here. And applause from others.
Oh well.
I didn't win it but I am thinking of blowing up the photo of the dress a little, printing it, cutting it out and adding shoulder tabs...
So I can put it on my dollies and PRETEND it's ours.
I don't think Tomi Jane would mind...