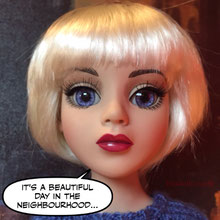 The Tonner Ellowyne dolls interact with all the other Dolltowners, most of the time...
Here are a few random shots of the Ellowynes with others, over the last year.
---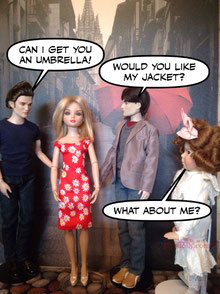 Here's Willow wearing a beautiful bright shift that we received as a bonus gift last spring.  Eddie and Wiz are obviously impressed!
Priscilla, however, is feeling left out again...
No worries! The boys here grabbed her a newspaper to hold over her head!
You can be sure Priscilla appreciated the gesture.
Maybe...
Coming soon...  The Little Darlings have borrowed the Ellowyne fancy dresses for a party! What fun! And how cute to see the little girls playing dress up!
We are working on the photos.
And the Ellowynes themselves are getting dressed for their own photo shoot, coming later in May.
Getting ready is a 2-3 day event!