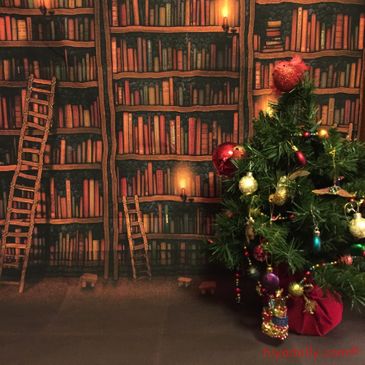 Our Christmas diorama!
But we won't have it here in Dolltown!
We are setting up at a Country Christmas here in our little ranch town. At the Country Music Hall of Fame a bunch of our lucky Dolltowners get to be on display!
For a whole month!
There was a scramble when it was time to choose who gets be in it.
Some dollies love the idea!
Others stopped to think what it will mean and hid behind props and ran away when I opened my bag to pop them in...
A whole month of sitting and standing quietly, for hours! Every day! And not here, where there is lots of fun and adventure every day! (What?)
But HUMANS will see them! Besides me and G I mean, who they are used to. (And random friends and family.)
Humans! Strangers! Tall ones, small ones!
And they have to be on their best behaviour. And get along with each other for a month!
So who was chosen?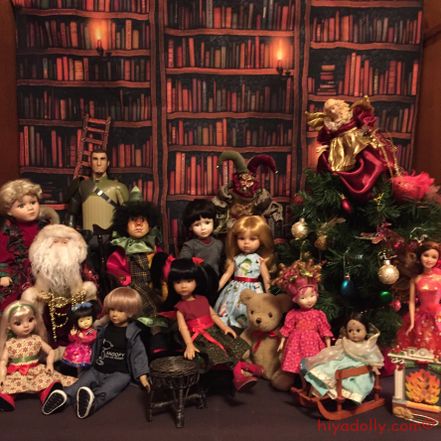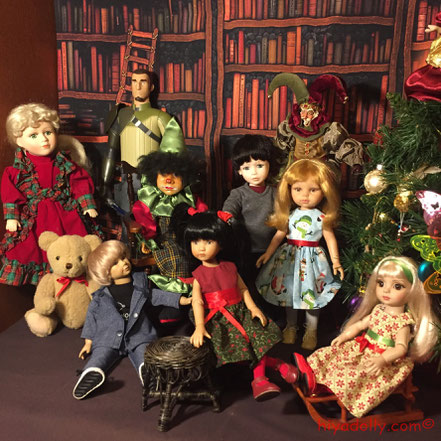 ---
Well, the Christmas characters get to come of, course!
Christmas Doll in red and green. Santa, one Xmas teddy, Tree Angel (almost as big as our little tree!)...
Who else? Platinum haired Gabby couldn't wait. Fancy Nancy and her friend Neela.
Our boys Bobby, sitting on the floor, and Douglas, who may want to go home and see Chantal.
A pretty little golden haired Paola Reina, to keep Douglas company, so he doesn't feel too shy with an audience.
Guard Two, (Kanan) for the Star Wars fans. And Magic Barbie. Because, you know...BARBIE!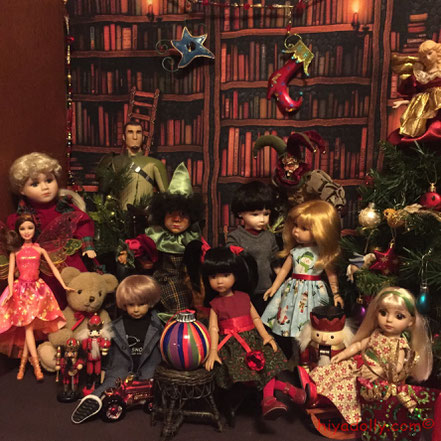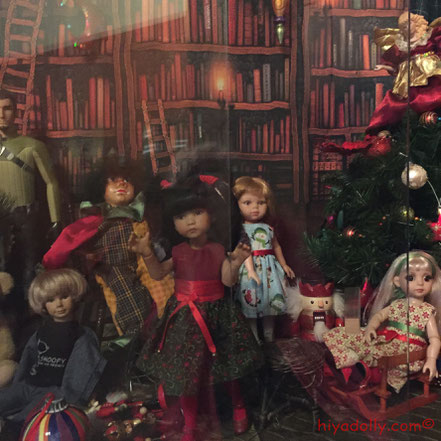 ---
And Shasta is here, very excited to be on display! So excited I put her at the front, in the middle.
I didn't know Shasta had star longings!
In two of these photos she's even pretending to want out of the glass cabinet. For dramatic effect.
I told her she couldn't do that when other humans were around. They might feel sorry for her...instead of happy! 
We want the humans to be happy when they see the Dolltowners. Especially the little humans.
And I had the perfect response from our human adult moving guy...excited to see our Star Wars doll! Score!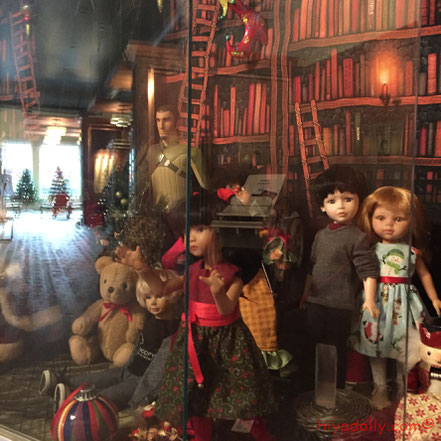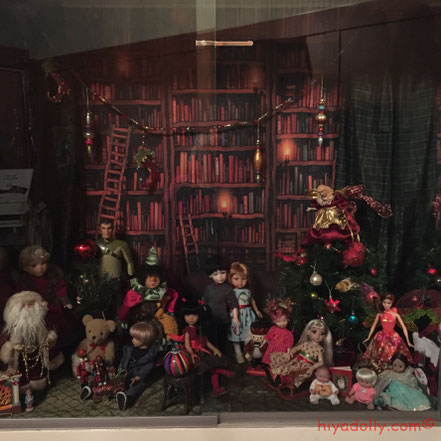 In the photo above, on the left, the long hall filling with Christmas trees is reflected in our cabinet glass... Nice.
We will add a photo or two when the diorama cabinet is decorated too...
Three more days until the local Christmas parade...then the hoards of people will pour in.
And the act begins! Well, the act of stillness. Dolls, after all!