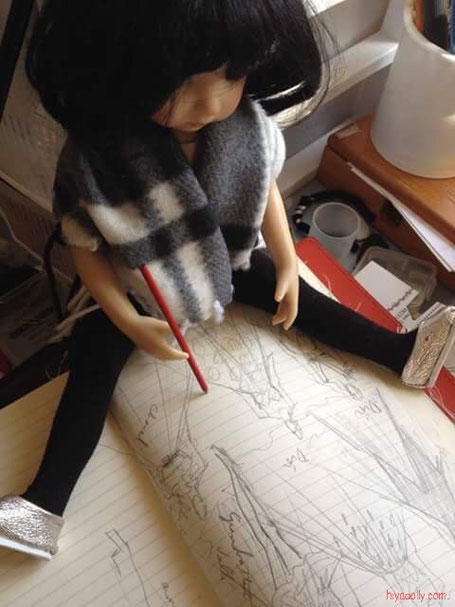 It's Conner!
She has been at April's Design School for a month now!
We get letters and photos from her every few days and we thought it was time again to share some!
Especially since we are copying lots of her ideas here in Dolltown!
April uses found material and pieces of beautiful and unusual materials to design couture for her dolls.
And Conner is learning a lot! And April has made Conner some fun and beautiful clothes!
Some of these photos show Conner in her clothes. And they also show April and Conner trying out different fabrics and furs!
How fun! 
And not only is Conner trying out different styles and materials, she gets to borrow clothes from April's dolls, play with lots of stuffies and small dolls, and she gets put to sleep every night with a cozy blanket and a stuffy. Or two! Or more!
And April is also teaching Conner some wonderful skills, like how to draw her design ideas!
Look! Ponchos, Tshirt dresses, shoes (shoes!), Tshirt with a sparkle FDS design, a feather coat, and Conner even gets draped like April's Divas!
---
Conner is wearing pearls!
And she is surrounded above by a bunch of cute friends!
(And we know there are lots more...Conner talks about a "room full of friends".
And she is not talking about the city of models that April keeps for her couture extravaganzas!
April has a wonderful post up (Feb 2/17) on her informative and stunning website, Fashion Doll Stylist.
It is a reflective of her blog work over the last years....
And we are about to post our Dolltown sockwear inspiration in a Valentine's post.
Wait for it!