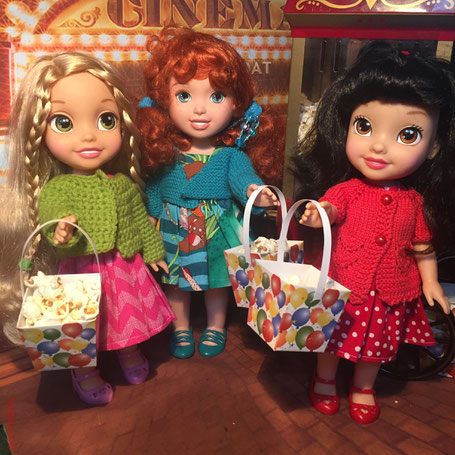 It's the Disney Princesses!
We had a lot of Dolltowners come to the movies while the popcorn lasted.
We caught photos of some of them while the Little Darlings are changing for their next adventure...
So Rapunzel, Merida, and Snow White arrived to watch the latest animated Disney Princess movie, Moana!
Of course they can't wait until Beauty and the Beast comes to Dolltown!
And we were excited that our Monster High girls came out of hiding with Jade J'Adore of the Bratz doll tribe.
They all shared one piece of popcorn. They want to keep their slim figures...
And we were very surprised to see a tiny character doll emerge from a forgotten basket, our broken Mad Batman. So cute!
And even our beloved wooden teddy came, struggling to get popcorn into his mouth, so Tiny Art Doll helped him.
Oh, I love our Dolltowners...so kind!
(I don't think those two even went to see a movie. They just came for the popcorn!
First, our pretty Princesses!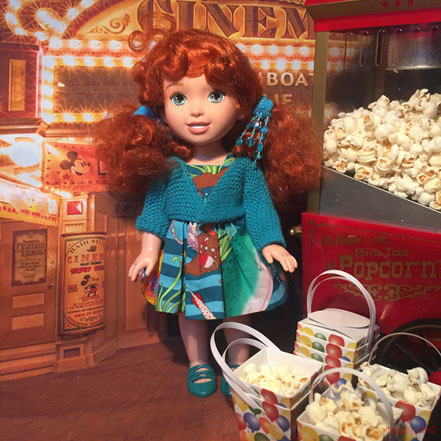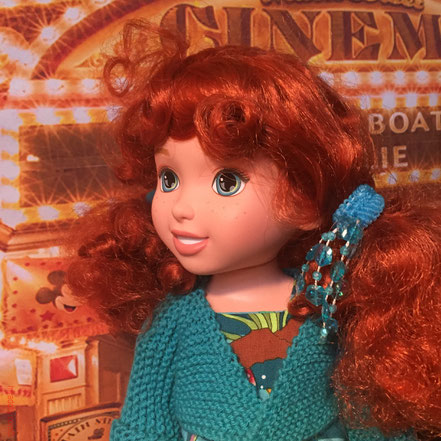 ---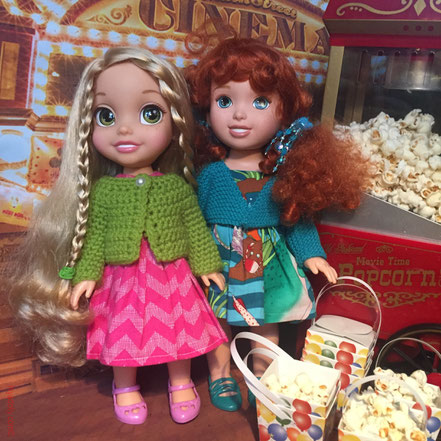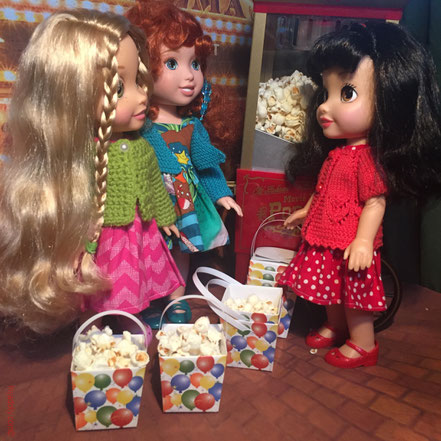 ---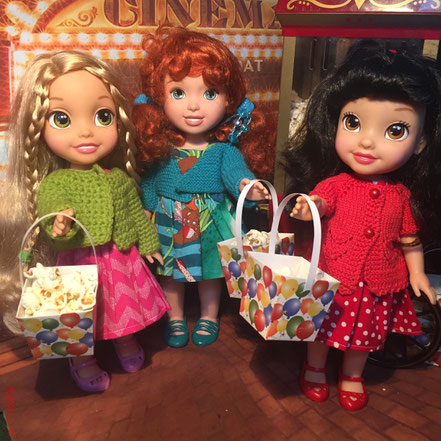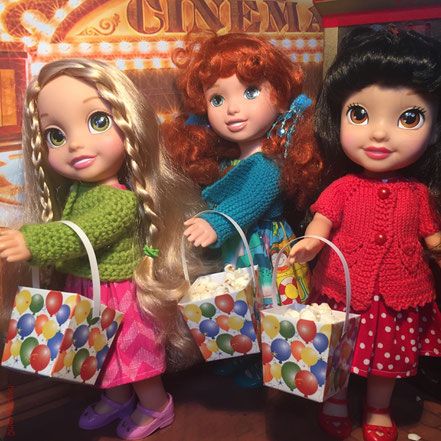 ---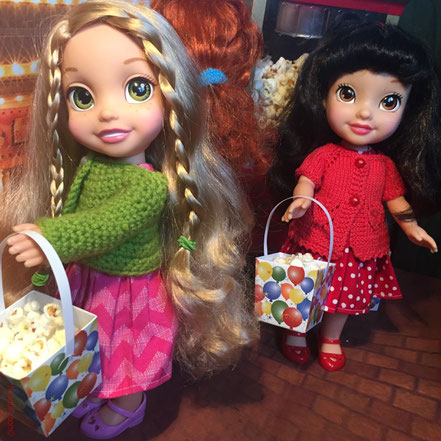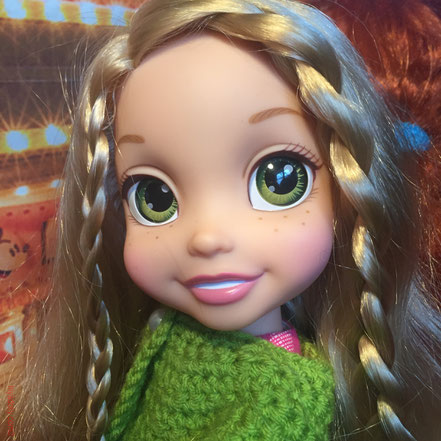 ---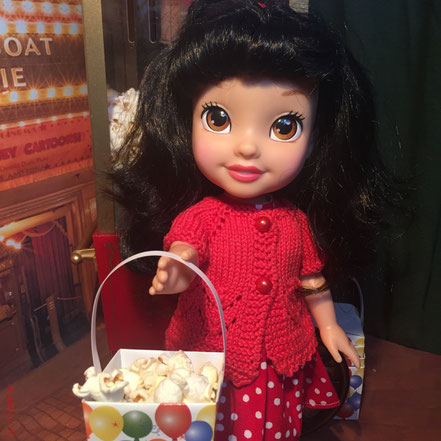 These little Toddler Princesses are so glad that we discovered they can wear a lot of Little Darling clothes.
That gives them waaaay more choices! 
Looking very cute, girls! Enjoy the movie!
---
It's the Twig Trio! Oona, Jade, and Catrine!
I shouldn't tease them about their slenderness.
They were born that way...love you girls!
They are here to watch last year's movie, Welcome to Monster High...
And they can't wait for the Monster High-Electrified, released soon!
(Does that mean that I have to see it too? Of course I would love too...)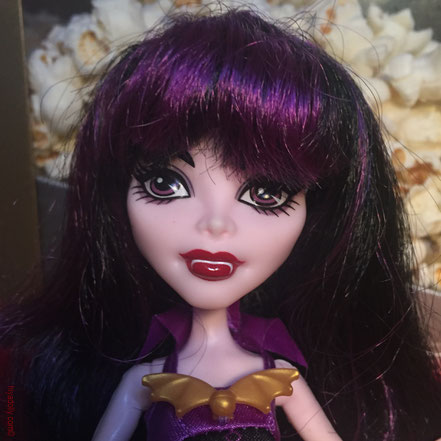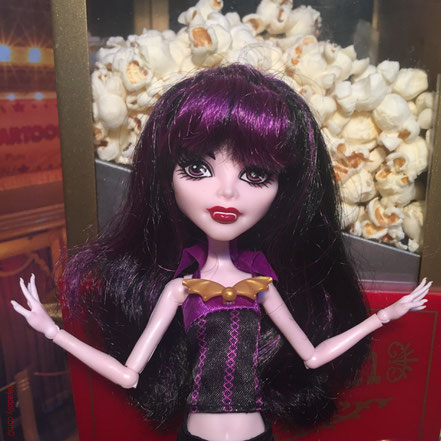 ---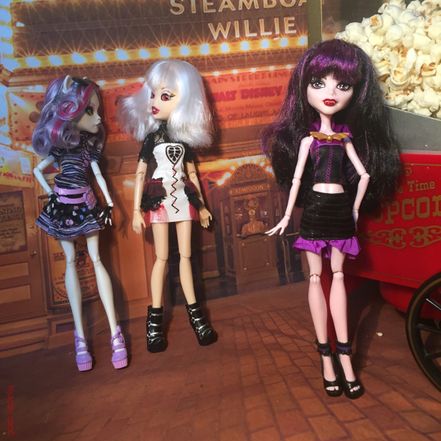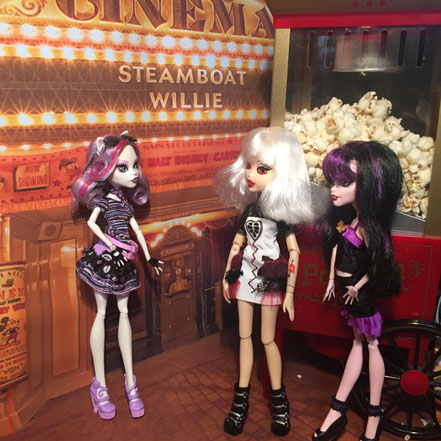 ---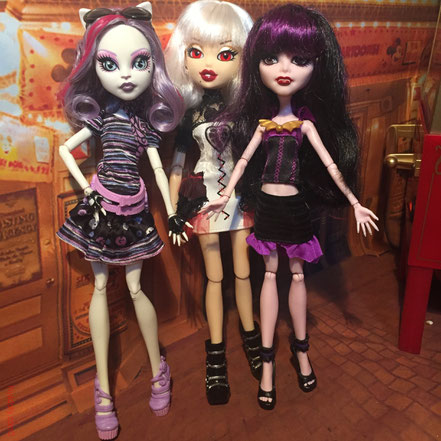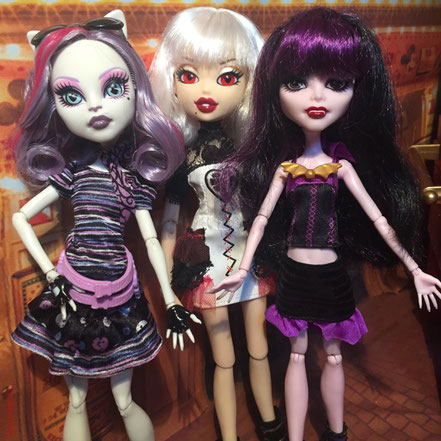 ---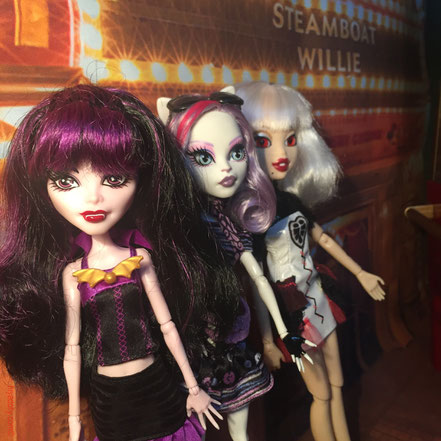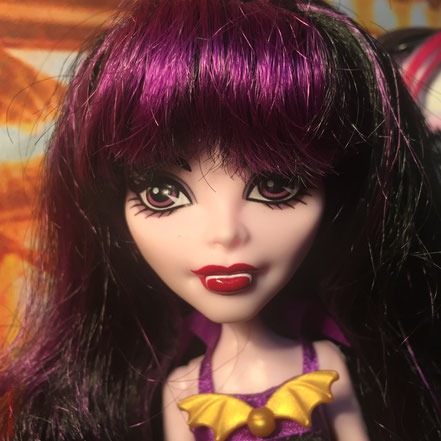 I am so impressed with Oona! (I think she is a Draculaura?)
She has been in Dolltown for over a year, and although she has come for stories and photos,
I think this is the first time she has led her group here.
And allowed real close ups!
We got her in a bag of dolls from Value Village and has been so skittish that it made me wonder what had happened in her previous home!
We'll never know, but she is a, umm, an attractive doll (she's listening), so we are glad she is letting us get up close and personal. Hey Oona, want to tell us where you lived before?
No? Okay...how about some nice mac and cheese for supper (I'm always wanting to put a couple of ounces on those skeletal arms). No again. Okay, well, lovely to see you and your friends...
---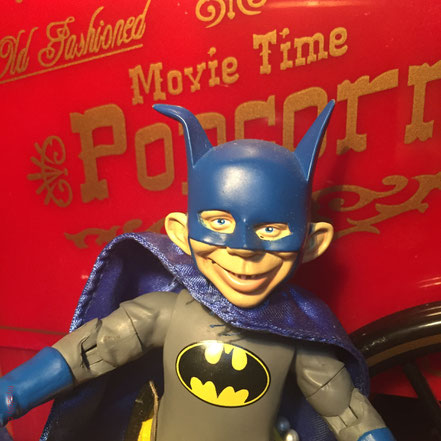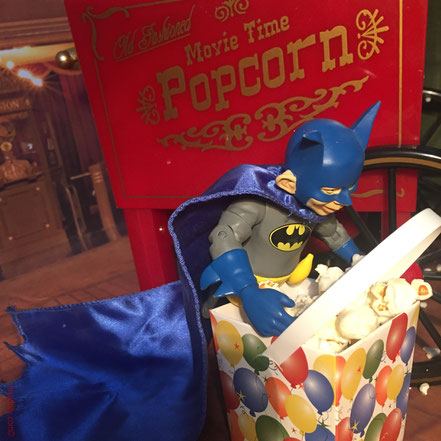 Hey! Look who it is!
It's a little Mad Batman figure who snuck into Dolltown with the Attic Dolls!
I saw him at the bottom of a basket with random characters, but I thought his legs were...missing.
The popcorn seems to have lured him into the spotlight!
We'll help him back to his basket after he's had his fill...
---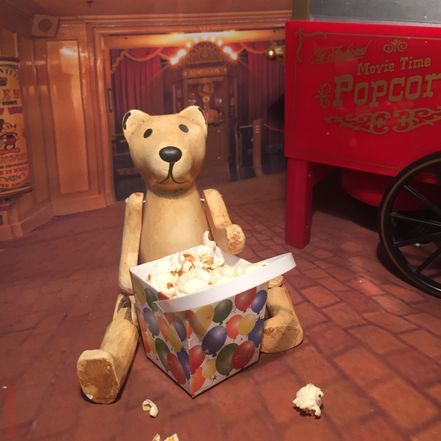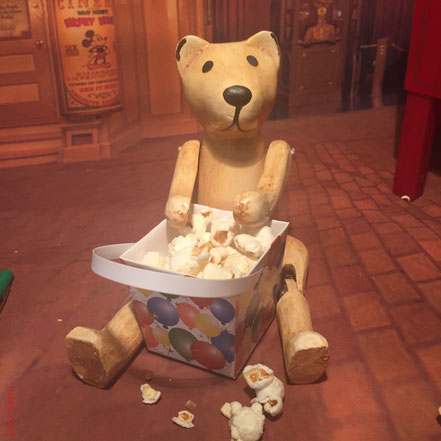 Awww. This wooden teddy can't get the popcorn into his mouth with those stiff arms.
---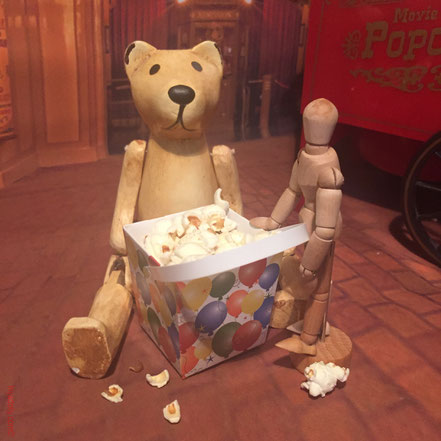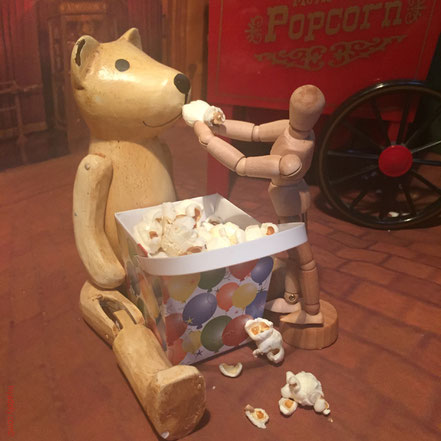 He needs an articulated friend to give him a hand, or two, like our Tiny Art Doll.
Now that's teamwork! Way to go Dolltowners!
---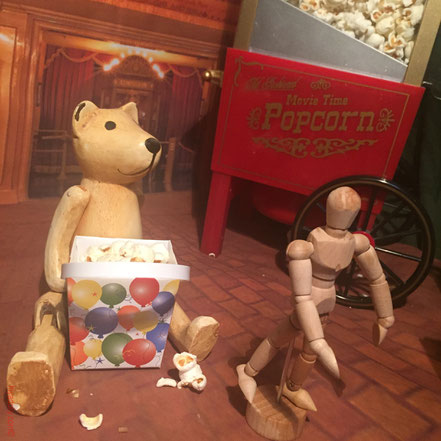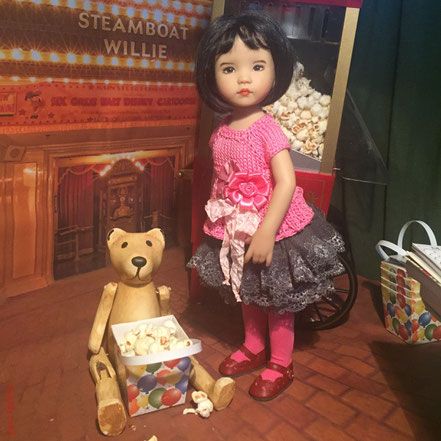 But Tiny Art Doll has to go. And Jiyoon steps in to help...
Hey Jiyoon! Aren't you supposed to be changing?
I don't blame her for wanting to keep on that pretty lace skirt and knit top, all adorned with flowers!
And our Wooden Bear is glad she's here. More popcorn!
(I bet our Disney Princesses would love to get ahold of Jiyoon's outfit...lace, satin, crinkle ribbon!)