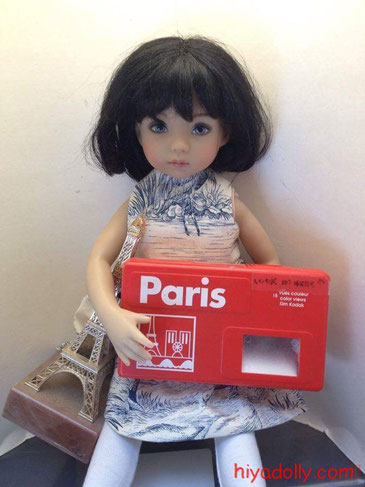 Conner is all a twitter!
She is getting ready for a trip to France with April...
April, Fashion Doll Stylist, is returning to her Paris apartment for several weeks. And she is taking Little Darling Conner with her!
April doesn't need to take many doll models with her. She works with her Paris Divas when she is there. April and Conner traveling light. They are planning their wardrobes carefully.
For April, that's three black tshirts, two black jeans, a black jacket with big pockets (for Conner and some chocolate), and black flats. Now, that may not be completely accurate, but what I gather is...black wardrobe for April (it's Paris, right?)
Conner, on the other hand just had a brand new dress made for her. Very pretty, Conner! And she gets to take all her new shoes (April makes her shoes...what?). She has a very French red beret! Conner has been very excited and she is sharing her plans with Birdy, Faith, and the girls. 
"We are going to doll museums and bridges with love locks, and I get to see the real Eiffel Tower!"
Of course her Dolltown friends here asked to go along in her suitcase and Conner laughed and laughed. "It's not that easy!", she said. Then she blew us lots of kisses and promised to send lots of photos!
Looking cute, Conner! Love the beret!
Update: Conner and April have arrived in Paris. And sure enough they are sending photos!
We are amazed! Stay tuned for another catch up with Conner....Conner in Paris.
And, of course our Little Darlings are inspired now to get out our Eiffel Tower model, from April herself. All colored and ready to be assembled! Exciting!