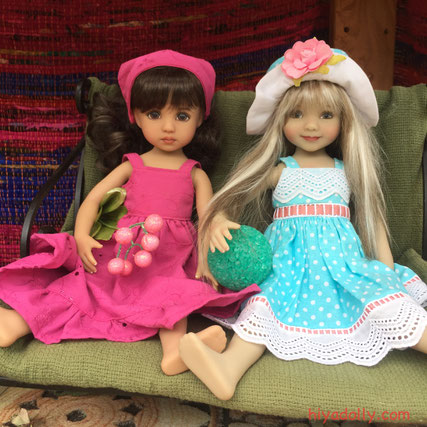 First of all, Indira's bff changed back into her long silvery locks after the photo shoot in the cute red Roxy wig!
We love this look on Dove, and she's wearing one of our favorite sun dresses with its very cute sun hat.
And the other Dolltown Little Darlings went off to play after the summer dresses photo shoot. They all scattered to have a little fun!
---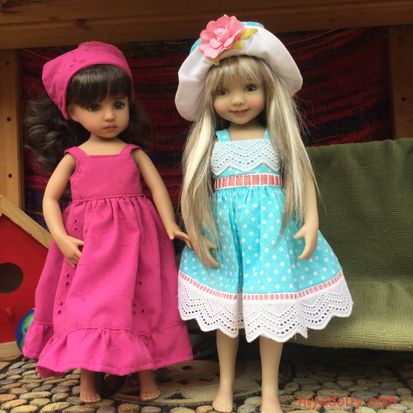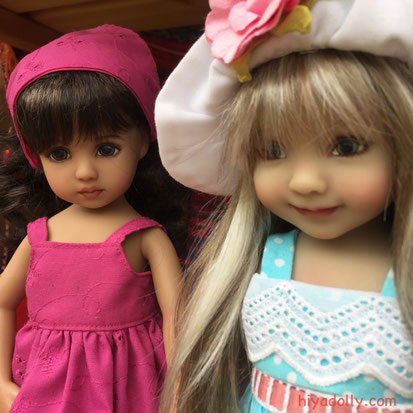 Indira and Dove spot one of Dolltown's favorite birds, a Stellar's Jay.
Dove, like Birdy and friends, has a fondness for feathered friends.
This jay came right down for a visit!
---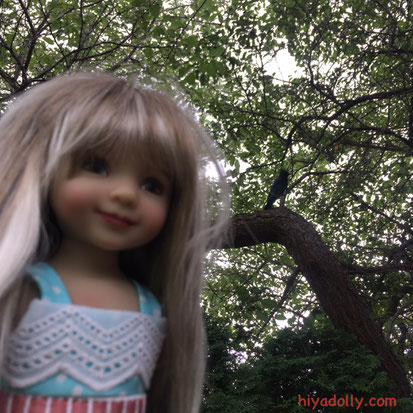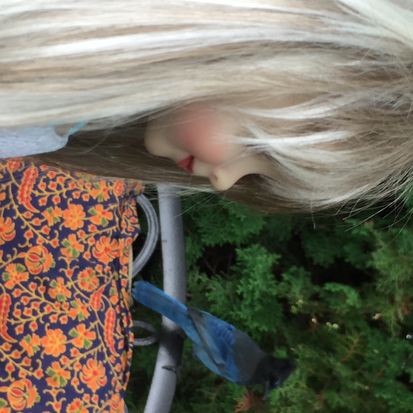 ---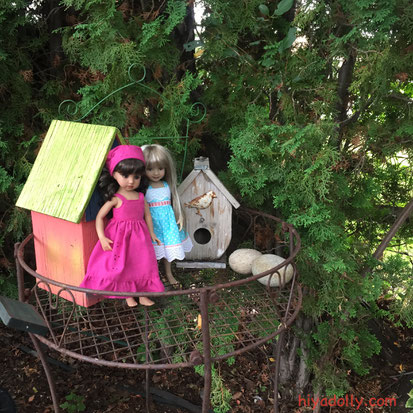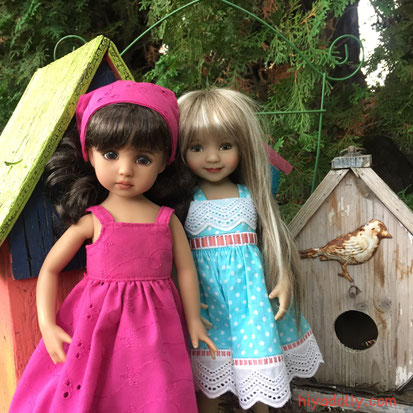 Indira and Dove tried to convince the jay to nest here in our garden.
---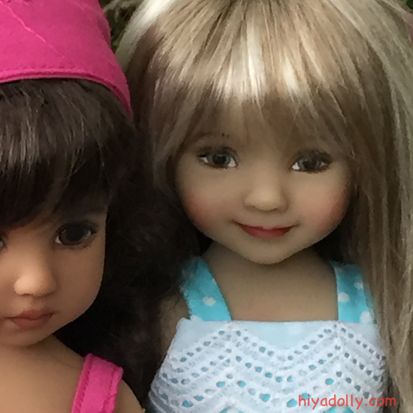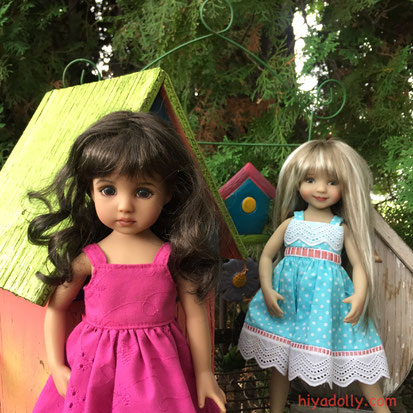 But they watched it fly away as more girls arrived in the garden to play.
---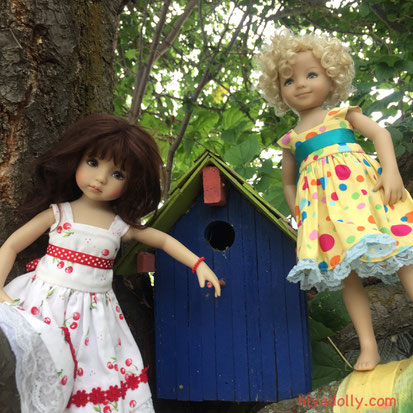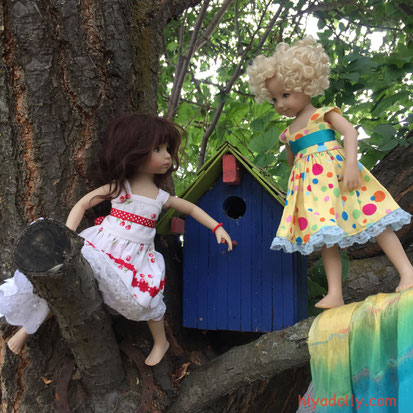 Rosa and Birdy are climbing high in the tree!
"Here's a blue birdhouse for the blue jay!", Birdy calls out.
---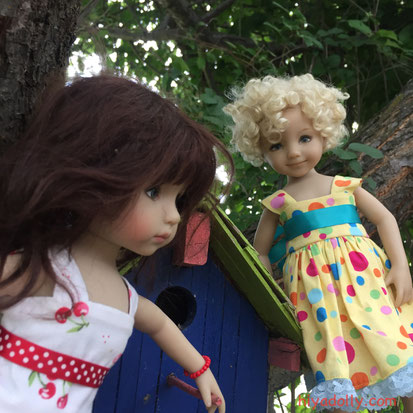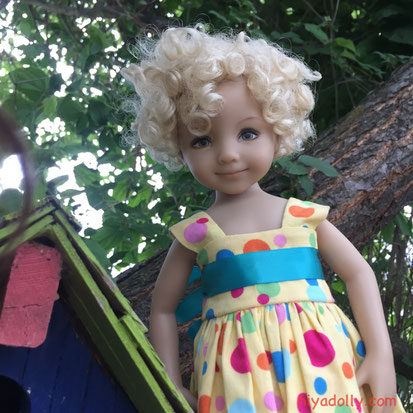 Rosa says, "What does the big bluejay eat?"
"Blueberries, blue potatoes...", Birdy says.
"Blue oyster mushrooms?", Rosa asks.
What a foodie Rosa is! Whoever heard of blue oyster mushrooms?
Most of the children won't even eat the cute button mushroom...
Now, where did that Stellar's Jay go?
---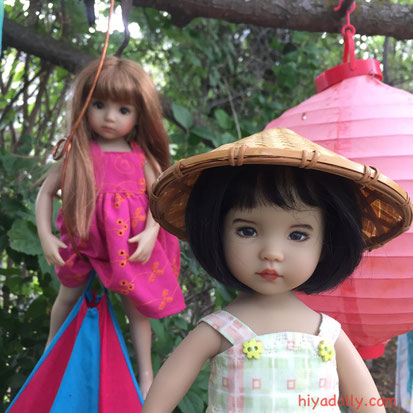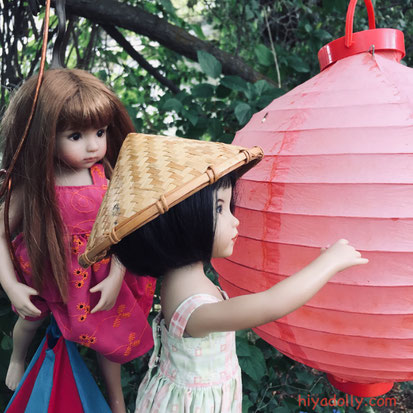 Maggie and Jiyoon are attracted to the Lanterns in the garden.
All shapes and sizes!
---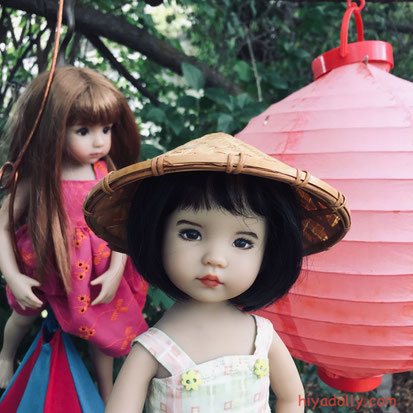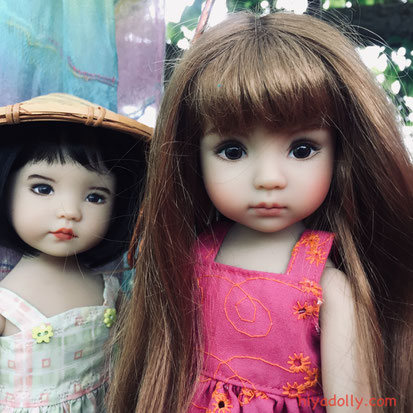 "We want to see them at night, says Jiyoon.
"Yes, when it's dark and they light up...please? Maggie asks.
Hmmm. We'll see!
Maybe we'll get a fire going in our chiminea!
And have a night party! Good idea, girls!
I left the Maggie and Jiyoon counting lanterns...
---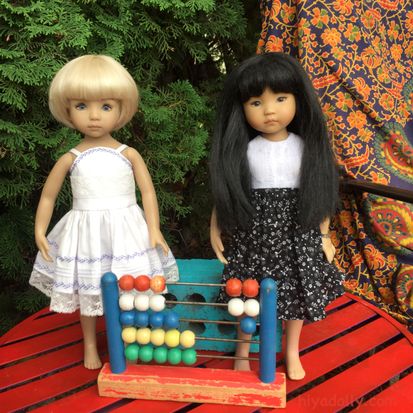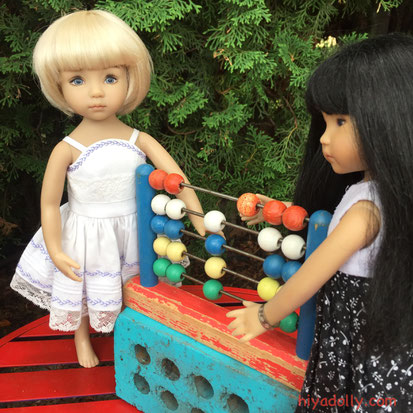 Well, aren't you two something!
Even in the garden bff's Pearl and Anna Zoey have managed to find a toy that smacks of school.
"We want to explore powers of ten." Pearl says.
---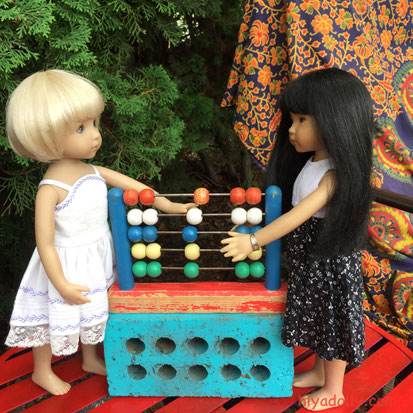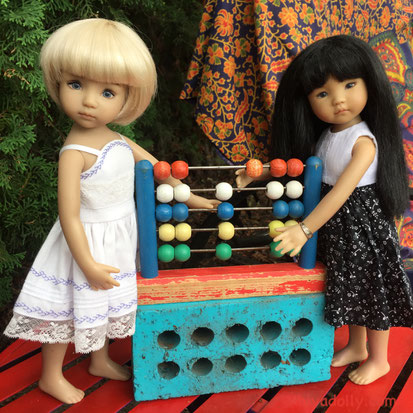 Are there ten lanterns? Anna Zoey asks. 
Or are there a hundred?"
Maggie and Jiyoon are going to report back to them.
They will use the abacus to keep track.
"After lanterns, let's count leaves." Pearl says.
"Of course, we'll have to estimate!"
Thousands, millions...just in this garden!
---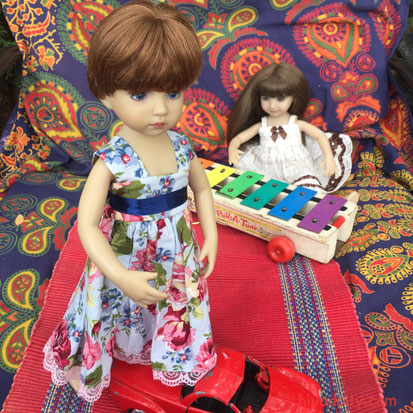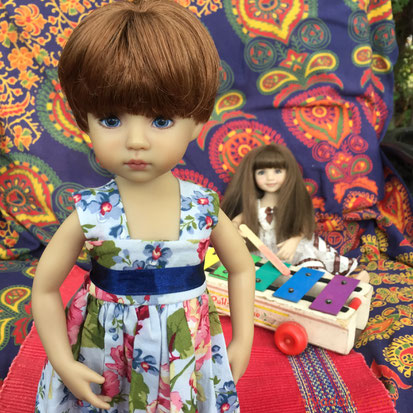 Meanwhile, nearby but miles away in attention, Fig and Chantal are pretending they are performers at a concert.
And they have arrived in their classy vintage car in time for a red carpet appearance.
Chantal is getting ready while Fig has a few more photos taken by the paparazzi.
---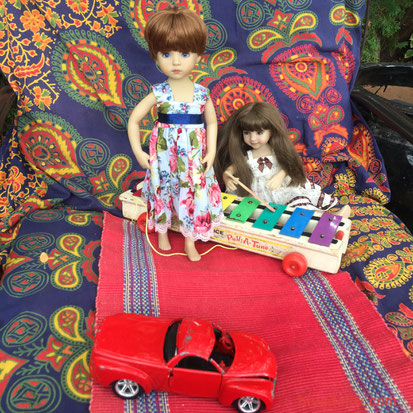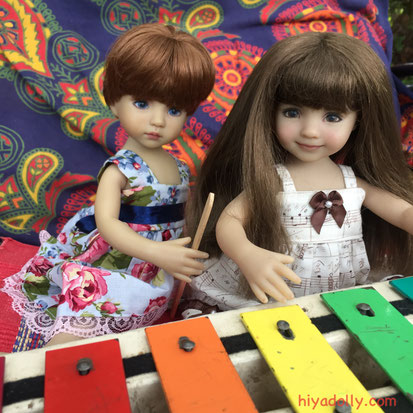 "Park our car, please", Fig says to me.
Uuuh, sure.
I'll be back in time to clap...
"Thank you.", Chantal says sweetly.
---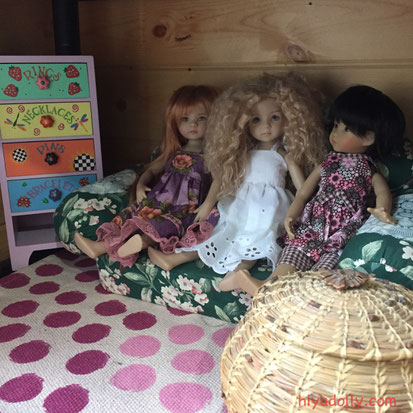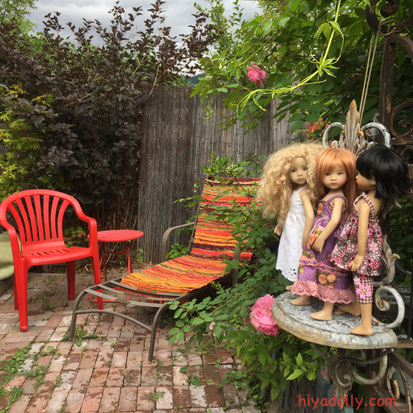 What's with you three?
What are you doing inside? You have a whole garden to play in!
"We want to go to the park." says Lula.
"Do we have any balls?"
Yes! Lots! Go look!
So they did, getting up high on a perch so they could scan the yard for tennis balls, soccer balls...
---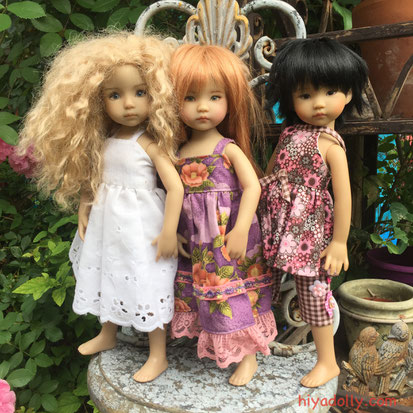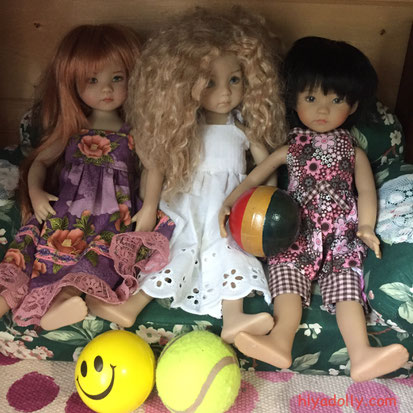 "If we can find some balls, will you take us to the park?", red headed Scout negotiates.
Maybe...
And as soon as they found some they retreated inside again. These girls like to make a point.
---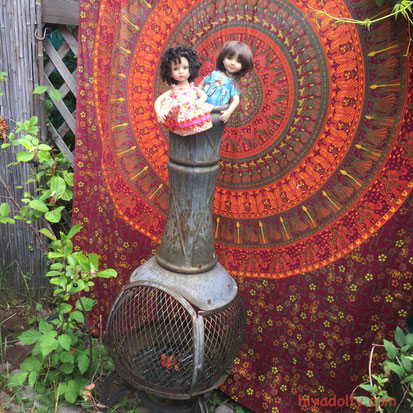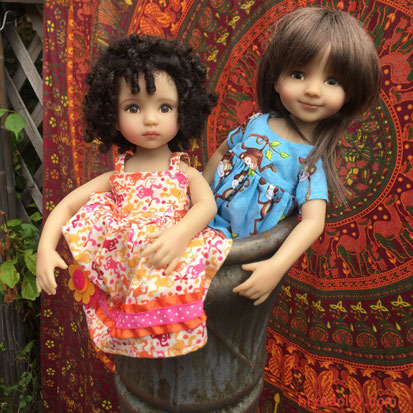 OMG!
As I leave the studio, where the Trio is stubbornly waiting for someone to take them to a "real" field, I find these two sticking out of our chiminea!
Get down now!
I don't even want to know how you two got up there!
Or what made you think it was a good idea!
---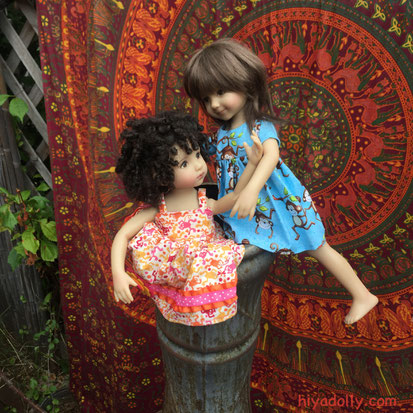 NOBODY is taking our sundresses seriously!
What about a tea party? Visiting! Birdwatching from the lawn!
Do I have to do everything? Where are my watchers? Where's Hal? Where's Vikka?
---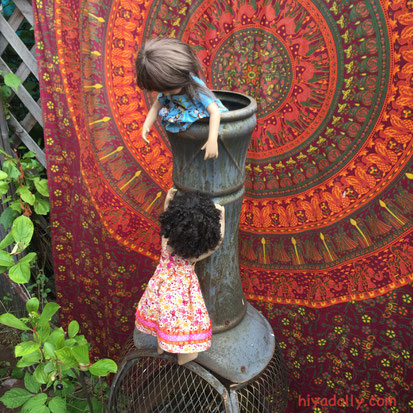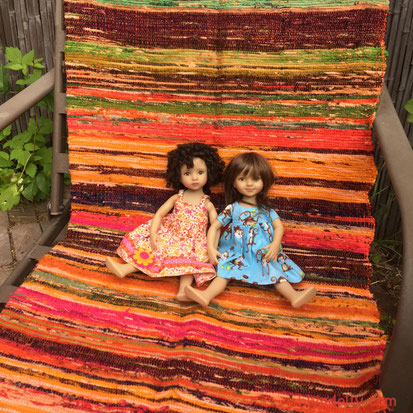 Okay, that's better...now you two stay there!
Xennia and Tink look at me like they are listening. Ok....
Now, how long will that last? How am I going to get anything done?
---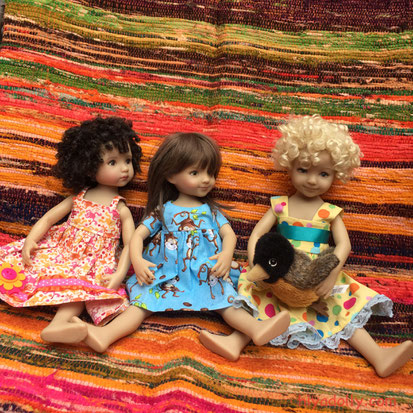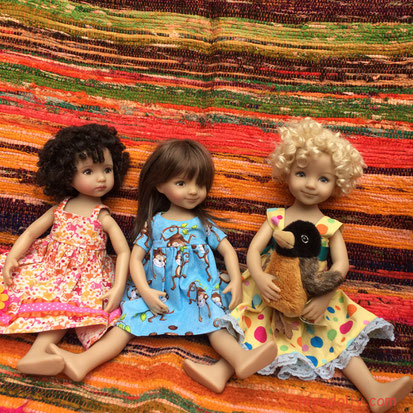 Thank you Birdy!
She heard these two were "grounded", so Birdy brought a friend over to amuse her friends.
We all know how hard it is for Xennia and Tink to sit still for long!
And I noticed the Junior Iples coming our way... Photo op!
Birdy! Make up a story and keep those girls out of trouble! (Thank you.)