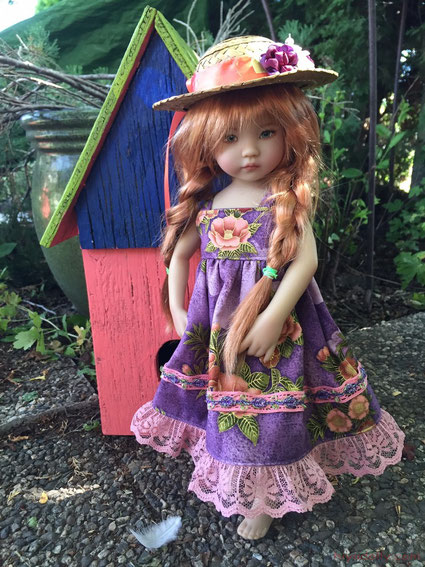 Darling Lil" Bee is a shop on eBay and Etsy selling adorable sundresses, like this one, for 13" Dianna Effner's Little Darlings...
Just a few months after I decided I could live in a caftan and a shawl for the rest of my life, after a lifetime of fascination with clothes, shoes, and fashion generally, I dropped into the world of doll fashions.
Opening my childhood trunk of Barbie and other doll clothes reignited the admiration I have for the dressmakers to the dolls. My mom herself knitted and sewed very cute Barbie clothes. This is not an easy task!
And it is a joyful task that many skilled artisans engage in, as a hobby and as a living. Sewers, smockers, knitters, cross-stitch experts, hat and shoemakers bring their talents to the creation of tiny fashions, to the delight and gratitude of doll collectors-who-don't-sew, or don't want to-like me.
I am immersed now in choosing wardrobes for a variety of dolls. And I am filled with admiration for the wonderful people who provide dolly wardrobes. So I want to acknowledge a few of them here, and add photos (or links to photos), names of the artists, and the shops on-line that provide the beautiful fashions...
Erin Green made this lovely sundress and matching hat, and provides shoes to match... And she has a wonderful selection to choose from at her eBay and Etsy shops.
And if I skip a shopping trip to buy a new T-shirt for myself, and spend another day in my beach sarong, I can peruse her adorable choices and provide another pretty dress for another Little Darling. A sacrifice I am willing to make....
Keep an eye out here for more photos and write ups of some of my favorite doll dressmakers!
Most sell their doll clothes, like Erin's here, and Janice Mundy at Sew Sweet Designs for Dolls, and mrsbobbinsews on eBay.
and Kathy Groulx on Etsy.
And doll dressmaker Tomi Jane's exquisite work is worth a look (on Flickr) for doll fashion lovers like myself!
So, if you are a lover of doll fashions, or are in the market for some doll clothes
(especially for 13" dolls like Little Darlings, my focus at the moment) Stay Tuned!
For now, let's go window shopping at Darling Lil' Bee! So fun!