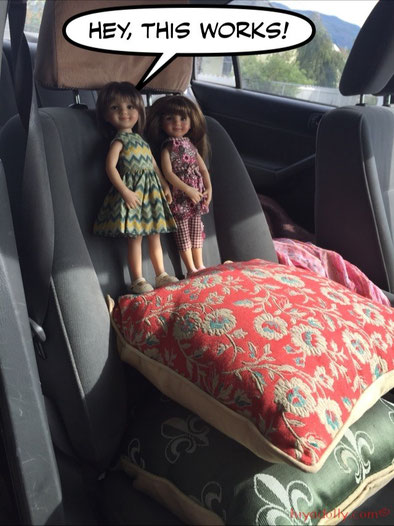 Just as I am leaving to embark on a road trip, or even pop down to the post office, if I pass a dolly by, I get the request...
I keep a couple of doll travel bags handy,  pretty pink silk and sturdy black corduroy, but my dolls are not picky. A cloth grocery bag will do. Actually, I do have one doll who prefers the pink drawstring....
(Get a grip on yourself! Seriously? ...I'd rather not answer. I don't like your tone.)
When I admitted to a friend, a close friend, that a doll usually goes with me everywhere, she said I needed a doll car seat. I looked at her closely to see if she was mocking me.
(She is not a convert yet, only asking me to get a particularly cute doll for her granddaughter. But since she added it was so they could have fun spending time playing together, I am hopeful.) 
I asked her if the car seat idea was to keep the doll safe? What's the matter with being tucked into my tote? That's pretty safe. But she replied that it was so the dolls could see better on their ride!  How nice!
(She's mocking you.)
If only I had the courage. 
But if I keep reading those Facebook posts long enough, the ones that say go ahead and be your crazy self and never mind the haters, maybe I'll start looking for a little car seat. A really high one.
My dollies would love it!
At least, that's what I think they'd feel.
If they could, I mean.