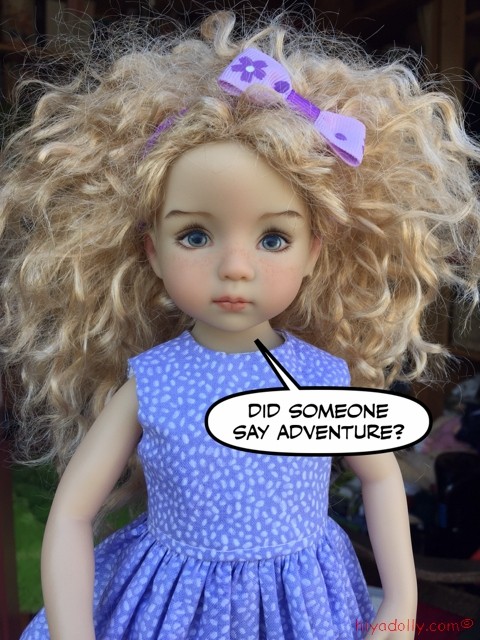 Speaking of car rides...I carry a 72 hour bag in the car, which sounds super organized, but it is probably missing a few things a few things, things I would be sorry weren't there. If we were in a pinch...
Lately I have caught myself thinking that there ought to be a doll in that bag. But which one? Who gets to live in the 72 hour bag?

It's a dilemma because I don't have any volunteers.
Okay, I haven't actually asked.
(Excuse me?)
I can't, off the top of my head, think of one of my dolls that I would want to stick in that tight spot. Maybe Hugh, because he seems a little grumpy and snobby, which I couldn't tell from his picture when I ordered him. (Seems so hard for them to make a great Ken doll!)
But would I pack his girlfriend too? Then I am two down. Should I just put all my Barbies in there? There aren't many and they don't get a lot of photo action anyway.
Whoops, no, I got a fast answer on that one. Not Moana, my vintage, so not her buddies Liz or Butler. Imagine Liz Taylor in a stuffy bag! Not likely.
My reasoning for having a doll in my 72 hour bag is because I think my dolls are good, good for me, like medicine. 
But also because I seriously love my dolls (seriously?) and I would not want to lose them all in a disaster. So, water, food, medicine, bandaids, dolls...Try putting that list on a survival site. Ouch. I can see the comments now....
Kids would understand, but only a small number of grown ups would get it. 
That's it! I'll say it's for the children! Genius. (What children? ....Well, any children!)
Okay, I can see that if I just put a little time and attention on this matter I might come up with something. But I am not going to "ask" because what will I do if Lula volunteers to go in the bag, because she thinks it would be an adventure, or Scout, who likes to be useful, or Hal, who is just so nice he would sacrifice himself...
And I can't bear the thought of not having them around every day.
As...dolls, of course.