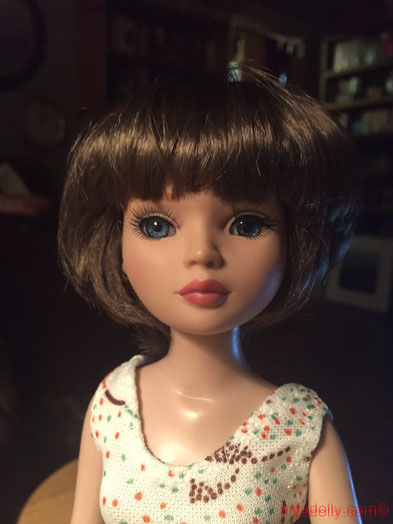 This week and last, there have been a lot clothes changes and wig changes here in Dolltown...
It's a funny thing with dolls because there is no real reason to keep them the same, except that we want to. We become attached to the look of a doll.
(OR, of course, if we want to leave them untouched and in their glass cases to keep up their perfection, or value.  I forgot that. Sorry. And thanks to all the doll people from whom I received perfect dolls.)
Some of the dolls I collect have rooted hair-so it's like human plugs. It takes a cut-to-the-quick job to change the look. And the original hair is gone. You can't go back. That's a real commitment.
Some have hair that is glued on so it stays in place, but can be coaxed off with the right tools and a little patience. And the wig can go back on. Less commitment.
And some dolls have wigs with just a tiny bit of glue to stick them to the dolly heads, and so are meant to be removed easily for flexible looks, if that's what we want.
Some of the Ellowynes, like Poppy here, actually have a couple of velcro attachments on their heads that act like a bit of glue, but are perfect for changes in looks. And they don't need rolled scotch tape to keep the wigs on,  like the glueless, plugless dolly heads do.
Here is Poppy in a brown Bubbles wig by Monique. I may have to change her name now, because I love it.
It may be her forever look....
Or maybe I'll get one in red. Match her eyebrows...and keep her name.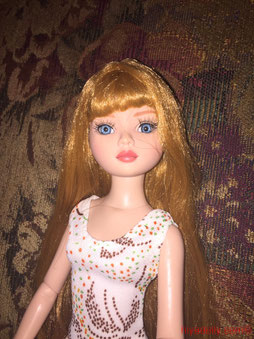 This long auburn is her original wig.
It doesn't match her eyebrows.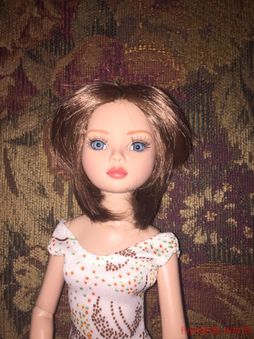 The brown "shag"... 2 lengths,
the worst of both worlds.

---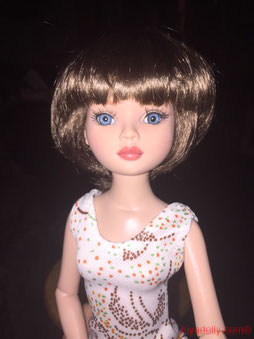 Then the brown bubble wig...:)
Great with those blue eyes.

What do you think?
I have 5 Bubbles wigs in use. I obviously have a thing for this round, bobbed look.
So I am biased. But really, isn't it the best?
For more wig changes, pop over to The Others, where Tania shows off several different looks...eyes and wigs.