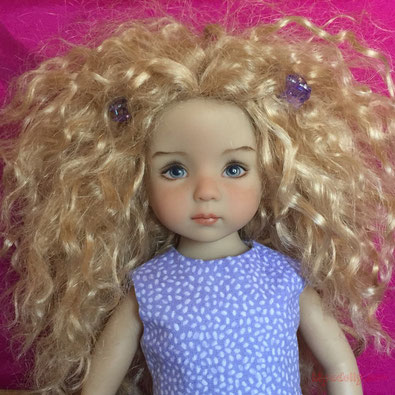 Interesting concept...rescuing a doll from eBay.

I heard this term, eBay Rescues, from one of the members of a lovely Little Darling site. 
I consider this wild haired dolly my one eBay Rescue.

Now and then, several of the Little Darling artists auction a Little Darling on eBay. Since I wanted to get my stories going here on Hiya Dolly, after I ordered a couple of Little Darlings that would take a year to get to me, I started to look on ebay for LD's posted by the artists. 

 Now, as I tell this, I understand it won't make any sense, except to doll people-doll lovers, collectors, and especially perhaps, Little Darling collectors....
This dolly, a Geri Uribe Tiffany, was up for auction by a seller. I noticed her, but carried on looking for LD artists' postings.  Also, "Tiffany" was not a choice I would have made from the list of cute dollies on Geri Uribe's page at "The Doll Studio".
BUT! as I kept looking, I noticed this Little Darling got no bids by the end of the auction period. Nada.
I, uh, felt, uh, sorry for this dolly who had been passed by, by all the avid LD fans out there. I realized I didn't want her to feel left out, like a child who is passed over when teams are being picked for a game on a playground. So I bought her myself when she was relisted. I didn't want it to happen to her a second time. An eBay rescue....
And I LOVE her.  I called her Lula Star, after Someone I Know, and I love her intrepid, kind, and adventurous spirit. I am so glad she's here with us in Dolltown. I don't know what we would do without her...
But I did learn a valuable eBay lesson. Since this experience I have not bid on a doll just because it isn't chosen the first time around. eBay sellers are patient, and eventually these Little Darlings find a home. They don't all come home to Dolltown (I wish!).
And maybe Lula herself had something to do with it!
What lively Little Darling wouldn't want to be here with all the doll friends and adventures they get up to! 
Perhaps she heard about Dolltown and started sending out "Rescue me!" thoughts on our air waves.
Knowing Lula, she probably would have loved a helicopter rescue, with a couple of our bjd boys shooting energy zaps at all the people who passed her auction by, and scooping her up in the helicopter, while it is still hovering, using ropes and pulleys. And then all arriving here, with the rest of our dollies gathered, cheering her arrival. Medals for the boys. And a band, and hugs all around. And cupcakes and smoothies for all, while everyone listens to her story....
One way, or another, that's an eBay rescue.