The girls are on a trip to the city.
They are amusing themselves while they wait to go out.
The Characters

Scout
Says "Let's move on."
Aligns with the outgoing, the useful.

Lula Star
Says, "Look at this!"
Aligns with the adventurous, the kind.
---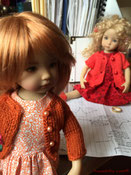 "What is the value of that gold ring?"