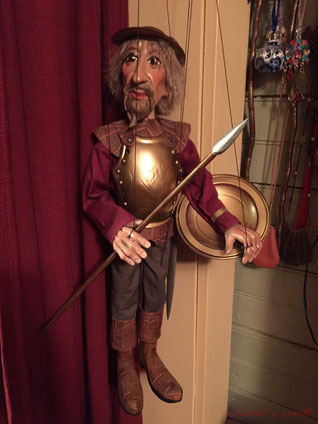 Welcome, Don Quixote!
Here in Dolltown, it was decided that we should have a marionette or two. I love puppets but we only have a few here. We have never had a marionette.
So G and I researched and looked at lots of photos and videos...
The marionette world is very interesting, full of stories and charm! We enjoyed the search!
In the end we made our choices from a site in Czechoslovakia, Czech Marionettes.
 They sell a variety of marionettes, created in different materials, and fashioned after a variety of characters. 
From their site:
We welcome all people charmed with magic of marionettes and marionette playing...

We do:
- hand made production of marionettes
- custom orders and art marionettes
- marionettes for film productions
- we have team of puppeteers and actors
- we organize workshops
I posted a photo from the site of a funny guy, Jester Jim, and then fell in love with him and so he is on his way, once he is made! Jester Jim is made of wood and is pretty big. 
The marionette here in the photo today is Don Quixote (or "Don Quichotte" at Czech Marionettes). 
Don is the main character from the 1600's Spanish book, The Ingenious Gentleman Don Quixote of La Mancha by Miguel de Cervantes Saavedra (known universally as Don Quixote by Cervantes). It is regarded as a very important literary work.
From Wiki itself...
It follows the adventures of a nameless hidalgo who reads so many chivalric romances that he loses his sanity and decides to set out to revive chivalry, undo wrongs, and bring justice to the world, under the name Don Quixote.
He recruits a simple farmer, Sancho Panza, as his squire, who often employs a unique, earthy wit in dealing with Don Quixote's rhetorical orations on antiquated knighthood. Don Quixote, in the first part of the book, does not see the world for what it is and prefers to imagine that he is living out a knightly story.
So Don Quixote himself, and his sidekick, Sancho, are both sympathetic characters that we already love, but only Don was available as a marionette.
What a great marionette! What a great face!
G is slowly exploring how to manipulate him.... Complex!
We are starting with simple instructions.
How about one string, or two? Check out this 2 minute video:
All About Marionettes: How To Work The Strings Of A Marionette
I am interested in how Don Quixote is going to show up in our stories in Dolltown!
Stay tuned...
And for a little fun with marionettes, watch this! Rick and Doris, an Unconventional Friendship! Amazing!
Go to Read More to comment