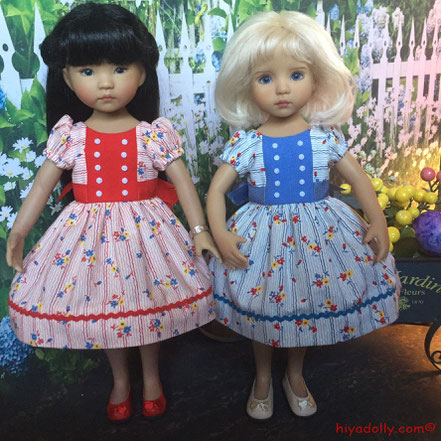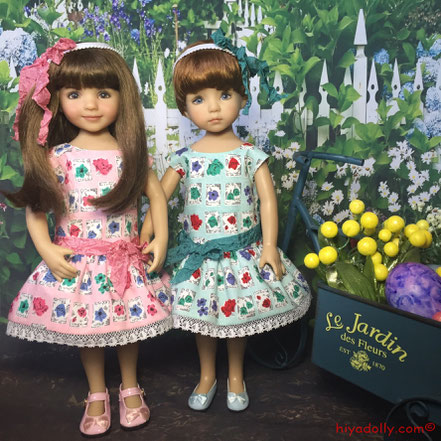 Success! Doll dressmaker extraordinaire, Tomi Jane, had several dresses in her eBay shop, tomijanesews, for a short time. I JUMPED at the chance to acquire two matching sets for our Little Darlings here in Dolltown... Yay!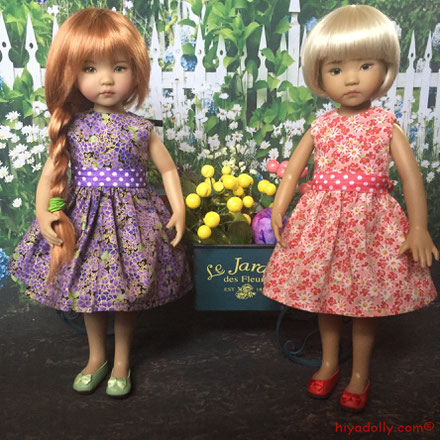 We decided to match up dresses using 2 more designs. This classic style is my very favorite for its versatility. Our Little Darlings have several to choose from! The pretty purple flowered dress was from Kathy  at tkctcrafts. And Pachom Suesuwan's pink flowered dress, minus its cute white shrug. was also from eBay, at pachom10.
---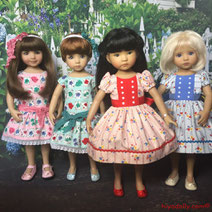 Tomi does a beautiful job with her dress designs, sewing, knitting...
Even her doll dressing and photography are spectacular. 
She has been featured here on Hiya Dolly more than once...even before we had her dresses here in Dolltown!
Check out her work on Flickr. Lots of Helen Kish and American Girl photos too!
Colorways! Tomi Jane called this pretty series Colorways, a term used by dressmakers to describe a fabric available in a variety of colors. Here Tomi has added matching hair circlets in that cute crinkle ribbon.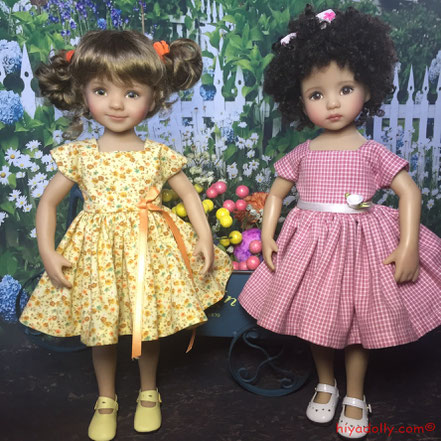 So cute! This is a new design for me, from Joyce at prairiemoondesigns, This style has a lot of skirt, little cap sleeves, and opens at the back for ease of dressing.
And I notice there are lots more fabrics available since I last visited her site...
Tempting! Especially at those prices!
---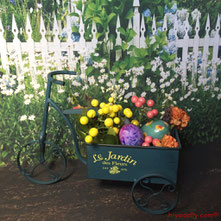 Dolltown spring diorama!
This is a doll background, with a white picket fence.
And this adorable flower wagon just arrived in Dolltown, a gift from a friend and Dolltown supporter, Mischelle.
Cute and useful! :)
More photos from the photo shoot...we took lots of cute photos of our Little Darlings!