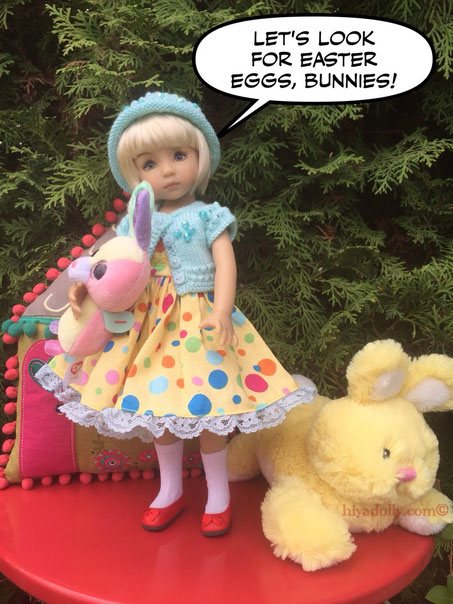 Happy Easter, everyone!
Easter to us in Dolltown means Spring, blue skies, flowers, pastels, bunnies, eggs, decorating eggs, candy eggs...
And Easter Egg Hunts, a real favorite!
The doll children heard about a fun game I instigated with groups of older human children in my care, at Easter parties...
Get dressed DOWN, not up

Line up with a partner, facing across from each other

Start close to each other

Toss a raw egg to your partner, WITHOUT BREAKING IT!

Successful? Both take a step back

Repeat until one pair lasts the longest and wins the prize!
This was a very popular game!
And the doll children asked to play it at THEIR party coming up.
Oh sure! I thought. I'll just gather a few pretty little blue Robin's eggs, since they are just the right size for a dolly egg toss. NOT!!
I let the dollies down gently with promises of other fun games, like tossing teeny marshmallows into baskets, racing new Music Bunny around the Universe Circle, hunting for shiny eggs in the tall grass (very tall for little dollies!), and at the very end...rolling down the little hill in their pretty dresses and natty shirts.  Who could fuss after promises like that?
Now I have to go and get the dollies and the party ready.
And tell my people that I am throwing another party...for my DOLLS!!!