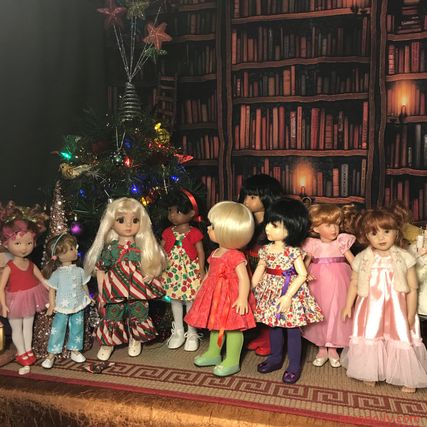 The Dolltown little girls are from a variety of doll designers!
Collecting this bunch was a lot of fun!
As Dolltown was opening its doors to gather friends, I was pouring over eBay and other sources on the Internet. What a blessing that is when you live in a place that has only a couple of shelves of dolls to choose from.
And I was on the lookout for dolls from some of the beloved doll designers.
As I unpacked these girls, when they showed up in their designer boxes, I was able to see for myself why these doll artists have such a following.
So let's show them off here...more photos to show the different characteristics of these little girl dolls. 
I love them all, and each for her own appealing qualities.
---
Our Gabby, a little Patsy by the big Tonner company.
---
Little Vera, a part of the Betsy McCall family from the Tonner company.
---
This is Fancy Nancy, a well known book character, a version by Madame Alexander.
---
Phoebe is Beach Party Eva, a sculpt by Dianna Effner, from the Heartstrings Company.
---
Doll designer Dianna Effner also designed this sculpt, Tiny Shawl Dancer, our Shasta.
---
Here is our Lilac Moon, a Lollipop from the Dancing with Grace series by Berdine Creedy.
---
Whoopi is a Berenguer Company designed doll.
---
And here is our Kish, a Ballerina Lynne doll by doll designer Helen Kish.
Each of these girls has her own charm. 
(There's a little more info on these dolls here.)
I have run across other cuties designed by these artists.
So far I have resisted, no matter how appealing.
(Except for Dianna's Little Darlings...a couple more have joined us!)
Kish had a meet up with our Iplehose BJD, Violet.
Photos to follow. Sweet dolls!