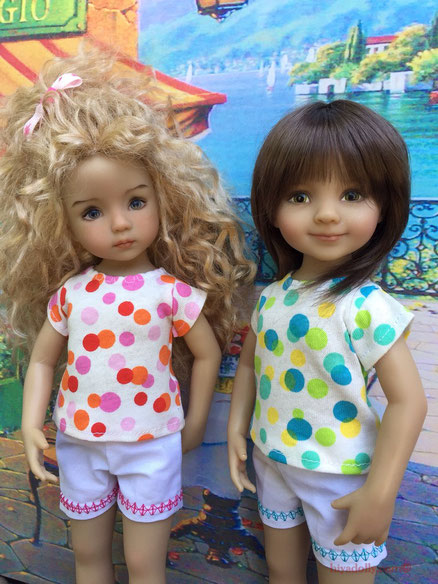 These cute short sets for 13" dolls like the Little Darlings here, made by the talented Janice Mundy, are from her eBay shop mrsbobbinsews. Thanks, Janice! But gone now... :(
It's mid July, time in the fashion world to wrap up the summer sales and start showing fall wardrobes. What a thought! It's 30c here!
Now, dolls are dolls...they don't feel the temperatures the way we do. But when it's hot, my dolls wear sundresses, shorts. and sandals or barefeet. If it gets cool and cloudy they get a sweater on. As September approaches, we'll start looking at cute fall school clothes. And I just found myself admiring a classy dolly winter coat on Pinterest...
As a follower of fashion magazines like Vogue and Elle Canada, I am used to this rush to finish up a season. But we have plenty of hot weather left to enjoy. And I just finished staining a little picnic table so my dolls can enjoy a barbecue outdoors. Whoops, I mean, so I can take some summer event photos with my dolls. 
Glad I got these short sets in time!  And for a look at a very fashionable brown and pink flowered capri set also made by Janice Mundy, check out my Flickr page... (It's also on my Photo Collections page at the moment.)
Janice is right on fashion cue with several cute school-time dresses at her eBay shop, mrsbobbinsews. And a website too,  Sew Sweet Designs for Dolls... AND a Facebook page, Sew Sweet Designs for Dolls. Busy lady...
I am looking forward to fall shopping at Janice's shops ...soon.

Right now it's iced lemonade time with my Little Darlings. They are waiting for me at the cafe!
PS  Here is some updated info from Janice Mundy, left in her kind comment below...
If anyone sees anything they like from former listings, I am happy to discuss whether they are able to be duplicated as I generally only make one or two of each design to start with. Please visit my Facebook page and check out the pictures there as well...same goes for requesting special orders there: https://www.facebook.com/pages/Sew-Sweet-Designs-for-Dolls/385019868269178?ref=settings