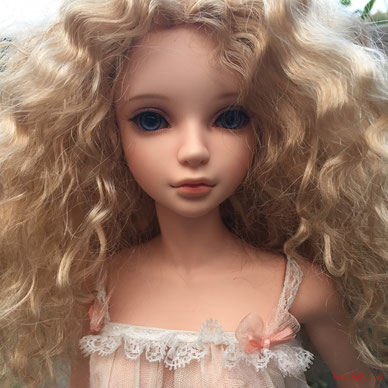 They came with names, most of them. Then I gave them names myself, when I got them, most of them. And some of them have had their names changed since then. For a variety of reasons.
This is an Iplehouse "Tania" sculpt. You can find her by googling this name. You can choose her skin color, and levels of movement you want her to have, and her face-up, if you actually order her. And you can choose her hair and eyes once you have her. And those things can change the name you think she should have. A name that expresses her being. Like Pam, or Gabby. Or Mercy...
When this pretty doll was coming to me, that's what I called her, Mercy. And still do. As a fantasy creature, she is one of the Elementals, the water element. So I call her Leau a lot now, too. Especially to others.
And since I imagine my dolls in stories, sometimes she plays a character that suggests a different name. As the redhead, platinum blond, and ash brown wigged- on The Others page today, what names do you think suit her?
So, I jump back and forth with several of my dolls between their given names, and names I want, and now...
I want to create a book of the English alphabet sounds. So I decided to match each sound to the name of a dolly. Now there's a project....
And since some sounds didn't match a dolly name. I just went ahead and changed the names of a bunch of my dolls so the beginning sound of their names matched each of the 45 English sounds. For the most part.
In English, there are always exceptions. And opinions...
Yes, I was a Reading teacher, and phonetics IS the basis of the simplest teaching approach to learning to read English... Until we get that chip in our heads.
So to get in on the 1st level of my project, Stevie went back to Ana, Jakob became Hal, and Rhett became Butler.  Liz stayed Liz. And Ivy moved from the 3rd level to the 2nd when she was renamed Scout...she was excited, thought it was like an online game. "I made it to the 2nd level!! Where's my badge?!"
Leau here would be in the 4th level of my project. Nobody would meet her for months, if my project worked sequentially, like learning to read does.... ("Tania" and "Mercy" aren't much easier). So she wanted to say hi now.... (At least, that's what I think.)
So, just go with the flow, if the doll names change here as often as the wigs do....  Thanks. I appreciate it.
You can see more of Mercy, or Leau, or Tania on The Others page...