Well, Lula convinced Lani to take her to Australia...
It all started back in October, on the infamous trip to Vancouver, when Lani was packing up her apartment ready to move to Australia to be with her Tasmanian, Fin.  And Lula was there to help.

Lula still didn't have an answer when Lani arrived for a last visit.
By this time, Owen, who is very fond of Lula, adventure, and wild things, was hoping he could tag along.

With only a day left before Lani's departure, Lula and Owen gathered some traveling clothes and settled in beside the front door.
Well, Lula had a few clothes ready. Owen had an empty backpack and the clothes he was in...
Lani looked sadly at them and said...I just don't have the room.
Lula and Owen were crestfallen.
Then Lani said, well maybe one...
And Lula knew she was in.
Owen would have to wait for his own adventure.
He gave Lula his backpack to take with her...
---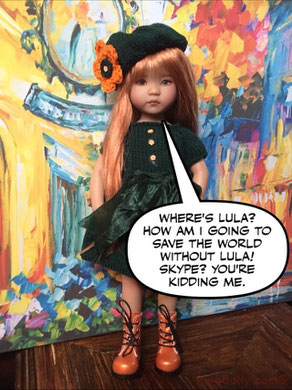 Scout is put out.
Or she's really sad.
It's hard to tell with Scout.
We hope to hear of Lula's adventures in the "outback" of Melbourne soon...
Oh Lula, I hope they homeschool you a little.
Start with geography. Get a map.
---
All of us at Dolltown want to wish Lula, and Lani, best wishes on their Great Adventure!
Stay in touch!