That's Brian in the middle, a Chris Miller boy, from who-knows-where, who just arrived with two other boys.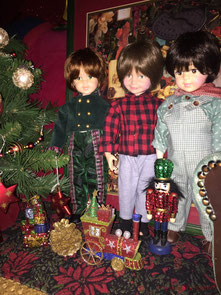 After a few photos, the three new boys were popped into the wooden chest with the Little Darlings.
What you didn't see, but I did, was how this boy ended up in very close proximity to our long haired redhead, Scout.
She seemed to pay him no attention, but he couldn't take his eyes off her. Well, off her hair, which his face was practically buried in, the two dolls were so close. And he couldn't quit smiling. I mentioned to G that Scout might have a new admirer...
I guess Scout was paying some attention though. She must have noticed he arrived with holes in his socks (which we discovered when we took off his fireman boots).
This boy hasn't had new clothes for a while it seems...