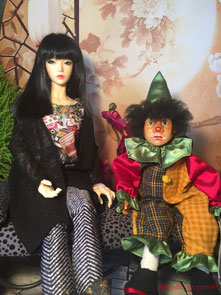 Asa meets a newcomer to Dolltown, Kasma the Clown. We found him recently at the Bailey House, a place that sells things no one else wants. How could anyone not want this adorable guy!
We do!
Kasma is still wearing his hangtag, which is where he gets his name. Apparently the Kasma Collection has been a leading supplier of hand-made collectors dolls for years, and our clown looks like he has been around for years. So we are letting him keep his hangtag on. He's so used to it! 
Kasma is just getting to know the other dollies, so Asa invites him to stay and meet the new Little Darlings, who arrived in Dolltown at the same time, but from a different direction. I think the Little Darlings will be excited!
Dolls love clowns!