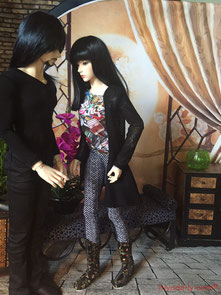 This is Asa's Room at Dolltown Abbey, where the Iples live. The Iplehouse BJD's like living on the big estate across the meadow from Dolltown. It gives them both privacy and perspective.
The Juniors are on patrol while Asa hosts her Open House, keeping an eye on the perimeter, making sure Dolltown is safe.
Lee is on hand to take over the Open House for Asa while she rests. In case any dollies show up.
But what WE know is the boys have been held up at the bridge....