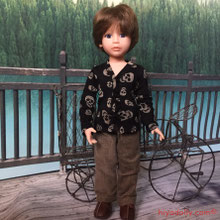 Chris is busy today.
The boys are expected soon at Asa's Open House!
But first Chris accompanied Will to the Bridge to meet his online friend Conner, who now resides in Dolltown. 
Now he is keeping his brother Douglas company while Douglas waits for Chantal. Chantal is Douglas's favorite friend in Dolltown (besides his bro, of course).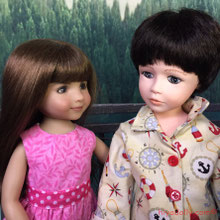 Douglas wants to show Chantal his new outfit, sent all the way from Pachom in Montreal. He is hoping to persuade Chantal to go to the library with him later, while he researches ships at sea. 
Douglas is a studious boy. He likes nothing more than sinking into a good reference book. Preferably full of numbers. Or historical facts. 
And he knows that Chantal likes to find songbooks and stories of the great musical composers when she goes to the library....
Douglas  has a special passion for all things nautical. And these pj's are patterned with buoys, anchors, and compass roses. No wonder he wanted this outfit!
Douglas doesn't notice that these look like pj's. He is not really socially conscious and he is very sensitive.
And Chantal is very kind. 
I know she is telling him how nice he looks. And that she would love to go to the library with him.
Did I hear her say she will look for sea shanties? Sweet girl. 
We ALL love Chantal!