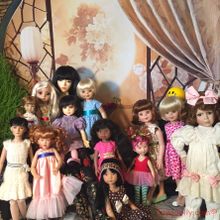 Dolltown children!
Well, the girls, now...
They straggled in but ALMOST all of them were there.
Gabby first. Because she likes to be first.
And Priscilla came too!
And Fancy Nancy, little Phoebe, Whoopi and Shasta, Vera, Pam, and Nellie, and Lilac Moon. And Vikka came to keep an eye on all the girls.
They gathered nicely for a group photo.
And things fell apart a little. Children will be children.
Then two surprising things happened.
Asa just raised her hands slightly and all went quiet. The girls regrouped and looked to Asa.
But also...Priscilla! We have never seen Priscilla with such a sweet expression on her face.
What kind of magic does Asa have to change Priscilla so?
The rest of the children were very surprised.
Priscilla is smiling! 
Will it last?