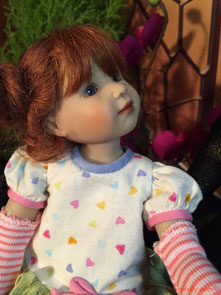 Oiya! Late again! Our little Heidi Pluszcok also missed the girls' group Valentine's photo. She was outside hunting for bird's eggs with Uley.
This time she missed the group photo with Asa while she helped Uley get ready for a roadtrip  with Auntie Mischelle.
Oiya and Uley...perhaps a new bond I hadn't noticed? Both active and funlovers...who knows?
---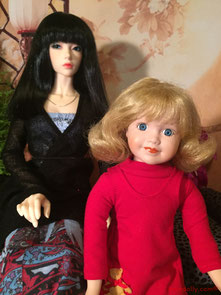 Our semi-vintage porcelain, Joy, skirts around the doll children, often joining the fun. She is so happy to have so many friends now.
For several years, she was the only doll around.
The Christmas doll was put away yearly. The attic dolls were neatly tucked in trunks...
Her existence here was just part of the proof that a doll collector was lurking inside me, waiting for the right time....
---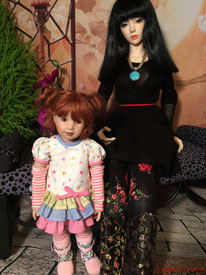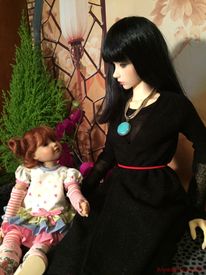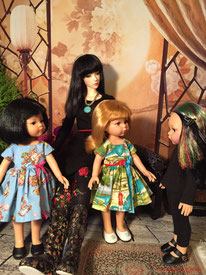 Oiya and Asa talk about the birds in Dolltown, the crows, ravens, mourning doves, redwinged blackbirds, and Oiya's favorite, the chickadees. Asa tells Oiya about the owls...
What? Owls? Oiya has seen them on TV. 
We think there will be a night excursion soon. Maybe when Uley comes back from his trip. I'd better keep an eye out. These dolls have boundaries but....
Maybe Asa and her junior patrol can help. I'll ask them to go on high alert...
Our three Paola Reinas have been off on assignment. They got called away to play in a story. The story was about "differences". Ling is Chinese, and played a girl with no friends. Quilla played a girl with a lot of anxiety who doesn't like to go to school. Undeen played a goth girl and other children are a little scared of her. They get together and form a friendship.
Kind of like they have here in Dolltown!
Welcome back, girls! Hope things went well!