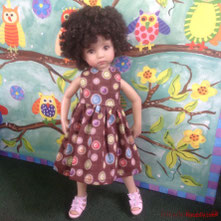 First of all, we have been saved by a surprise package from Pachom...
Just when we were wondering what to do about Xennia. She heard that Tink gets to wear the new outfit from Maggie and Kate, when it comes.
Then Tink tried to make Xennia feel better by hunting for baby frogs. No luck!
But then an envelope arrived in the mail. with a cute button dress, perfect for Xennia!
Thank goodness! Thanks Pachom!
I guess Pachom's psychic!
---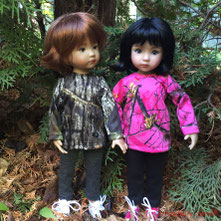 But someone has to go and tell Evie and Conner, who are still staked out at the froggie pond. They are still waiting for Tink an Xennia to show up!They don't know that everybody is gathered around the unwrapping of Kate and Maggie's adorable outfit!
The M&K package arrived! Tink and Xennia are excited!
Birdy and Rosa joined them for the unwrapping!
Below....Tink was ready for an outing, all dressed in her froggy garden outfit. She jumped in Auntie J's cloth tote, not realizing that Auntie was on her way to fetch a bottle of champagne for an upcoming birthday. But Tink was a hit at the liquor store, I heard.  
Auntie Jackie! Tink is a child!
Well...a doll child. But still!
---