It's time for a Dolltown Community event!
Terri Lee has invited everyone to an End-Of-The-Summer shindig at her home in the country.
---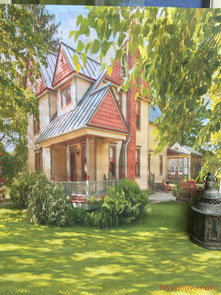 Terri Lees's House!
Terri lives in a big country house with a large kitchen and lots of rooms.
This is where most of the dolls live when they arrive in Dolltown.
It's comfy and has a big yard where the children play, and everyone works in the garden...
The community is arriving! Get ready, girls!
Get the tea ready! Put out the fruit baskets!
---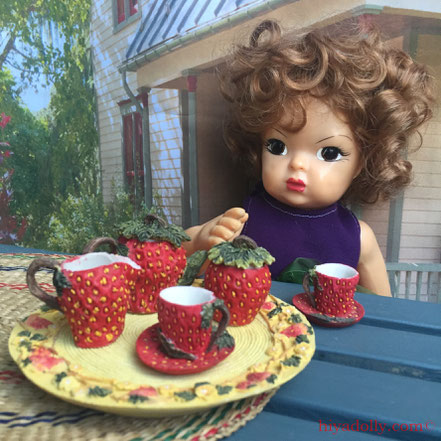 Terri Lee is our vintage "Grandma" in Dolltown.
(Don't forget, she's a doll, so sure she looks young. But she is a Terri Lee from the 50's and had to have a simple makeover because she had lost all her hair.)
Everybody looks up to her.
(Well, so to speak, since her limbs are so loose that she doesn't stand anymore.)
Queeny is Terri's BFF.
---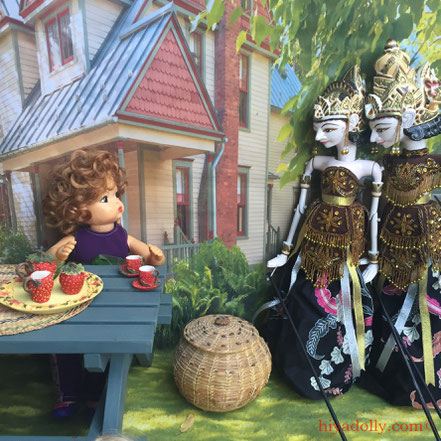 Look at these two!
They are OOAK Indonesian puppets.
My daughter Lani brought them home from a trip to Indonesia, as a birthday gift for me.
So Dolltown is honoured to welcome them.
And thankful to Lani for such a gift!
---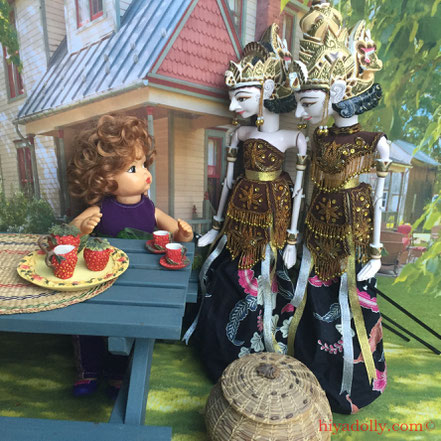 Terri offers them a bit of tea.
---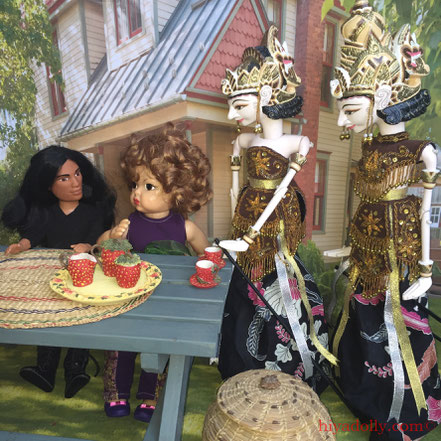 And he tells her there is a surprise arrival...
---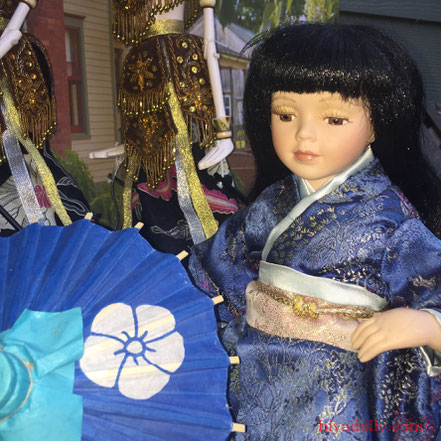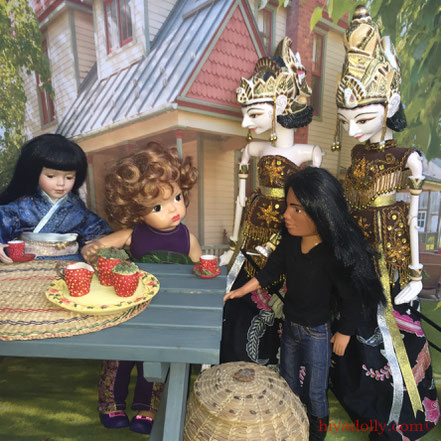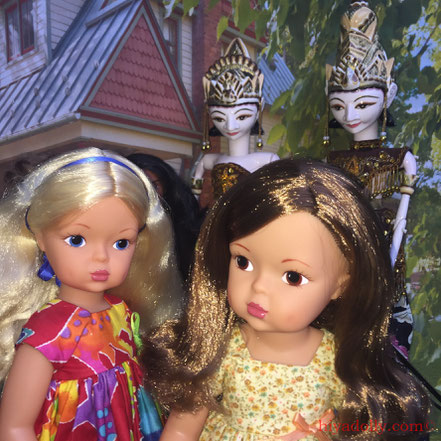 ---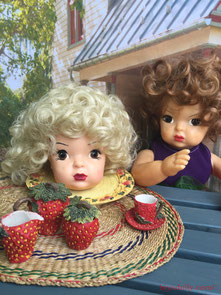 Queeny lives here with Terri. But Queeny has become separated from her body...
That's Queeny's head on the Strawberry Tea tray.
But she is going to lie down, so to speak. 
The dolls are fine with her, but some human visitors feel awkward when they see doll parts.
So, out of consideration for our online visitors...
Sorry, Queeny! We'll tell you when they are gone. 
We hear there's dancing after dark. Queeny likes dancing.
---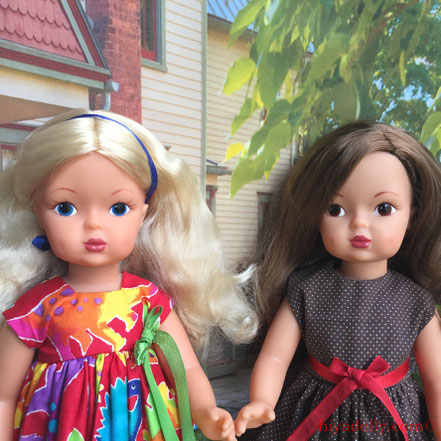 These Terri Lee's are from newer generations.
We say Oralee is Queeny's daughter.
And Tamla is Terri's daughter.
And they are both here in Dolltown to help their mothers run the Terri Lee house and keep the community of Dolltown going. They help Terri and Queeny host newcomers, feed the hungry, and hold community events.
And they are introducing newcomers today...
---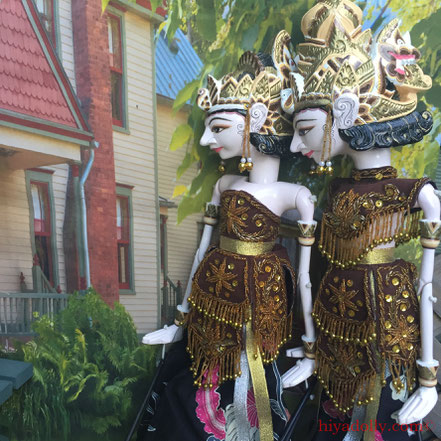 What beautiful craftsmanship!
Lani and Fin drove to the small town where they are made by a couple who create the puppets and make the clothes.
The puppets' hands are attached to sticks so they can be manipulated. We are working on it.
But for now...get to know the Dolltown community!
---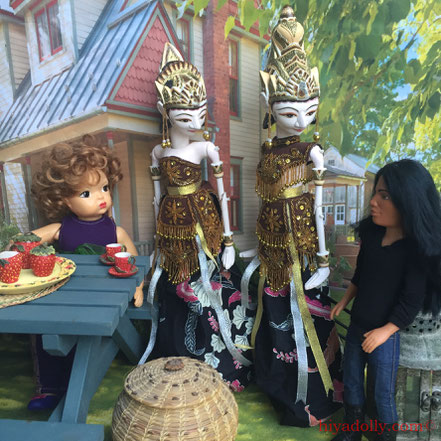 Ernie, Terri's FWB, arrives to help out. He's mobile!
---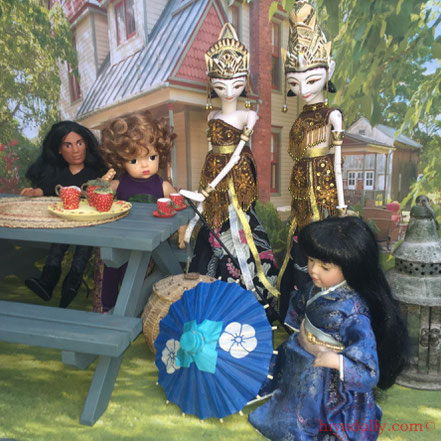 From my other daughter, Ana, a gift of a Japanese girl!
---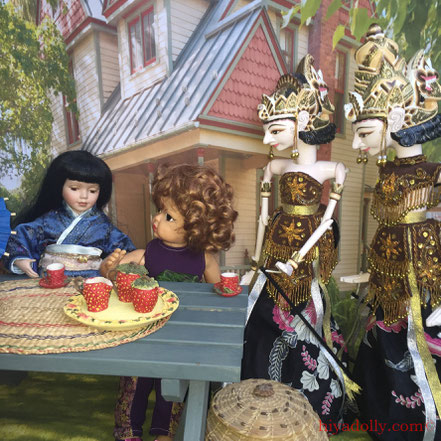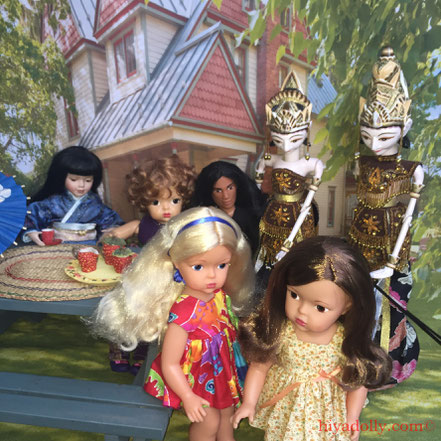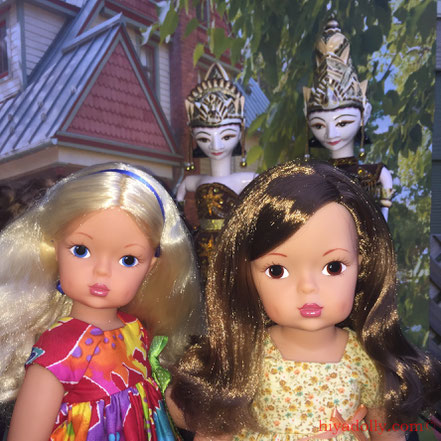 Oralee and Tamla are happy with the introductions.
And there's more...
Cha cha, Ernie's niece, has just arrived in Dolltown.
Cha cha is a young mom. Her baby is taking an afternoon nap with Cha cha's auntie.
Ernie is happy that his family is gathering in Dolltown...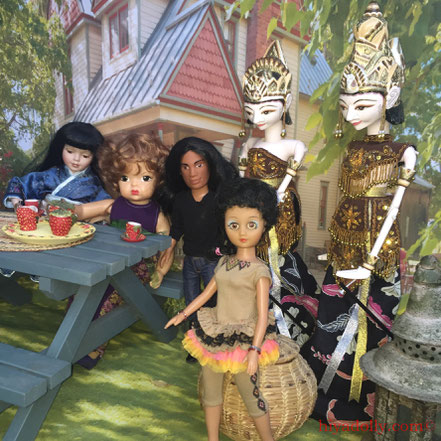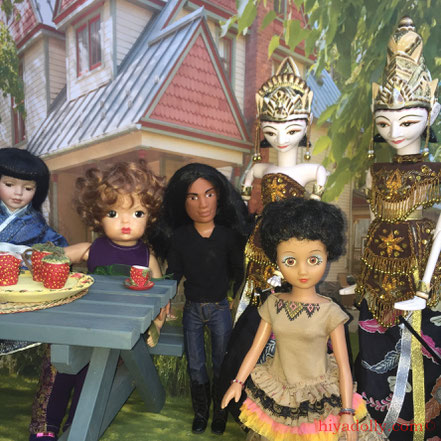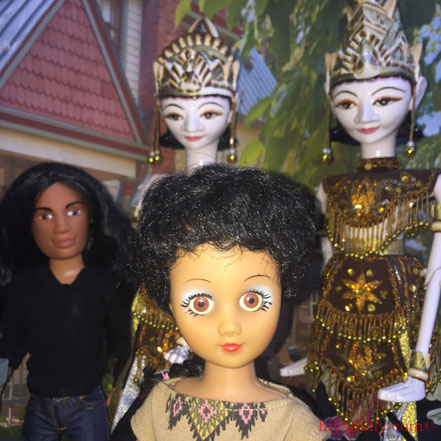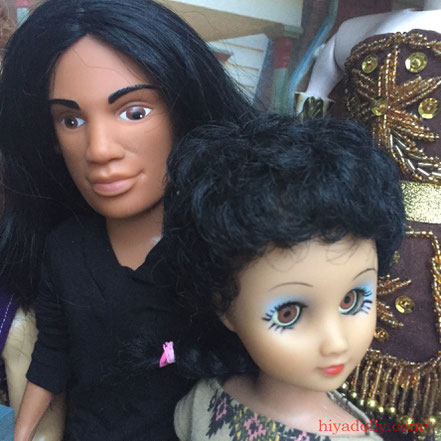 Okay! Things are going well!
But there's more! Lula is on her way with her little New Zealand family!
The Disney princesses are coming. And Crissy and her crew.
And we hear the Iples are getting ready!
Stay tuned...