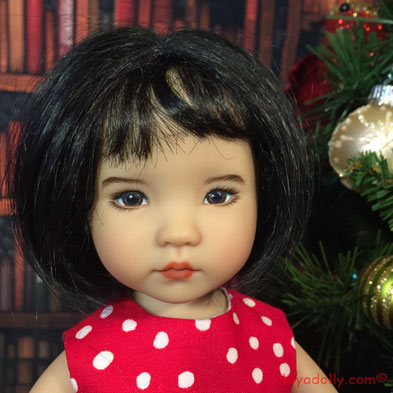 It's the Little Darlings!
All dressed up for Christmas!
We do stories here in Dolltown...so we do a lot of doll photos, capturing each doll in action and repose.
I love looking at doll photos.
I love looking at my dolls in photos. And none more than the dozen Little Darlings that reside in Dolltown...
Our Dianna Effner Little Darlings have been chosen because we adore them, and I looked for as much variety as possible, and each has her own story for being here.
Dolltown has LD's from four different artists, who each have their own style, which contributes to the variety we want. 
The LDs' 3 sculpts, eye colors, and their expression then contribute to giving them the different looks we want for our stories. And our variety of hair colors, the cuts and styles, and the combinations of all these variables is deliberate. I even have charts of the combos to be sure we have covered "everybody". This is a challenge! (And not possible, but we do our best!)
Jiyoon, shown here, arrived April 2016 and was the last Little Darling to come to Dolltown.
The opportunity to choose our Joyce Matthews Little Darling came just after we decided to reflect our community as much as possible, which is mostly Caucasian, First Nations, Indian, and Asian. 
Through sculpt, material, and wardrobe, our dolls in Dolltown represent the cultures/races above, and also African, African American, NZ Aboriginal, alien...well, it gets complicated.
We are doing our best to be multicultural! We'd love to do more but some circumstances limit us.
Availability, price, Dolltown potential! 
But, back to Little Darlings in Christmas dresses! And adorable rompers!
Our Evie! Our first Little Darling, a factory paint.
She is Ana, a UFDC 2014 Shared Passions Convention doll by Dianna Effner.
After ordering four LD's from Geri Uribe, I brought this girl home so I could experience a Little Darling right away!
After her prototype arrived (Anna Zoey, below), we switched Ana to Evie in this cute red Roxie wig.
This girl is still available in the UFDC Shop.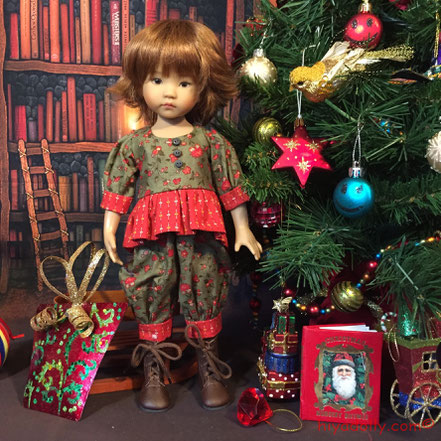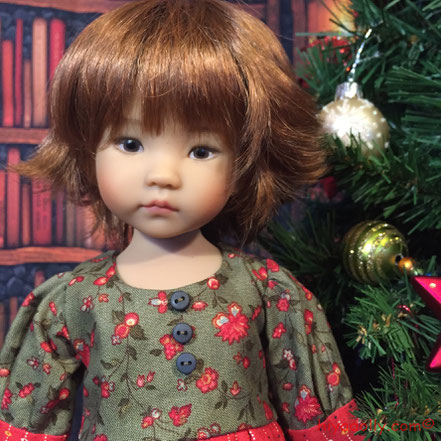 ---
Here's Tink!  After three months I was ready for Dolltown stories to begin!
But no Little Darlings coming for a year! We jus had Ana Evie...
She needed friends, so I resorted to the secondary market, and looked for a sculpt three.
I wanted a smiler! For some happy stories! And this Helen Skinner cutie showed up...score!
(She's wondering here why she has no ribbons, hair ties, or jewelry. Sorry Tink! We had to get the photo shoot done!)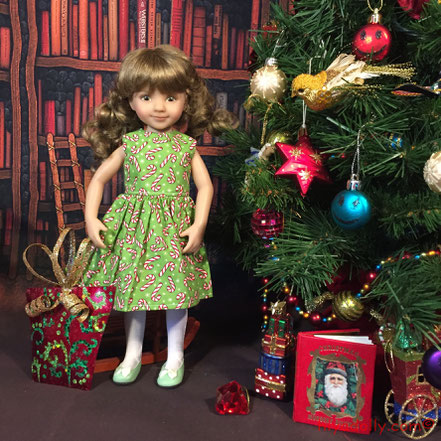 ---
Chantal is an original Dianna Effner girl! She is a sculpt three beauty... Another smiler!
She was purchased from the official Diana Effner seller on the secondary market, while they were still "reasonable".
(It is even more reasonable when the Little Darlings are ordered directly from the artists, but the wait times are long).
My third Little Darling and here for our early stories!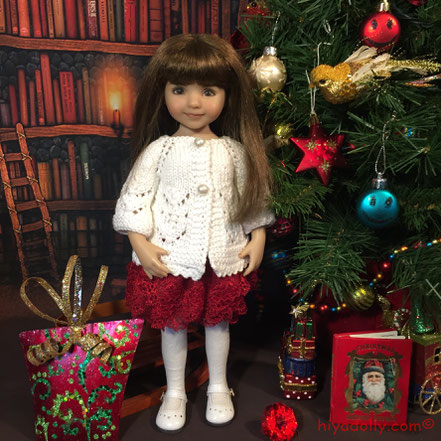 ---
Lula is a Geri Uribe Tiffany, but was in this Rose wig when I first saw her.
I tell her purchase story in an earlier blog post, eBay Rescues...
Of course I wanted her! She looks like Lani, my youngest daughter.
And Lani was persuaded to take Lula when she moved to Australia last November.
After lots of travel adventures and fun photos, Lula rejoined us again this summer, when Lani returned for a visit.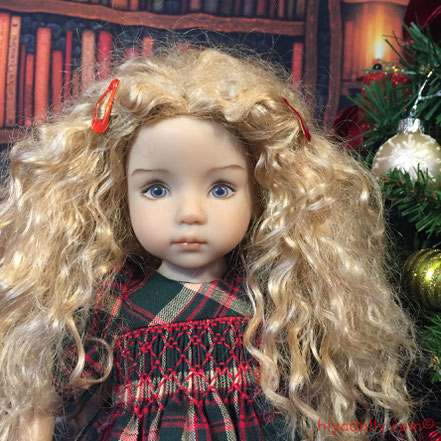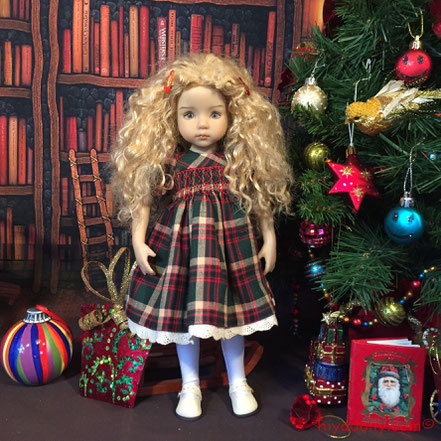 ---
Pearl is also from the secondary market, a Geri Uribe Dakota, one of my Geri favorites!
Her high eyebrows make her look much different from Lula, above, although these photos don't show it.
I chose this platinum Bubbles wig for her and popped it on when she arrived.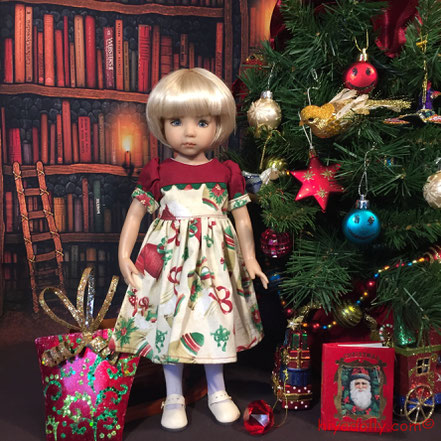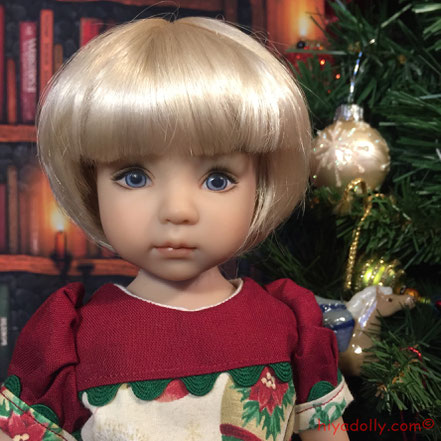 ---
Scout  is a Helen Skinner sculpt two, with teal eyes, beautiful silky red hair, and a face that was impossible to resist!
She has a determined look and really helped me to develop the stories with the rest of the girls...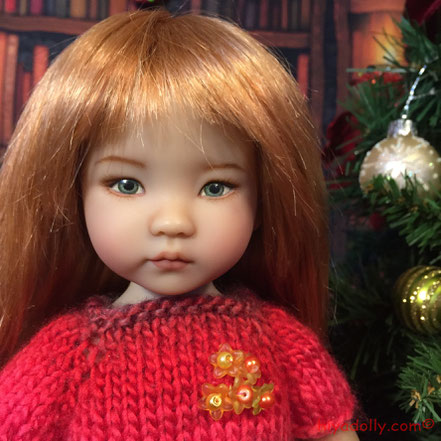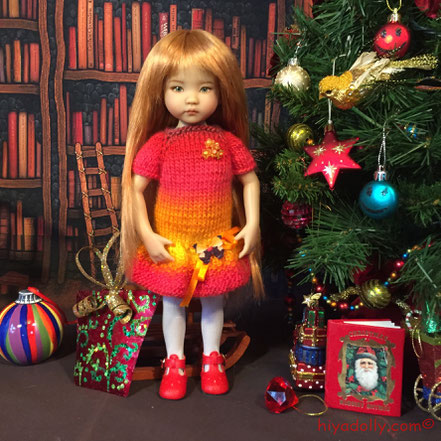 ---
Xennia is our sweet Helen Skinner sculpt one.
Loved her! She arrived in the fluffy blond wig that Faith is now wearing, below. 
She spent her first months as Xenny, and then I put this Ellowyne Lizette wig on her, and fell in love again.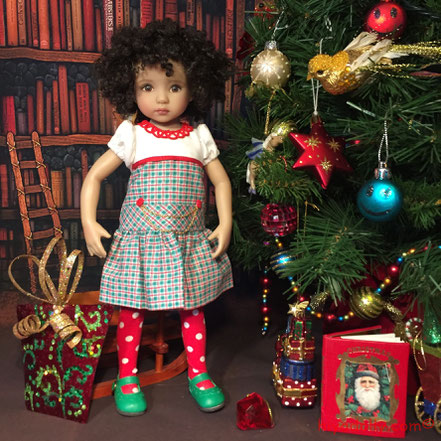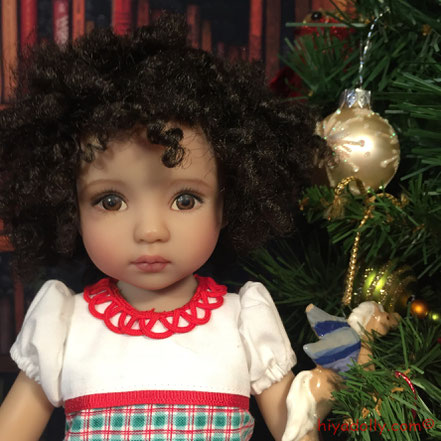 ---
Anna Zoey, named after Dianna's Zoe, is the prototype for the UFDC 2014 Shared Passions Dianna Effner doll.
She traveled to China and back, at least once, for the factory Ana to be made for the conference.
So Evie, above, is Zoey's clone...
And the two of them are Dolltown's First Nations Little Darlings.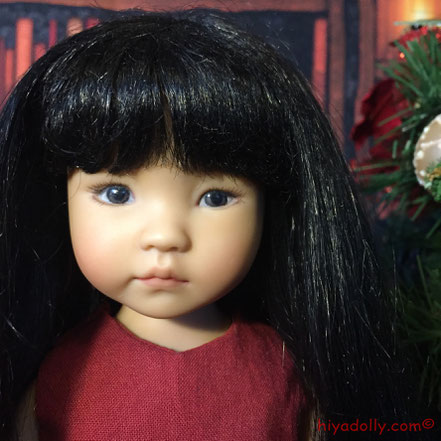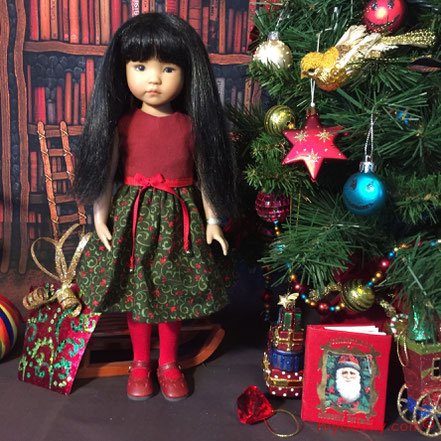 ---
Faith is my Christmas Present doll.
She is a Joyce Matthews sculpt one, bought from the secondary market.
I had bid several times, over months, for one of Joyce's treasures, but the bids always went too high.
This girl, in brown pigtails, had a great, surprising starting price.
I bid almost out of wishful habit, and won, as they say. There were no other bids. It was odd. Lucky me!
So we ended up with a blue eyed Joyce girl! For Christmas!
I was as happy as a child would be...and popped her in a pretty mohair blond wig. And Tink got the pigtails!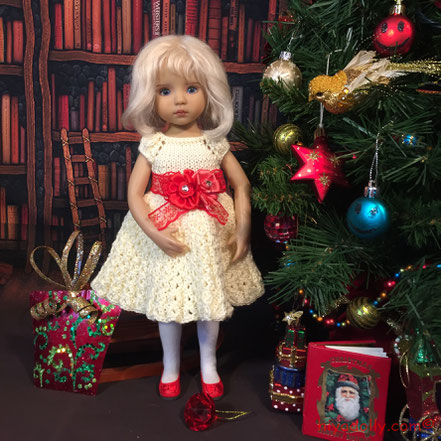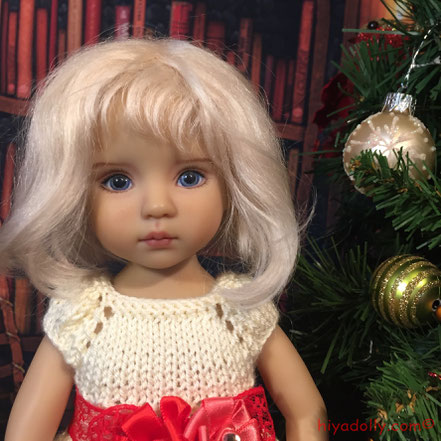 ---
Birdy was first! The first Little Darling I committed to. The moment I saw her.
She had the sense of innocence and look of love that I was looking for.
A child whose life has not offered up, yet, the pain and suffering that comes with life itself.
She is Geri Uribe's sculpt one Arial.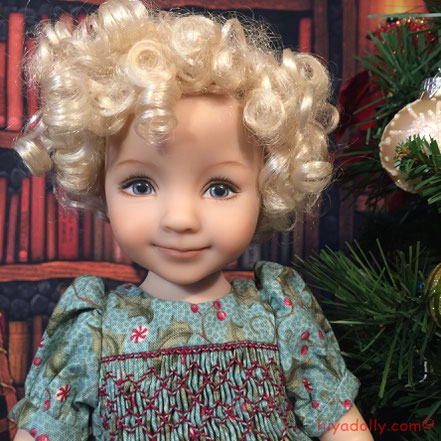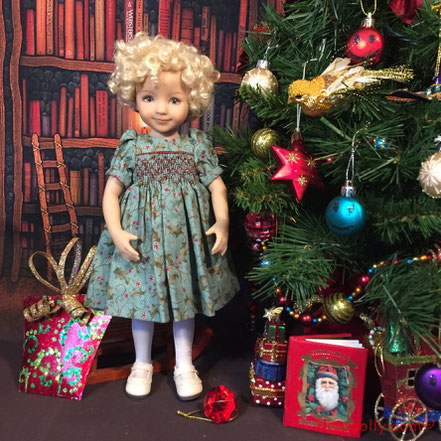 ---
Rosa, Geri Uribe's Gina, was the second Little Darling I picked.
After two other blue eyed girls arrived, Lula and Pearl, I requested true green eyes when the order time came close.
I took her cute little braid out after our active lives in Dolltown made it unmanageable.
And with the green eyes, dark red hair, and direct look, I think Rosa looks older than the Gina I chose to begin with!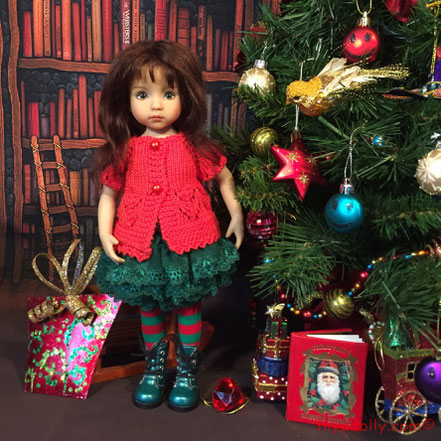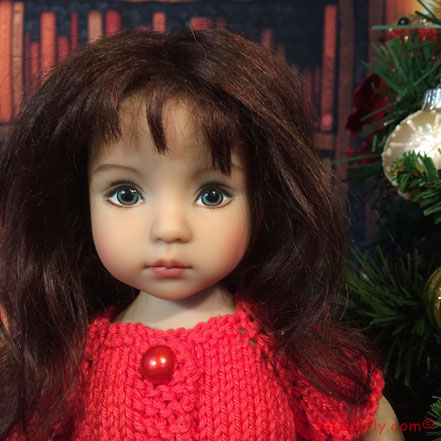 ---
Coco started out as Conner, with a black bob....perfect! At first.
But her sweet expression suggested this change to a soft brown Jojo wig.
That gives her the possibility to be two characters, if we need a stunning black haired, blue eyed girl.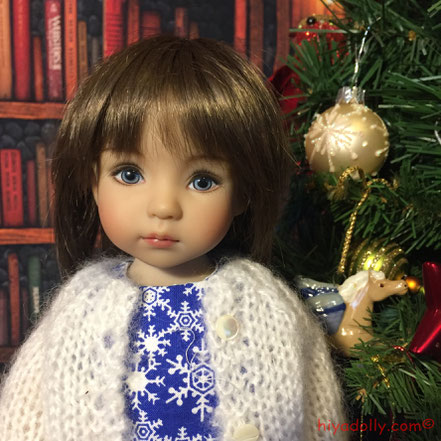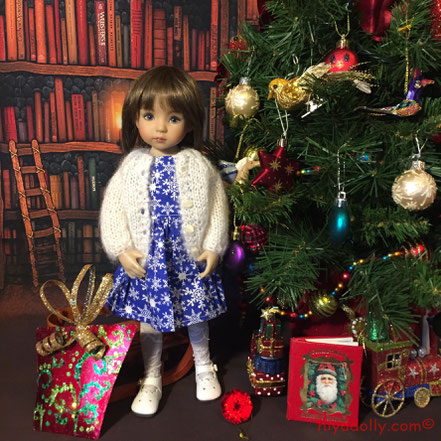 ---
Maggie is a Geri Uribe Abigail,  and she looks like my oldest daughter Tasya.
I had chosen a  redhaired sculpt two first, from Geri Uribe,
but after we got Scout, I changed to this intense and sweet paint, a sculpt one.
Maggie is now living with her doppelganger, in London, for a few months...
And since she isn't here for Christmas photos, we have included her last photos before she changed and left.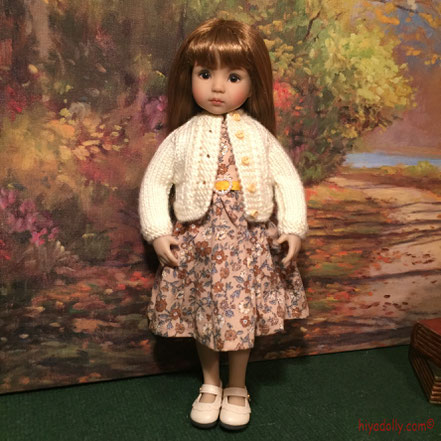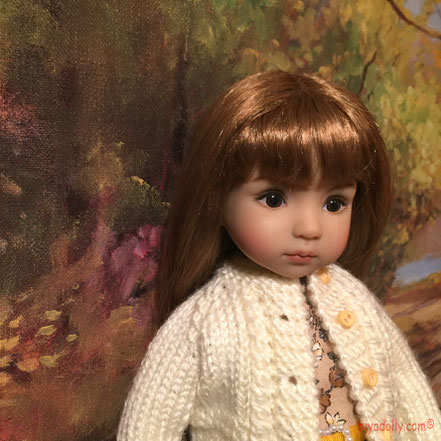 ---
Jiyoon is my special order from Joyce Matthews, a year long wait.
When it was time to choose which Joyce girl I wanted I settled on this beauty, requested with dark eyes...
She is adorable. All the Little Darlings are!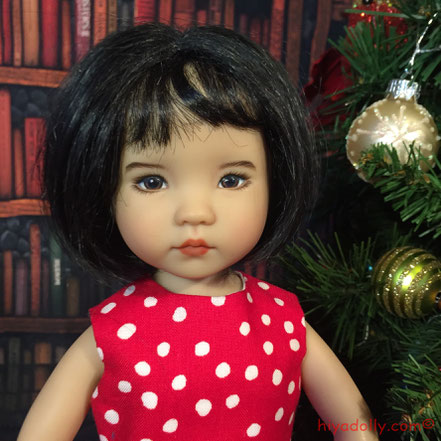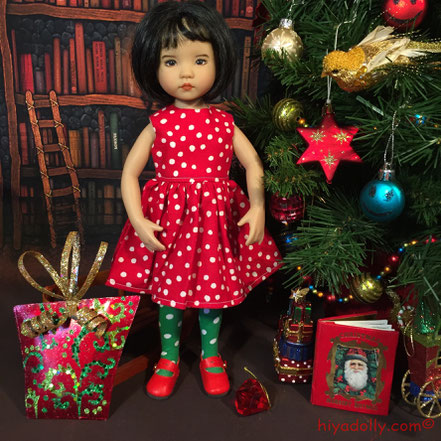 Every time I think, "A dozen is too many, certainly!",
I do my best to choose which girls are not as necessary. And I fail.
All are equally essential. Now that they are here.
Each has developed a distinct character.
And each, as I handle her, is my favorite, the one that I could live with...if she was my only Little Darling.