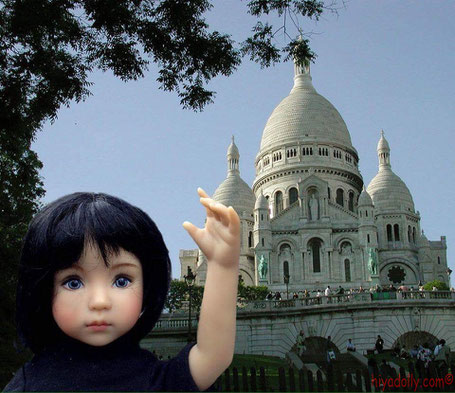 Here is Conner in front of the beautiful Sacred Heart Cathedral!
When in Paris...go sightseeing!
April, Fashion Doll Stylist, does this everytime she goes back to her little apartment in Paris. 
Well, she sees the sights as she carries on about her Paris business.
But we all know what it is like when you have a visitor who has never been to your city...
Little Darling dolly, Conner, has certainly never been to Paris before, or much of anywhere else for that matter. From a box of Little Darling doll sculpts, to the Doll Studio for a face up, then back into her own box, and shipped straight to Dolltown...just last year!)
Then, a big move to Detroit City at Christmas, to attend Fashion Doll Stylist's Design School for Girls! What an adventure that has been so far. Conner was helping April design couture for dolls, while we were chopping up cotton socks for Valentines Day wear!
And then, a weeks-long stay in Paris, with forays out into the city. Cathedrals, Doll Museums, parks, and shops...with treasures found, like sparkle runners. 
Sparkle runners? Never say so! Seriously, never say sparkle runners around here! That glitter that just came out to decorate the Eiffel Tower model here in Dolltown is already giving me the shivers....
But let's enjoy a few photos, from Conner and April, on their sightseeing adventures in Paris.
Gather around, girls! And boys!
We already showed you a few photos of Conner's arrival and first day out in Paris, to a doll museum!
The next photos we received...a chocolate model of the Notre Dame Cathedral!
What! Not fair! That got all the girls clamoring for a trip to Paris!
(For some of them, it would be a return trip, but that's another story!)
---
Then the two explorers took photos of the Museum of Modern Art,
where Conner was impressed with the art even outside the building!
---
"And this must be where the King lives!", Conner said when they came to City Hall.
"No, it's where the Mayor works!", April told her.
"Well, he must be very busy to need such a big office!", Conner replied.
---
Then it was off to the Louvre, full of art.
They saw a glass pyramid out front and then peeked inside,
where there is so much art that it would take years to see it all.
At least, that's what Conner thought!
Conner was amazed at the underside of the glass pyramid!
---
Another day Conner and April crossed a bridge.
Conner could see boats lined along the river, and April told her people live in those boats!
What a nice view they have of the Eiffel Tower!
The real Eiffel Tower!
And along the bridge, itself, there were lots of love locks!
That's when April told Conner some of her own life love stories.
Conner was fascinated!
And so were the little romantics in Dolltown! (Conner shared some of the stories...)
(I think Badger just left to find a love padlock for Scout... "We have a bridge!", we heard him muttering.)
---
And, last but not least for today, Conner's sparkle sneakers.
You saved the best for last, one of the girls said. (Really? Sparkle sneakers tops the Louvre?)
Well, it's just as I thought. The girls scattered, looking for footwear of any kind.
No worries. I hid all their shoes. I knew this would happen. 
"Does glitter work on bare feet?" I heard Tink say from the dressing room.
Okay, I gotta go...
More on Conner's Paris trip another day!