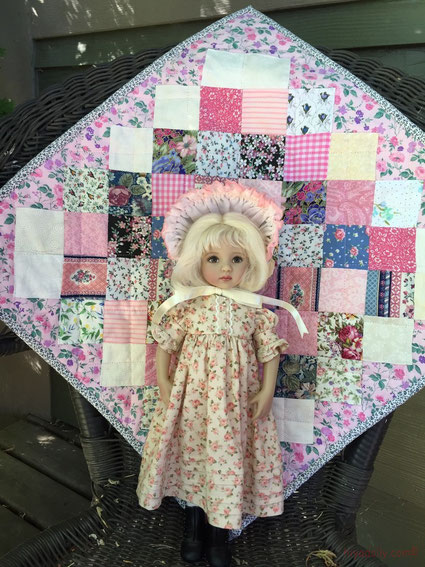 I am a doll photographer and collector and Suzy, my next door neighbor is a quilter-extraordinaire...
It was only a matter of time before I made a request of her. I wanted a cute little quilt, made from my children's childhood fabrics, for my dolls to picnic on.
This is one side of my new beautiful, reversible,  18" doll quilt.
It was hard for me to choose between my favorite fabrics, full of memories. So Suzy suggested a red side and a pink side, solving my dilemma. 
And she brought out her fat quarters to add some variety. It was so fun, and also the beginning of lots of stories about her own quilts, and her life...
When this Little Darling arrived (handpainted by Helen Skinner), of course her first photo shoot was set against Suzy's adorable quilt.
For more photos of this quilt, and its red side, hop over to my Photo Collections page!
You can see more photos and watch little videos about Suzy's quilts at her site, Suzy Q's Quilts...