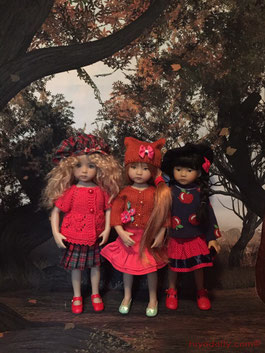 Doll collecting!
For some, that means once you have a doll, pristine and new (or even second hand), that means all you have to do is find a dark space with no dust.
No dress changes.
No accommodating seasonal weather.
No photo adventure shoots requiring jeans and a Tshirt....
But for some of us, collecting dolls means that almost every doll gets clothes, clothes for spring, summer, fall, and winter.
At least for those of us in four season climates.
And the dolls need some special outfits, like for Halloween or party time, or exploring or traveling!
The Doll Fashion Pages are dedicated to the clothing and accessories that make the Dolls here in Dolltown action ready. And there's a whole page of a fashion shoot showing Montreal's Pachom's versatile and pretty basics.
And the wigs! Part of fashion, for sure!
There's some catching up to do. I have to research my sources. And we have already had many photo shoots.
But a few favorites have been featured already. And I will include photos of outfits to help me focus my searches....
If you are a dolly dressmaker, especially those of you who sell on eBay and Etsy,
and you see an outfit here, unidentified, and you know it's yours, drop me a line!
Thanks!