---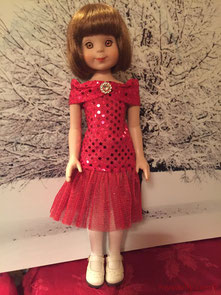 A classic Betsy McCall! We call her Pamela and she came with her friend and a little Linda, pictured here.
Pamela looks a little older so she got to wear this fancy grown up looking sequined dress. She was the envy of the other little girls...
---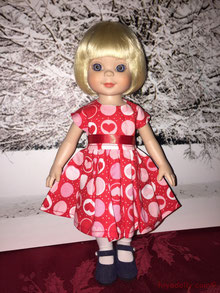 This is Linda, our Vera. She is as cute as a button as they say.
She has a wonky hip and has a little trouble standing...
---
Look who gets to wear this beautiful Tonner Patience coat! I don't have a Patience and this coat's arms were much too slender for our other little dollies. 
Lucky Agnes Dreary, our Vikka, is over the moon wearing a sweet white velvet coat with pink rosebuds! Haha
---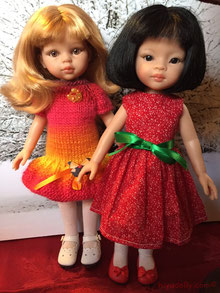 Two of our Paola Reina's. Our Undine is on a visit, so only Dasha, our Quilla and Liu, our Ling were here to dress up for Christmas.
These dolls have such cute faces...
---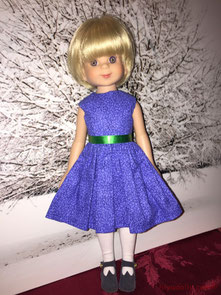 Betsy's friend, Barbara, our Nellie. Nellie and her little sister below, arrived on the same day as Pearl. Three dollies sporting the same blond bubble style hair.  It's a style and color I love. 
The McCalls have beautiful clothes. But this dress is from TKCT, one of my favorites!
---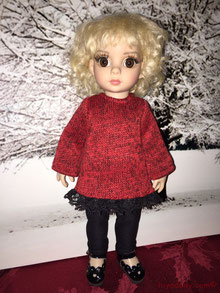 Recognize Gabby? She is wearing a lovely mohair wig. This little Tonner Patsy came with a straight, long platinum blonde wig...
This is another outfit from TKCT crafts. Thanks Kathy!
---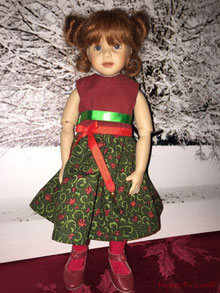 One of Heidi Pluscok's adorable girls!
Our Oiya is a ball joint doll and poses so nicely. She stands! She sits!
---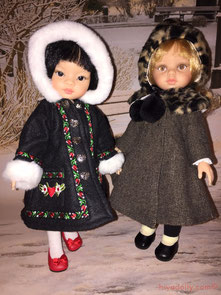 Here they are in warm winter coats. Quilla is wearing the beautiful brown coat she came in. And Ling borrows a Betsy McCall coat that suits her!